NVIDIA InfiniBand Switch 40-port 200Gb/s
NVIDIA InfiniBand Switch 40-port 200Gb/s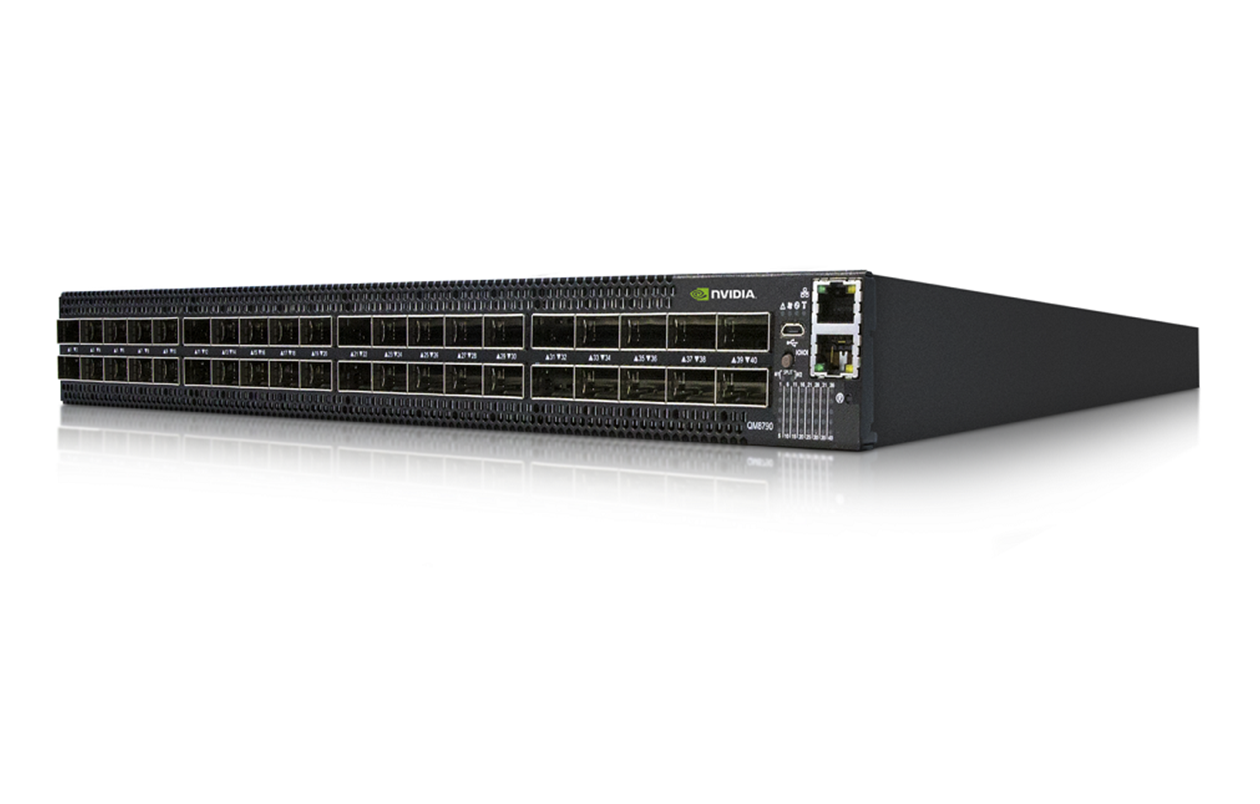 NVIDIA InfiniBand Switch 40-port 200Gb/s
Reduces the MPI operations time by decreasing the amount of data traversing the network as aggregation nodes are reached

Reduces IT costs and complexity with aggregated bidirectional throughput of 7.2 terabits per second (Tb/s) and ultra-low port latency

Supports low power consumption with ATIS weighted power consumption as low as 122W for a fully populated system

Minimizes cluster downtime by empowering research and industrial data center operators
| | | | |
| --- | --- | --- | --- |
| | | | |
| Resilience and Ease of Scale | In-Network Acceleration | Reduced IT Costs and Complexity | World-Class Design |
| NVIDIA® InfiniBand high-speed smart switches deliver every bit of the bandwith customers are increasingly finding themselves needing in order to take advantage of the vast amount of data generated daily by high performance computing (HPC) and AI technologies. | NVIDIA Scalable Hierarchical Aggregation and Reduction Protocol (SHARP)™ technology improves upon the performance of MPI operations, by offloading collective operations from the CPU to the switch network thus eliminating the need to send data multiple times between endpoints. | NVIDIA SB7800 switches deliver 36 ports of 100 gigabits per second (Gb/s) InfiniBand per port in a standard 1U standard chassis design. A single switch carries an aggregated bidirectional throughput of 7.2 terabits per second (Tb/s) and ultra-low port latency, both improving application performance and scalability, and reducing operational costs and IT infrastructure complexity. | The power optimized design enables these switches to support low power consumption with ATIS weighted power consumption as low as 122W for a fully populated system. This means more power reduction if not all ports are fully utilized. |
Resilience and Ease of Scale

NVIDIA® InfiniBand high-speed smart switches deliver every bit of the bandwith customers are increasingly finding themselves needing in order to take advantage of the vast amount of data generated daily by high performance computing (HPC) and AI technologies.

In-Network Acceleration

NVIDIA Scalable Hierarchical Aggregation and Reduction Protocol (SHARP)™ technology improves upon the performance of MPI operations, by offloading collective operations from the CPU to the switch network thus eliminating the need to send data multiple times between endpoints.

Reduced IT Costs and Complexity

NVIDIA SB7800 switches deliver 36 ports of 100 gigabits per second (Gb/s) InfiniBand per port in a standard 1U standard chassis design. A single switch carries an aggregated bidirectional throughput of 7.2 terabits per second (Tb/s) and ultra-low port latency, both improving application performance and scalability, and reducing operational costs and IT infrastructure complexity.

World-Class Design

The power optimized design enables these switches to support low power consumption with ATIS weighted power consumption as low as 122W for a fully populated system. This means more power reduction if not all ports are fully utilized.
Tech Specs
Dimensions (W x H x D)
433.3 x 43.6 x 590.5 mm (16.85 x 1.7 x 27 in.)
11.978 kg

MTBF / lifespan illumination
200Gb/s per port

Switch radix
40 non-blocking ports with aggregate data throughput up to 16Tb/s

Connectors and cabling
Quad small form-factor pluggable (QSFP56) connectors; passive or active copper or active fiber cable; optical module

Power supply
1+1 redundant and hot-swappable power
Input range: 100-127VAC, 200-240VAC
80 Gold+ and ENERGY STAR certified power supplies

Cooling
1x RJ45
1x console port: RS232
1x micro USB

CPU
Broadwell ComEx D-1508 2.2GHZ

System memory
Single 8GB

Software
MLNX-OS

Rack mount
1U rack mount

Operating conditions
Temperature:
Operating: 0ºC-40ºC
Non-operating: -40ºC-70ºC
Humidity:
Operating: 10%-85% non-condensing
Non-operating: 10%-90% non-condensing
Altitude: up to 3,200m

EMC (emissions)
CE, FCC, VCCI, ICES, and RCM

Product safety compliant/certified
RoHS Compliant

Warranty
1 year

Service Weblink
http://www.fujitsu.com/fts/services

Support Pack Options
Available in major metropolitan areas:
9x5, Next Business Day Onsite Response Time
9x5, 4h Onsite Response Time (depending on country)
24x7, 4h Onsite Response Time (depending on country)
Recommended Service
24x7, Onsite Response Time: 4h
Support Pack Options
Available in major metropolitan areas:
9x5, Next Business Day Onsite Response Time
9x5, 4h Onsite Response Time (depending on country)
24x7, 4h Onsite Response Time (depending on country)
Recommended Service
24x7, Onsite Response Time: 4h