<!-Subtext (optional)->
Flexible fronthaul and backhaul
Smart xHaul Solutions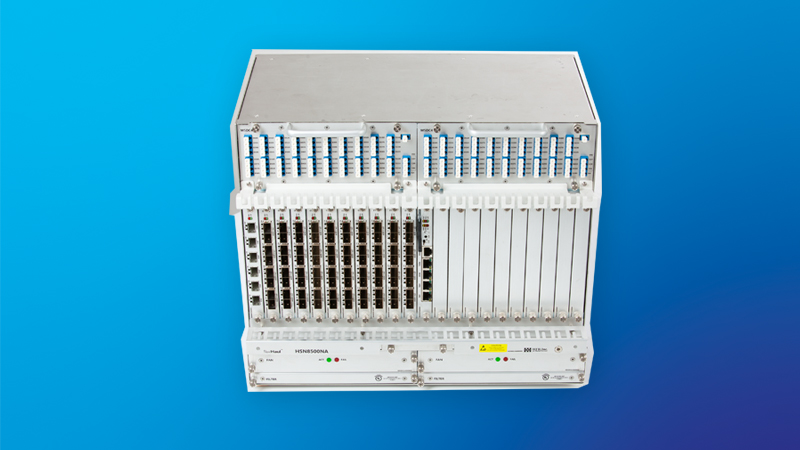 Smart xHaul Solutions
Versatile Architecture for Low Latency and High Reliability
The Fujitsu Smart xHaul solution enables highly reliable optical transport for the most demanding xHaul needs. The solution comprises Fujitsu services, software and disaggregated hardware, including the HFR flexiHaul platform. This solution offers mobile network operators (MNOs) and wireline carriers a low-latency, high reliability optical transport option for a high-performance, cost-cutting Centralized Radio Access Network (C-RAN) architecture.
Topologies include point-to-point; self-healing ring; hub and spoke; as well as hybrids of all of these. Temperature-hardened platforms capable of operating at -40 °C to +65 °C are used at both macro and small cell sites. For MNOs with fiber exhaust, the DWDM-based system offers up to 40 channels transported over a single fiber core. Conversely if a minimal number of fiber pathways are available and rack space is limited, the Ethernet-based platform using time sensitive networking (TSN) can reduce footprint by up to 75%.

An End-to-End Solution for Migration to SDN/NFV and 5G Transport
The Smart xHaul family allows 4G and 5G services to coexist on the same platform and fiber paths. Service coexistence includes CPRI up to CPRI-8 for radio over Ethernet (ROE) operation and eCPRI, along with Ethernet up to 25 Gbps coexisting on the same platform and fiber facility. This comprehensive end-to-end solution can also incorporate other Fujitsu platforms, including the FLASHWAVE CDS and 9500, managed using the NETSMART 1500 system, or Fujitsu SDN/NFV platforms such as the 1FINITY S100 Switching platform and Virtuora SDN/NFV control and management software. This complete portfolio addresses fronthaul, midhaul, backhaul and core transport requirements with a fully managed, end-to-end solution—from small-cell poles to central core point of presence (PoP) transport.
Smart xHaul Highlights
Leverages an existing 4G network to quickly and efficiently support transport for 5G services.
Fixed and modular systems offer temperature-hardened network elements for 4G and 5G coexistence in fronthaul (with TSN options), midhaul, and backhaul architectures.
The smart system speeds action to correct problems by distinguishing between radio and optical impairments, and gets the right technician to the right location the first time.
Boosts reliability with self-healing protection switching, available for active or passive configurations.
Consumes 50% less space and 50% less fiber plant than alternative platforms.
Zero-touch provisioning (ZTP) aids migration while preserving the initial investment.
Simplifies element management with intuitive GUI controls and Netconf/YANG-ready interfaces.