Archived content
NOTE: this is an archived page and the content is likely to be out of date.
Wallet free Shopping with Palm Vein Authentication Safe and Convenient Payment Solution Driving the Korean Financial Industry
Lotte Card developed the HandPay Service using Fujitsu's palm vein authentication solution to offer a new way of shopping that does not require a credit card or mobile device during payment. To achieve their goal of claiming leadership within the Korean financial industry and offering improved user-friendliness for users, they have paved the way among their competitors to launch a fintech service.
Actively Promoting the Fintech Industry as a Nation
The Need for Secure, Non-face-to-face Personal Authentication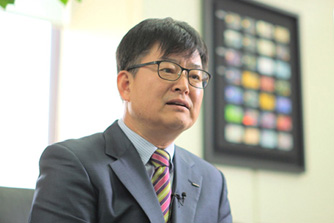 Mr. Park Doo-hwan Managing Director Marketing Head Office LOTTE CARD
As a result of the Korean government's efforts to proactively promote the fintech industry, the mobile financial services industry is rapidly expanding. Services such as electronic payment using biometric authentication have also increased. It is reported that 90,000 new jobs were created within the fintech industry. The biometric authentication market has also expanded into a 300-billion-won industry—a two-fold increase from 2012 to 2016.
In the midst of this trend, Lotte Card aimed to provide safe and user-friendly services to credit card users, and to gain an edge over its competitors. This was the force behind developing the HandPay Service, which allows users to make payments without credit cards by authenticating their palm veins. There has never been a service that allows credit card payments through identity authentication using biometric authentication.
To achieve this, Lotte Card adopted Fujitsu's palm vein authentication solution. By registering the user's biometric information beforehand, payments can be made at stores just by holding their hand over the authentication device. Mr. Park, the Managing Director of the Marketing Head Office at Lotte Card, said that "Lotte Group is a corporation that proactively implements the latest technology ahead of our competitors. We may not be Korea's number one company in the credit card market, but we take the initiative when it comes to adopting AI and big data analytics, and we aim to become a leading corporation in the financial services industry in Korea that utilizes the latest technology."
Palm Vein Authentication as One of the Most Reliable Methods of Biometric Authentication
Implementation in Korea Receives Strong Support
Palm vein authentication is far less susceptible to fraud compared to fingerprint recognition. As fingerprints are taken from the surface of the body, they remain on anything that is touched. Recently, image resolution of smartphone cameras has improved, which introduces new dangers such as fingerprints being retrieved off of pictures posted on online platforms such as blogs. Face and iris recognition also rely on data taken from the surface of the body, making them easy to fabricate.
Veins are contained within the body, and are authenticated by analyzing special components of organisms located within the blood vessels, called reduced hemoglobin, as information that identifies individuals. For this reason, it is said that the risk of fraud is practically nonexistent. As for its ability to accurately identify individuals, the multitude of veins in the palm and the complexity of their shapes offer a vast amount of information, resulting in a false identification rate of 0.00008%, and an identification failure rate of 0.01%, making them far more reliable than other methods of biometric authentication. Utilizing palm vein authentication will also serve as a preventative measure against crimes such as credit card skimming and identity fraud.
Within Korea, Fujitsu has successfully implemented biometric authentication systems in the palm vein authentication system of Shinhan Bank and the biometric information distributed data management center of the Korea Financial Telecommunications and Clearings Institute (KFTC). KFTC uses this base system to provide services that support the implementation and operation of biometric authentication in financial institutions. The successful implementation in Korea and the conditions that allowed KFTC's services to be used served as the force behind Lotte Card's adopting the palm vein authentication system.
Complete Payment with Just the Information Taken from Palm Veins
Prospects for Integration with Existing Payment Systems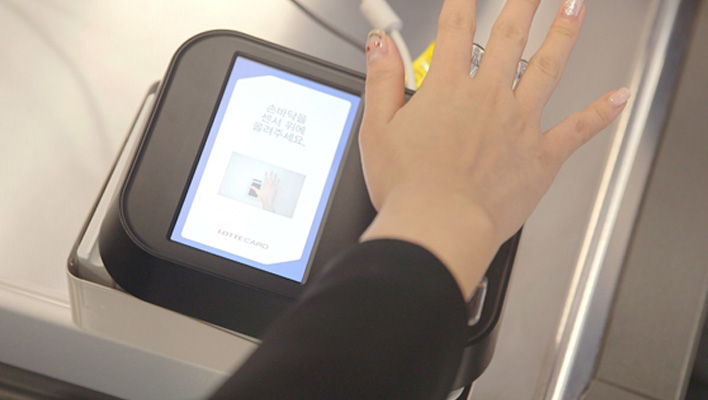 The palm vein authentication device PalmSecure™ makes it possible to pay just by putting your hand over it.
"Wallet free Shopping" is the Future
Launching this New Concept from Korea to the World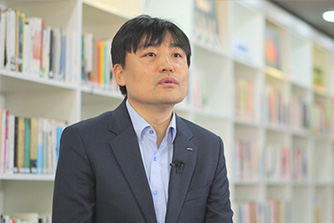 Mr. Kim Byung-jun Head Digital Payment Team LOTTE CARD
Lotte Card has initially deployed the HandPay Service in unmanned 7-Eleven stores in Lotte World Tower. Going forward, the plan is to integrate this system with conventional systems such as existing payment systems and storefront POS terminals, and spread the development to Lotte Group affiliated stores.
Mr. Kim, who is Smart Business Team Head of Lotte Card, has stated "Fujitsu has a keen understanding of Korea's regulations and unique environment, and answered our request with their extensive experience and technological expertise." He further added, "We look forward to proactively working with Fujitsu to expand the market of this service within Korea."
Once the HandPay Service is deployed in various stores, shopping Wallet free will become possible. Mr. Kim considers user-friendliness as the most vital aspect of services provided by credit card companies, and says that "Lotte Card proposes a new way of shopping, where shoppers don't even need to carry wallets or credit cards. I am confident that our groundbreaking approach will deliver peace of mind to our customers."
The meeting of Fujitsu's technology verified in the Japanese market and the logistical and financial infrastructure of Korea's Lotte Group has led to the creation of a revolutionary new service. The new way of shopping that utilizes the palm vein authentication solution holds the key to expanding this new technology from Korea to the world.
Customer profile
Official name of client: Lotte Card Co., Ltd.
Lines of business: Credit-based finance business (credit card business, installment payment business)
Business scale.

Total assets: (fiscal year 2016) 10.2 trillion KRW (based on consolidated finances)
Current net income: 141.6 billion KRW (fiscal year 2016)
Number of offices: 18 offices
Number of employees: 1,704
Established: December 3, 2002
Read more on Fujitsu Journal

We value your feedback and want to hear from you.
Top of Page