Generating new value with digital transformation, IoT and data analysis

Here we examine the key implications of digital transformation based on an address by Alfee Lee, head of the Regional Digital Innovation Center in Singapore, to the Fujitsu World Tour 2017 Asia Conference in Manila in October. We will also look at some specific examples of digital transformation.
Digital transformation is vital to ongoing business growth. No doubt many if not all of you have already embraced online applications in your businesses, such as online marketing campaigns or online supply chain services.
But a digital business uses digital transformation for more than just applications. Ultimately, the aim is to use digital technology to drive efficiency improvements and develop new value propositions designed to boost customer satisfaction and find new markets.
How digital transformation is transforming industries like logistics and health care
Let's look at some real-life examples of digital businesses.
An instant noodle company is in the process of overhauling its logistics systems in Vietnam with an ambitious plan to double turnover through efficiency improvements. This sort of increase in turnover requires a doubling of warehouse space and other resources, which translates directly to higher costs that impact directly on efficiency.
They were initially obliged to use local delivery contractors, which delivered products from seven different locations around the country without being centrally managed. The company has since set up a more efficient network consisting of multiple routes operating out of a central hub.
Fujitsu supplied the customer with a digital solution for optimization of warehouse space and other resources, centered around a logistics system that collates vehicle and equipment data and delivery records from local delivery contractors across the country. The system allows them to create efficient delivery plans and monitor delivery operations in real time, as well as to develop more efficient network designs.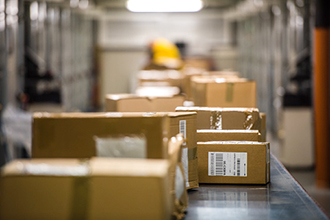 Fujitsu also offers safety solutions for a distributor. It has set up an in-house goods delivery system with a strong focus on driver safety compliance. One of the key safety issues is preventing drivers from falling asleep at the wheel.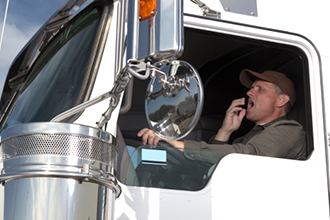 The Fujitsu solution uses motion sensors fitted to drivers, which generate an audible alert if the driver is in danger of falling asleep at the wheel. The system also monitors driving history. Monitoring data is forwarded to operators at the control center, who can call the driver to check on their condition or order a driver swap if necessary.
Fujitsu also provides solutions for the health care sector, such as motion tracking systems for monitoring services for senior citizens. A materials manufacturer uses an analytical system that monitors production operations and energy usage and provides hourly reports accompanied by intuitive visual displays and data analysis. In this way, Fujitsu is championing digital transformation in a range of areas.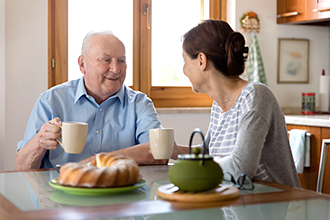 Personnel and cost are the biggest drivers of transformation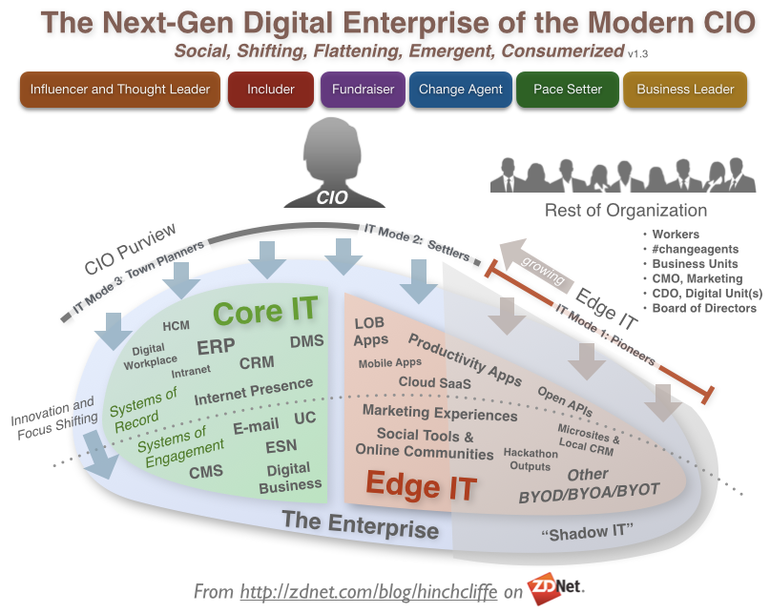 Figure 1 CIO Mind map
Customer-centric digital transformation for an enhanced customer experience at minimal cost
A 2017 survey by Fujitsu found that many CEOs see personnel as the key challenge in digital transformation. Transformation to drive growth involves more than just technology; it requires suitably trained personnel with the skills to harness the technology for the benefit of the organization. Similarly, CIOs (chief information officers) realize that digital transformation can draw the organization closer to its customers and help to generate new value propositions to grow the business. Yet IT budgets can only be increased by no more than 5% to 10%, and in some cases are expected to shrink. So the CIO is expected to generate business and grow markets with minimal expenditure.
Transformation involves bringing people together to drive co-creation
In order to get closer to customers and generate new value propositions, we have to analyze the movement of people and things and identify hidden issues and challenges. Then we have to pool talent from a variety of disciplines in order to generate synergies that produce new business processes.
The approach developed by Fujitsu is called "human-centric digital transformation," which means supporting human activity by using IoT to monitor a range of parameters, then using Big Data analysis to generate intuitive visual representations of condition changes. This information can be shared via the cloud and used to generate further insights and conclusions.
Fujitsu's human-centric digital transformation solutions bring people together to solve challenges. We call this Digital Co-creation.
Where will digital technology take us?
The success stories of digital transformation come from those who are prepared to break down existing business models and generate efficiencies by abandoning conventional supply chain arrangements and cutting out wastage at the intermediate point. In the Fujitsu survey of CEOs, some 71% of senior managers expressed concern about the slow pace of transformation in their organization. Speeding up transformation is not possible without internal reform and restructuring, such as setting up a digital transformation office and appointing a CDO (chief digital officer) whose role is to oversee the digital journey and explain it convincingly to staff.
Sometimes the IT department finds itself facing budgetary restrictions while the business division remains well funded. Maximum benefit can be derived from even a limited IT investment budget when both departments are working together with a shared vision of promoting digital transformation in conjunction with clients and business partners.
Connectedness is the first step
Fujitsu sees the process of digital transformation as divided into a number of distinct steps, which can be interpreted as corresponding to the ICT maturity level of the organization. Using the example of a production facility, we can identify the following five steps.
Step 1: Set up a network of connections between operators and assets to allow real-time status monitoring
Step 2: Use data analysis to identify status changes and generate intuitive visual displays
Step 3: Introduce factory automation with remote control
Step 4: Implement efficiency improvements (using data analysis to identify inefficiencies)
Step 5: Introduce AI-driven advanced autonomous operating systems (beyond human capability)
Fujitsu supplies solutions for every step of the process.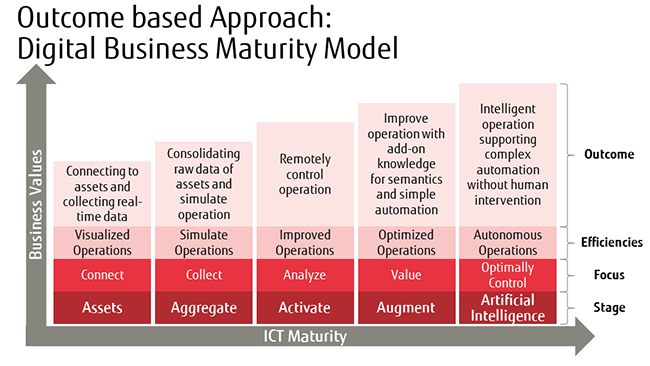 Figure 2 Digital business maturity levels 1 through 5 (AI)

Contact
We want to hear from you.
| | | |
| --- | --- | --- |
| Share this page | | |
Top of Page