FOC Received the Young Researcher Award in ICSJ 2021
News
January 20, 2022
Fujitsu Optical Components
FOC Received the Young Researcher Award in ICSJ 2021
Fujitsu Optical Components Limited (FOC) announced today that it received The Young Researcher Award at the international conference "IEEE CPMT Symposium Japan" (ICSJ 2021) that was held at Kyoto University from November 10 to 12, 2021.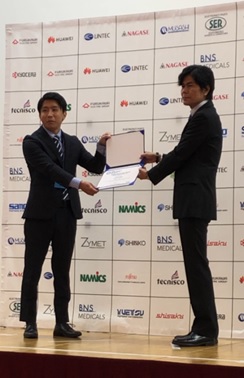 【Award Recipient and Prize Winning Technology】
This award is a paper award for researchers under the age of 30. FOC has proposed a method to accurately analyze the influence of the surface condition of wiring on a printed circuit board on high-frequency signals and the results of measurement and analysis show that this method is effective even in high-frequency regions exceeding several tens of GHz.
Junpei Miike (Optical Transceivers Div., Technology Development Dept., Fujitsu Optical Components Limited)
Project
Junpei Miike, Akira Kon, Makoto Miyoshi and Takatoshi Yagisawa, "Effect of Surface Treatment of Transmission Line on Frequency Characteristics", IEEE CMPT Symposium Japan (ICSJ), 2021.
FOC Technology development
The optical transceivers manufactured and sold by FOC are rapidly increasing in speed with the increase in traffic due to cloud services in recent years. 25 GBaud is used for the electrical wiring of the printed circuit board inside the optical transceiver and the application of 50 GBaud is being discussed. Since the attenuation of high-frequency signals due to wiring on a printed circuit board is greatly affected by the plating on the wiring surface and the roughness on the wiring back surface, it was necessary to measure the attenuation by fabricating a prototype wiring in order to accurately determine the attenuation. The newly developed technology is a method to accurately determine the actual attenuation amount by electromagnetic field simulation using only design information. By comparing the actual measurement result with the simulation result, it was shown that the attenuation amount up to 60 GHz can be accurately determined.
The newly developed technology makes it possible to accurately determine the attenuation of high-frequency signals at the time of product design, making a significant contribution to so-called front-loading development, which builds the performance of the entire optical module at the initial stage of product development.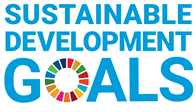 The Sustainable Development Goals (SDGs) adopted by the United Nations in 2015 represent a set of common goals to be achieved worldwide by 2030. Fujitsu's purpose — "to make the world more sustainable by building trust in society through innovation"—is a promise to contribute to the vision of a better future empowered by the SDGs.
Related Link
Trademarks
Company and product names used in this press release are protected as the trademarks and proprietary product names of their respective companies.
Contacts
Fujitsu Optical Components Limited.