Get inspired! Read the Forrester Report: The Rise of the Subscription Business Model, brought to you by Fujitsu and Intel.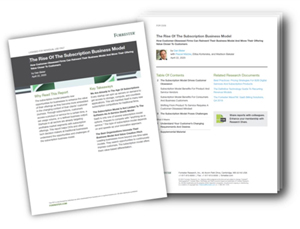 "Pay-per-Use" and "Subscription models" are no longer a nice to have for Service Providers. In order to address customer's expectations, you – as a Service Provider- might want to learn how the subscription business model is changing the paradigm of business, but also creating unique opportunities in the market.
In this report, you will discover:
How the adoption of a subscription business model can turn you into a great competitor in the market
What you need to do to balance opportunity and risk, and profit at the same time
Why listening to the customer is the faster way to grow the business
A free copy of this Forrester Report, complemented by Fujitsu and Intel is yours!