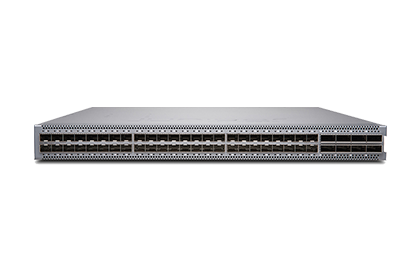 Juniper QFX5120
High scale, high availability, and high performance for data center or campus core deployments

Higher server access speed and campus distribution use cases while offering high-density 1GbE/10GbE/25GbE and 100GbE uplinks

Four compact 1 U platform options that provide wire-speed packet performance, very low latency, and a rich set of Junos® operating system features

Rich, low latency Layer 2/Layer 3 features and advanced EVPN-VXLAN capabilities
| | | | |
| --- | --- | --- | --- |
| | | | |
| Automation | Advanced Capabilities in Junos OS | Virtual chassis | Intelligent buffer management |
| The QFX5120 supports a number of network automation and plug-and-play operational features, including ZTP and event scripts, automatic rollback, and Python scripting. | The switch runs Junos OS, Juniper's powerful and robust network operating system that powers all Juniper switches, routers, and firewalls. It supports advanced network features such as nonstop active routing (NSR). | The QFX5120 supports Juniper Networks' unique virtual chassis technology, which enables up to two interconnected switches to operate as a single, logical device with a single IP address. This technology allows campus enterprises to eliminate STP and efficiently utilize network links. | The switch features a total of 32 MB of shared buffers. While 25% of the total buffer space is dedicated, the rest is shared among all ports and is user configurable. It effectively absorbs traffic bursts while providing deterministic performance, significantly increasing performance over static allocation. |
Automation

The QFX5120 supports a number of network automation and plug-and-play operational features, including ZTP and event scripts, automatic rollback, and Python scripting.

Advanced Capabilities in Junos OS

The switch runs Junos OS, Juniper's powerful and robust network operating system that powers all Juniper switches, routers, and firewalls. It supports advanced network features such as nonstop active routing (NSR).

Virtual chassis

The QFX5120 supports Juniper Networks' unique virtual chassis technology, which enables up to two interconnected switches to operate as a single, logical device with a single IP address. This technology allows campus enterprises to eliminate STP and efficiently utilize network links.

Intelligent buffer management

The switch features a total of 32 MB of shared buffers. While 25% of the total buffer space is dedicated, the rest is shared among all ports and is user configurable. It effectively absorbs traffic bursts while providing deterministic performance, significantly increasing performance over static allocation.
Tech Specs
Port density
QFX5120-48Y:
48 x 10/25GbE
8 x 40/100GbE
QFX5120-48T:
48 x 1/10GbE RJ-45
6 x 40/100GbE
QFX5120-32C:
32 x 40/100GbE

Form factor
QFX5120-48Y: Fixed 1 U access/leaf
QFX5120-48T: Fixed 1 U access/leaf
QFX5120-32C: Fixed 1 U spine/access/leaf

Dimensions (W x H x D)
QFX5120-48Y: 17.36 x 1.72 x 20.48 in (4.37 x 44.09 x 52.02 cm)
QFX5120-48T: 17.36 x 1.72 x 20.48 in (4.37 x 44.09 x 52.02 cm)
QFX5120-32C: 1.7 x 17.26 x 20.27 in (4.32 x 43.84 x 51.5 cm)

Switching Capacity
QFX5120-48Y: 2 Tbps/1.31 Bpps
QFX5120-48T: 1.08 Tbps/1001.7 Mpps
QFX5120-32C: 3.2 Tbps/2 Bpps

Power Consumption
QFX5120-48Y:
Max load: 450W
Typical load: 260W
QFX5120-48T:
Max load: 450W
Typical load: 300W
QFX5120-32C:
Max load: 515W
Typical load: 380W

Buffer Capacity
32MB

Latency
550 ns

MAC addresses
288,000

IPv4 unicast/multicast routes
351,000/104,000

IPv6 unicast/multicast routes
168,000/52,000

Number of VLANs
4,903

ARP entries
64,000

Overlay Management and Protocols
Contrail Networking, VXLAN OVSDB, EVPN-VXLAN

Service Weblink
http://www.fujitsu.com/global/services

Support Pack Options
Available in major business areas:
9x5, Next Business Day Onsite Response Time
9x5, 4h Onsite Response Time (depending on country)
24x7, 4h Onsite Response Time (depending on country)
Recommended Service
24x7, Onsite Response Time: 4h
Support Pack Options
Available in major business areas:
9x5, Next Business Day Onsite Response Time
9x5, 4h Onsite Response Time (depending on country)
24x7, 4h Onsite Response Time (depending on country)
Recommended Service
24x7, Onsite Response Time: 4h