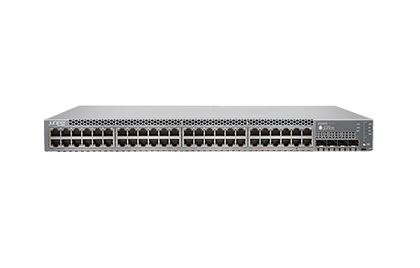 Juniper EX2300
Economical, entry-level, standalone solution for access-layer deployments in branch and remote offices, as well as enterprise campus networks

Flexible 1GbE SFP/10GbE SFP+ uplinks provide high-speed connectivity

Virtual Chassis technology enables up to four interconnected EX2300 switches to form a single logical device

Includes an ASIC-based Packet Forwarding Engine (PFE) with an integrated CPU to consistently deliver wire-rate forwarding, even with all control plane features enabled

Models offering 24 and 48 multigigabit ports support 1GbE/2.5GbE on 8 and 16 ports, respectively
| | | | |
| --- | --- | --- | --- |
| | | | |
| Mist Wired Assurance | Converged Environments | Virtual Chassis | Security |
| Claim, configure and troubleshoot switches with a few clicks. The EX Switch sets a new standard moving away from traditional network management towards AI-driven operations, while delivering better experiences to connected devices, such as Anomaly detection and Root cause analysis. | The EX2300 provides the highest levels of flexibility and features in its class for the most demanding converged data, voice, and video environments, delivering a reliable platform for unifying enterprise communications. | EX2300 Virtual Chassis configurations operate as highly resilient unified systems, providing simplified management. Switches can be added to or removed from the Virtual Chassis configuration without service disruption. | EX2300 provides both standards-based 802.1X portlevel access control for multiple devices per port, as well as Layer 2-4 policy enforcement based on user identity, location, device, or a combination of these. The switch can also apply security policies, QoS policies, or both, or it can mirror user traffic to a central location for logging, monitoring, or threat detection by intrusion prevention systems. |
Mist Wired Assurance

Claim, configure and troubleshoot switches with a few clicks. The EX Switch sets a new standard moving away from traditional network management towards AI-driven operations, while delivering better experiences to connected devices, such as Anomaly detection and Root cause analysis.

Converged Environments

The EX2300 provides the highest levels of flexibility and features in its class for the most demanding converged data, voice, and video environments, delivering a reliable platform for unifying enterprise communications.

Virtual Chassis

EX2300 Virtual Chassis configurations operate as highly resilient unified systems, providing simplified management. Switches can be added to or removed from the Virtual Chassis configuration without service disruption.

Security

EX2300 provides both standards-based 802.1X portlevel access control for multiple devices per port, as well as Layer 2-4 policy enforcement based on user identity, location, device, or a combination of these. The switch can also apply security policies, QoS policies, or both, or it can mirror user traffic to a central location for logging, monitoring, or threat detection by intrusion prevention systems.
Tech Specs
Port density
24x 1GbE and 4 SFP/SFP+ 10GbE

Form factor
Fixed 1 U access

Dimensions (W x H x D)
17.4 x 1.75 x 10.2 in (44.19 x 4.45 x 25.9 cm) 1 rack unit

Wired Assurance
Yes

Campus Fabrics
Virtual Chassis

Backplane speed
80 Gbps

Data rate
128 Gbps

Throughput
95 Mpps (wire speed)

Resiliency
Integrated power supply and fans

Traffic monitoring
sFlow

Quality-of-service (QoS) queues/port
8

MAC addresses
16,000

Jumbo frames
9216 bytes

IPv4 unicast/multicast routes
4096 / 2048

IPv6 unicast/multicast routes
2048 / 1024

Number of VLANs
4093

ARP entries
1500

Port types
Up to 24 x 1GbE and 4 SFP/SFP+ 10GbE uplinks.
Ideal for use cases in enterprise, media, and broadcast networks that still require native 1G/10G Base-T copper connectivity.

Service Weblink
http://www.fujitsu.com/global/services

Support Pack Options
Available in major business areas:
9x5, Next Business Day Onsite Response Time
9x5, 4h Onsite Response Time (depending on country)
24x7, 4h Onsite Response Time (depending on country)
Recommended Service
24x7, Onsite Response Time: 4h
Support Pack Options
Available in major business areas:
9x5, Next Business Day Onsite Response Time
9x5, 4h Onsite Response Time (depending on country)
24x7, 4h Onsite Response Time (depending on country)
Recommended Service
24x7, Onsite Response Time: 4h