FUJITSU Displays
A Feast for your eyes
Find the ideal, balanced combination of ergonomics and productivity with FUJITSU Displays to get the most out of your work. Covered in a modern design, our displays provide usability, reliability and individual user comfort to make them suitable for all environments in small-, medium- as large-sized enterprises. Discover brilliant, environmental-friendly display solutions with a wide range of connectivity and security options for a smarter working – whatever type of office you prefer.
Immersive experience
The FUJITSU B34-9 UE is a 21:9 Curved Display with a 3440 x 1440, ultrawide Quad HD (UWQHD) resolution and a thin bezel housing. The B34-9 UE Display has enough screen real estate delivering an uninterrupted and unparalled viewing experience. The monitor has a 1900R curvature that provides a uniform focal view, a 4-in-1 stand, integrated speakers and a range of connectivity options ideal for medium- and large-sized businesses.
Clean Desk
FUJITSU Displays are optimized for a Clean Desk approach for organizations that want to create a workplace of the future. The FUJITSU Clean Desk offering incorporates the best of breed display monitors, FUJITSU Client Computing devices and components from its partners to create a customizable digital office delivering an enhanced ergonomic and highly productive experience for the millennial workforce.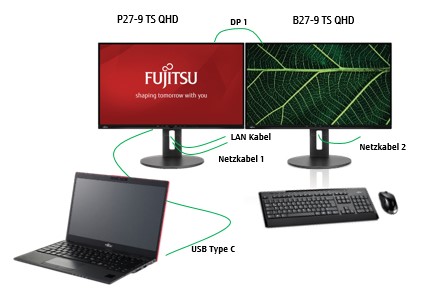 Shared Desk
Start your Future Workplace now! With almost bezel-free and seamless design, FUJITSU B*- and P-Line displays are optimized for multi-monitor use. DisplayPort - Daisy Chain and USB Type-C interface help to reduce the typical cable clutter. FUJITSU Client Computing Devices can be hooked at display's arm and share power supply, On/Off key as well as LED indicator with the display. Short and sharp: You make your own customized All-In-One (AIO) PC configuration.
The highly flexible display stand base adapts the workplace to your ergonomic needs. Assisted by built-in sensors, displays ensure optimal brightness, adjust screen content to pivot and protect your data against spy by smart presence sensor with pc lock function. Using your mouse, Fujitsu' DisplayView™ software optimizes all settings for single or groups of monitors, provides split-screen function and releases additional anti-spy features.


*Available in Select models only
Ergonomics
Ergonomics is a core feature of all FUJITSU Display monitors since it directly impacts user productivity. Our displays have height adjustment for different user heights, tilt, swivel, rotation to portrait mode and cable guides to prevent clutter and promote a clean desk workspace.
FUJITSU Display accessories that also promote ergonomics include Dual Monitor stand, and Universal Monitor stand. The FUJITSU Dual Monitor Stand in particular can accommodate displays from 21.5 inches to 27 inches enabling users to extend their workspace with ease.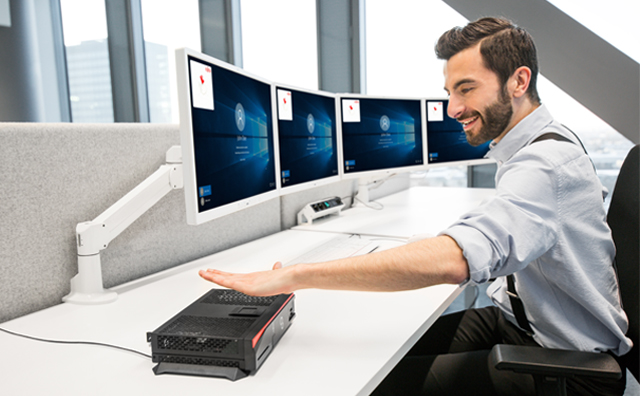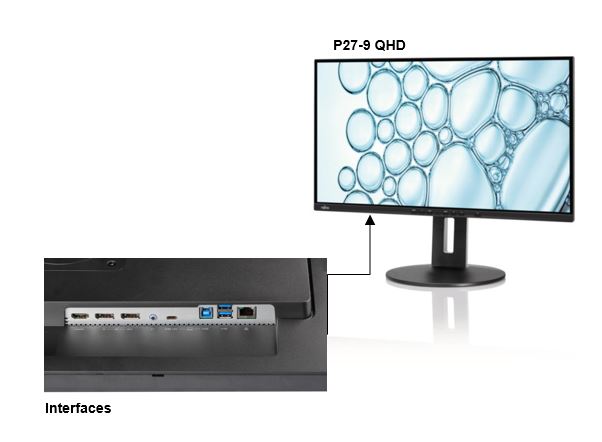 Innovation
Complete performance and productivity in one device!
FUJITSU P-line Display* monitors can be easily converted to AiO device with the latest FUJITSU G558 Mini-PC or LIFEBOOK U-Series. The PC system is switched on and off via display, even when the notebook lid is closed. The 65 W power supply and data transfer are provided by a single USB Type-C cable.
Keyboard, mouse and LAN* can be shared between two PC devices using the built-in KVM function*. This opens the possibility of creating next-generation PnP 'shared desks', such as sharing standard thin-client infrastructure peripherals with temporarily used notebooks.
Re-charge your smartphone by 15W USB Type-C side connector.
Easy to manage, the clean and clear workspace supports your daily workflow. Minimalism for maximum productivity!

*Available in Select models only
Not a part of product. Sold separately
Security
FUJITSU P-line Display monitors can automatically detect user presence and lock their workspace making them ideal for public areas and offices where security at every stage is paramount.
Presence detection* also serves the dual purpose of conserving energy since the backlight gets turned off till the user returns back to their workspace.
*Available in Select models only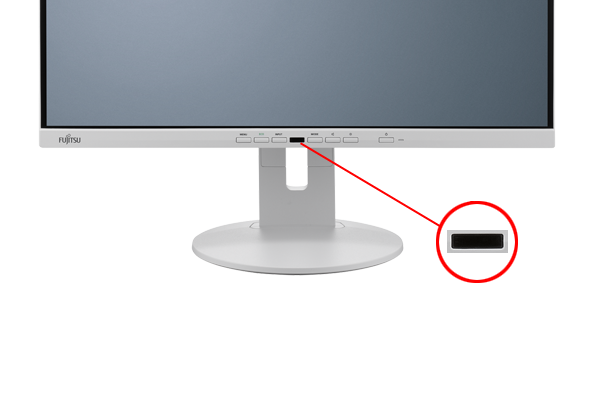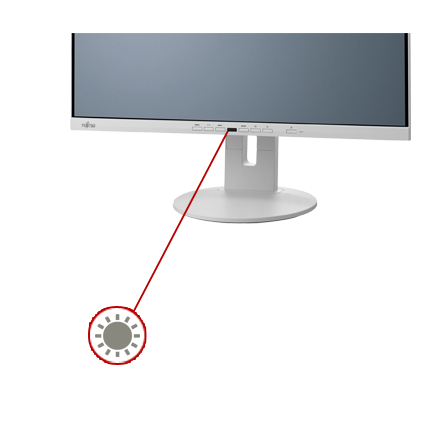 Comfort
Difference in Display lighting and ambient lighting conditions can cause eye strain and greatly impact user productivity in the long run. FUJITSU Display monitors have come up with a unique solution for this scenario
All FUJITSU P-line Displays have an Auto Brightness Control (ABC) feature. Once activated the ABC sensor measures ambient lighting condition and adjusts display brightness accordingly.
Collaboration
FUJITSU XL55-1 TOUCH Display monitor is designed for Future Workplace scenarios with a special emphasis on enhancing collaboration. The XL-55 TOUCH Display has a 10 point touch screen, an antiglare screen for durability providing a consistent viewing experience. The monitor is compatible with ESPRIMO* Q-series Meeting Room Edition (MRE) Mini PC for connecting wirelessly to any meetings irrespective of location.
*Not a part of the product. Sold separately.