<!-Subtext (optional)->
1FINITY™ S100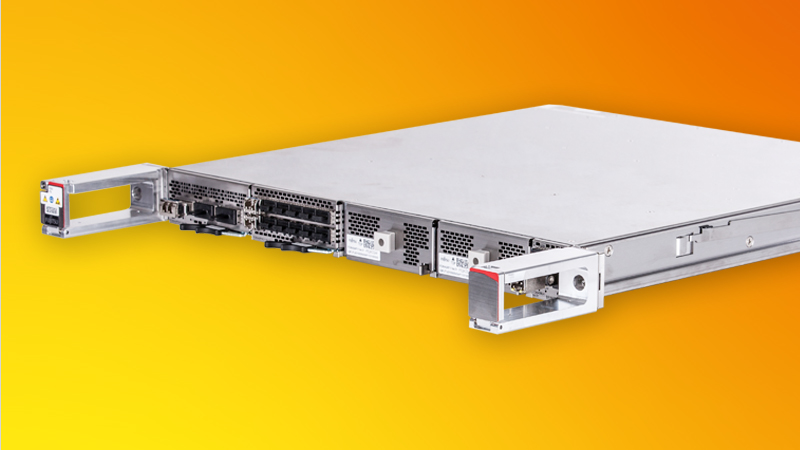 Carrier Ethernet Switching, Packet Optical Transport, and High-Density Aggregation
Solve Density and Space Challenges at Lower Cost
The 1FINITY S100 Switch is an all-in-one solution offering high-density packet optical MEF Carrier Ethernet operation in a compact 1RU footprint. The S100 solves density and space challenges, and reduces cost per bit with pay-as-you-grow flexibility.
The S100 Switch offers variety of deterministic and scalable connectivity services with self-healing network ring support. In fiber-challenged applications, the 200G wavelength option enhances capacity twofold, by using a single fiber pair facility. The S100 can be deployed in a standalone network configuration or integrated with other transport and/or ROADM platforms for more complex applications.
Optical Innovation
The S100's tunable optics and dense-wave plug-in unit can be configured with direct connection to the 1FINITY L-series ROADM, eliminating the need for a standalone transponder. These same optics enable operators to save on spare-parts inventory, since each module can be tuned to any of the 96 ITU grid wavelengths, reducing the need for fixed-wavelength devices.
1FINITY™ S100 Switch at a Glance
High-density packet optical Layer 2 transport
Modular 1RU blade design
MEF E-Line, E-LAN, E-Access, and E-Tree topologies
Switching and aggregation with self-healing from 1 GbE to 200G wavelengths
SDN-ready along with Virtuora Network Controller support
View Product Data Sheet
Small Footprint, Modular Design
The 1FINITY S100 packet optical transport switch overcomes the limitations of traditional converged, chassis-based platforms. Where these platforms require a large, proprietary chassis footprint, the S100 is a compact 1RU blade that enables rack space to be fully utilized. The result is maximum pay-as-you-grow flexibility and efficient, incremental scaling—with no vendor lock-in or long-term investment.
Applications
The 1FINITY S100 is ideal for aggregation and switching to deliver MEF-compliant E-Line, E-LAN, E-Access and E-Tree services. The platform provides 1 GbE, 10 GbE, 25 GbE, and 100 GbE service interfaces using 1.2 Tbps bidirectional switch fabric over transport facilities up to 200G per wavelength. As a standalone blade, the S100 offers flexible combinations of services and line rates, enabling pay-as-you-grow scaling for mobile backhaul, metro packet, and business services applications. For greater throughput on limited fiber facilities the platform can be used for 10 GbE, 25 GbE and 100 GbE aggregation over 200G wavelengths per dark fiber pair.
For metro ROADM interconnect, the S100 can be used with the compact, modular 1FINITY Transport and Lambda families and FLASHWAVE® 9500 deployments. The 1FINITY S100 blade can eliminate the cost of an intermediary transponder by providing direct 200G wavelengths to a 1FINITY, FLASHWAVE 9500, or equivalent ROADM line system. If longer network reach is needed, the S100 can be combined with 1FINITY, FLASHWAVE 9500 or equivalent regeneration transponders. Economical 1FINITY S100 platform scaling is simplified using 1FINITY 400G muxponders.
In MEF Carrier Ethernet applications, the 1FINITY S100 Switch provides a high-density compact-footprint packet hub for FLASHWAVE CDS deployments.
Simpler Network Operations
The 1FINITY S100 blade has a Linux-based operating system and can be managed with a Web-GUI, CLI scripts, SNMP, or a NETCONF interface. The S100 Switch also enables simpler operations with ITU-T Y.1731 for performance monitoring, ITU-T G.8031 and G.8032 for sub-50 millisecond Ethernet linear and ring protection switching, and link aggregation for facility protection.