Design Tip

The Protector Sheet Advantage
Benefits:
Excellent stylus registration
Protects screen surface during use, shipping or testing
Reduces waste and materials cost
Extends the usable life of a touch panel or display
Repeated-use applications or harsh environments are especially tough on a device's touch interface or flat panel display. Here's a simple, low-cost way to protect and extend the surface life of your investment.
Touch screens and flat panel displays are increasingly used in many of today's POS terminals and handheld devices. Over time, repeated stylus input, chemicals, dirt, and other environmental factors take their toll on the touch interface and/or display. For a minimal cost, however, you can extend the useful life of the touch device and prevent a costly replacement.
Fujitsu's Self Wetting Adhesive Protector Sheets (SWAPS) are a disposable, optical armor designed to protect a device in the field against abuse and harsh environments. Made of an ultra-thin (.003"-.004"/75-100µm), hard-coated film with a self-wetting adhesive, SWAPS virtually self-apply to the touch panel or display using no to very low finger pressure. Besides protection, SWAPS reduce maintenance costs and reduce usage wear with negligible optical impact.
10 Facts About Fujitsu SWAPS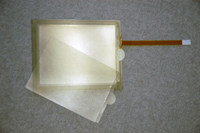 3H surface hardness; scratch and chemical resistant
Self-wetting adhesive allows easy, accurate application in the field by unskilled workers using very low finger pressure
High shear resistance keeps sheet in place during use
Re-usable - can be repeatedly repositioned if necessary
Removes cleanly, even after extended periods of time
Generates no static electricity during application or removal, protecting delicate device circuitry
Outstanding optical properties
Uses no conductive or ITO coating and will not impede operation of capacitive or projected capacitive touch panels
Ultra thin (.003"-.004"/75-100µm thick)
Using SWAPS cost 100 times less than replacing a damaged touch panel!
These RoHS-compliant protector sheets offer excellent stylus registration for touch applications. The chemical and scratch-resistant, hard-coated films are available in clear, and clear Anti-Reflection with 99% clarity and in 90 gloss Anti-Glare with 81% clarity.
The SWAPS are die-cut to custom sizes and come in a variety of packaging options. Pricing varies by protector sheet size, packaging and quantity. Contact Fujitsu Components America at 1-800-380-0059 or by email at components@us.fujitsu.com for more information and pricing.