Network Deployed

SMB Solution Datasheet
Put your scanner anywhere with PaperStream IP Net
Optimize your office space and place the scanner wherever needed, without the limitation of USB cable. We've added both Wi-Fi and Ethernet connectivity to our popular fi -7160 workgroup scanning platform, so the scanner can now be positioned to improve worker productivity and reduce interruptions.
Standard TWAIN and ISIS software packages work seamlessly. With new PaperStream IP Net, you have all the powerful cleanup and seamless application connectivity of the PaperStream IP driver over the network. Installation is simple: just select the IP address of the scanner to tie it to your standard data-source. Your software will work the same with no changes! No training needed.
PaperStream Capture integration enables push scanning. Your capture profiles will show up on the scanner's 4.3" color touchscreen. Just drop documents in, press the job button, and PaperStream Capture will scan and save all of your documents to your pre-configured destination.
Works with your software

TWAIN and ISIS drivers allow universal compatibility with popular scanning and document management systems.

Work untethered

Now you can place the scanner wherever it's best for you; no need for it to be near your PC. 2.4- and 5-GHz wireless, Ethernet, and USB options let you build your workspace to fi t your needs.

Integrate with your processes

Scan directly to email, SharePoint, SharePoint Online, or folder. Integrations add support for scanning to cloud, server, and web-based systems.

Make sure you got the perfect image - instantly

Instant QC shows scans directly on the touchscreen so users can verify page count and see scans in real time. Be assured that details are captured clearly with detailed zoom and 3 levels of thumbnail quality.

Clear, high-quality scans every time

Cutting-edge PaperStream image processing resides in PaperStream IP Net, optimizing every scan automatically to make it the clearest, most legible scan possible.
fi-7300NX with PaperStream IP Net
is a great fit for:
・tablet-based retail environments
pull scanning convenience
・areas where space is tight
like small workspaces and cramped desks; put it anywhere with Wi-Fi capability
Standalone Solution

Enterprise Solution Datasheet
Eliminate PCs and save money with PaperStream NX Manager
The fi-7300NX is perfect for the enterprise that wants to reduce costs with PC-less scanning and realize fast ROI. No local PC, monitor, or keyboard is needed. Integrated Wi-Fi allows optimized placement in hard-to-reach, high-traffic areas without having to pay for expensive Ethernet cabling.
Because it doesn't need to be tied to any user's PC, users can capture and review their documents on any deployed fi-7300NX scanner without interrupting other employees.
Installed on a Windows Server, PaperStream NX Manager provides easy-to-use, web-based, centralized management, allowing the IT professional to remotely control and administer workflows. Control up to 1,000 scanners, even at remote branches and offices via VPN.
Job buttons can be set up by group or individual, linked to Active Directory or unique PINs. Users log in to the device, put in documents, and press customizable buttons to send scans to the correct destination. Little to no training required.
Configure authentication to match your workflow
Customize each scanner with unique job sets based on location, department, or other criteria
Job codes or PINs allow just the right access per user, providing only the scanning options available to that user and routing the scans to the correct workflow
Microsoft Active Directory login allows users to authenticate with their familiar Windows username and password; no separate credentials needed to scan
NFC card authentication toolkit allows login with a variety of common badge types, allowing users to log in and start scanning with just a tap of their ID card
Integrate with your processes
Scan directly to email, SharePoint Online, FTP/SFTP or folder. Integrations add support for scanning to cloud, server, and web-based systems.
Virtually eliminate training
No need to spend time and money training users. Easily create job buttons in minutes that users can understand at a glance. You pre-configure the destination, scan type, document settings, and more. Your users drop their documents in, press a button, and go.
Make sure you got the perfect image-instantly
Instant quality control shows scans directly on the touchscreen so users can verify page count and see scans in real time. Be assured that details are captured clearly with detailed zoom and 3 levels of thumbnail quality.
Clear, high-quality scans every time
Cutting-edge PaperStream image processing resides in NX Manager, optimizing every scan automatically to make it the clearest, most legible scan possible.
fi-7300NX with NX Manager
is a great fit for:
・remote branches
easy-to-use centralized management
・a shared device for a department
save money, reduce interruptions for administrative staff
・areas where space is at a premium
like small workspaces and cramped desks
Features
Seamless integration into business systems
Users can begin scanning from the scanner's touch screen or from various applications on smart devices to suit all business needs. Not only is direct data transfer to client-unique web systems possible with SDK use, but secure data transfer is also possible with strong data encryption.
Scan without the computer
Users can scan and save documents without any requirement for a local computer. They can simply login to the scanner using user authentication and select a job from their personalized job menus on the fi-7300NX's touch screen. Customized job menus ensure efficient and secure decentralized data entry is possible for each user.
The fi-7300NX supports NFC (Type-A and Type-B) authentication and user authentication with username and password input on the touch screen. It is also possible for different job menus to be assigned to each scanner, and avoid any authentication processes.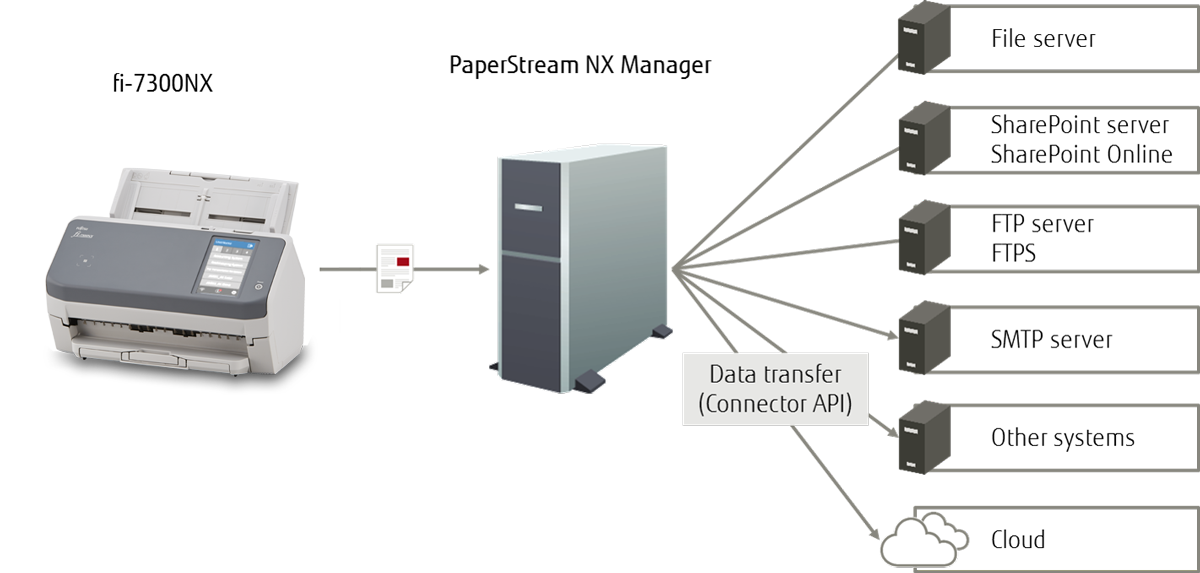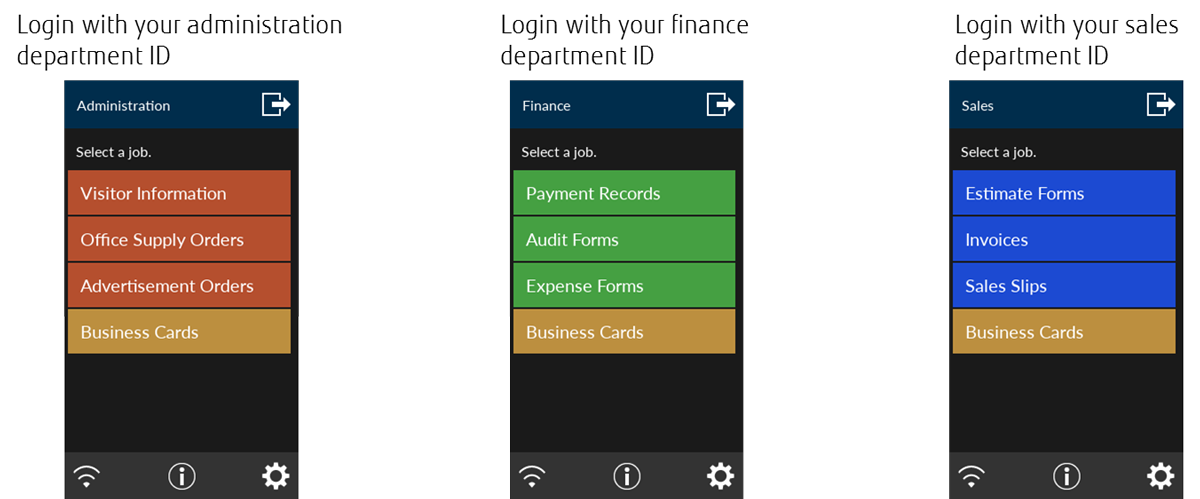 Scan from your smart device to any business platform
With PaperStream NX Manager, users can scan from mobile or web applications opened up on smart devices or thin client terminals. Seamless integration into company systems enables use of a variety of devices for scanning operations.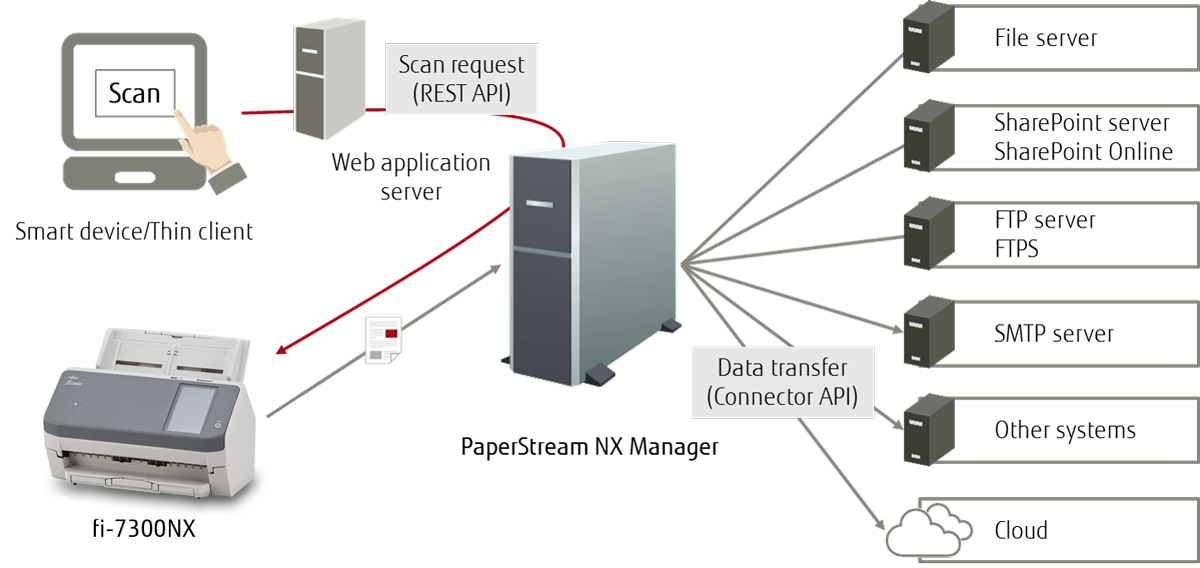 3 types of SDK to suit user environments
The PaperStream NX Manager SDK is provided to enable integration with various client systems and applications. Developers can utilize suitable SDK for their clients who want to use their own systems.
・REST API
An interface for development of web applications that carry out scanning functions. With the REST API, web applications can call on the fi-7300NX to scan paper documents.
・Authentication API
An interface for development of applications that use the fi-7300NX's authentication function. Not only can users link the scanner to NFC, but can also link the scanner with their currently used authentication server.
・Connector API
An interface for development of applications designed to link PaperStream NX Manager with various systems. With the Connector API, users can link to their business systems or OCR/document management software.
Reduce operation cost with centralized management
The user authentication function, job menu, and other scan settings are all centrally managed with PaperStream NX Manager and Scanner Central Admin. With the fi-7300NX's server software, there is no need for the conventional single client computer to scanner environment and the system administrator to stand by the scanner. This reduces the total burden of installation*, expansion, operation, and management.
*Installation requires other tools such as fi-7300NX Rollout Tool and Network Setup Tool for fi-7300NX.
The server software carries out user authentication, job management, image processing of scanned data, and data output for the fi-7300NX. Automatic sharing of authentication methods and job settings throughout all connected scanners can be done with PaperStream NX Manager, capable of managing up to 1,000 fi-7300NX scanners.
The software specializes in centralized management of multiple scanners, including batch updates of scanner settings and firmware, as well as monitoring of errors and consumables status. This is also capable of managing up to 1,000 scanners per server.
User-friendly hardware
Consistent, high-speed scanning
Inheriting the fi Series legacy of high-speed, consistent paper feeding, the fi-7300NX boasts a speed of 60 ppm/120 ipm for A4 size documents*1. Documents folded in half and carbon-copy sales slips are also an ease to scan with Manual Feed Mode. As the first standalone scanner in the world*2 to support Wi-Fi in the 5 GHz bandwidth*3, the fi-7300NX reduces potential stress from waiting time of data transfer.
*1 A4 size documents fed in vertically, 200/300 dpi.
*2 Based on a study by PFU Limited on scanners with Wi-Fi connectivity (September 4th, 2018).
*3 5 GHz Wi-Fi availability may vary across regions.
4.3 inch touch screen
The touch screen enables users to perform operations intuitively, like scanning and data checking, with thumbnail reviews of scans. The screen also displays messages or instructions with illustrations so that users can handle errors themselves.

Suitable operation methods for your environments
When scanning with computers, the fi-7300NX can be used with PaperStream IP, a specialized scanner driver for Fujitsu image scanners, via Wi-Fi connection, wired network, and USB connection. Connection without need for the USB cable allows the scanner to be positioned wherever needed, to improve user productivity, reduce interruptions, and make more room for more frequently used equipment.
Both advanced driver and software, PaperStream IP and PaperStream Capture, enable users to fully enjoy simple scanning operations and high quality images, like our other Fujitsu image scanners.
Integrations
Focusing on ease of use and driving business processes, our partners have developed tight integrations that leverage both the fi-7300NX PC-less/wireless scanning functionality and NX Managers fleet management capability to bring distributed scanning to a whole new level.
| | | | |
| --- | --- | --- | --- |
| Artsyl helps companies automate the processing of document based data presented to them from many sources - which today is a manual, error prone and resource intensive process to extract and validate data prior to utilization by EPR or Business applications. Artsyl's automation platform and solutions results in significant operational cost reductions, higher data integrity and agile revenue management. To learn more about the Artsyl and NX Manager integration please contact sales@artsyltech.com or (905) 326-0676. | Square 9 is a leading developer of award-winning enterprise content management solutions, built to drive business efficiency through process automation. With both on premise and cloud-enabled document management solutions, Square 9 enables businesses of all sizes to take control of paper intensive processes by managing, sharing, and securing their business content. Learn more about Square 9's integration with the fi-7300NX Manager. Call Sales at 203-789-0889 or visit site. | CaptureFast is the world's first cloud-based and mobile-first document and data capture application. It aims to help businesses extract valuable information currently stuck in physical or digital documents. By creating different templates from our web application, you may utilize CaptureFast to manage various document types. The mobile capture app allows you to extract information right from the field without the time lost in messengering documents between field and HQ operations. Find out more about the NX Manager with CaptureFast integration call our Sales at +1 833 3628227 or visit us at www.capturefast.com. | Process Fusion Inc. (PFI) is a managed services and cloud application provider of Secure Information Exchange (SIX) and Business Process Automation (BPA) solutions that facilitate efficient, secure, and compliant delivery of information inside and outside of the enterprise. Our goal is to help organizations automate critical business processes, increase process velocity, exchange information securely with high level of confidence while reducing as well as ultimately eliminating the inefficiency and errors associated with manual and labor-intensive processes. Contact Brooke Martin at bmartin@processfusion.ca or +1-905-813-5547. |
| | | | |
| --- | --- | --- | --- |
| At Document Logistix, we provide uniquely affordable and scalable document management software (Document Manager) to an ever-expanding range of SME and blue chip clients around the globe. Our solutions help to eliminate the use of paper, improve records management and automate business processes. To learn more call Document Logistix at (512) 345-4600x1 or email Us.Sales@Document-Logistix.com. | iKAN Software has been delivering integrated scanning based solutions for 20 years. We have the expertise and the experience to tackle your most pressing requirements with simple and efficient solutions your employees will love. To learn more about the iKAN and NX Manager integration, please visit www.ikansoftware.com/. | P3iD Server Installation for NX Manager offers a complete installation and integration of NX Manager on the client's preferred network and configuration of workflows and settings for individual users. Fast, thorough, affordable without impacting your IT schedule or resources. To learn more about P3iD and NX Manager integration please visit site, call 408-785-2005 or contact@p3idtech.com. | PaperSave is a complete document management, electronic workflow and transaction (invoice and gift) automation solution for Blackbaud, Intacct, and Microsoft Dynamics GP, SL, CRM and D365 Business Central. To learn more about the PaperSave and NX Manager integration call us at 877-727-3799 or visit ask for a personalized demo here. |
| | | | |
| --- | --- | --- | --- |
| At Hyland, our mission is to empower efficiency and agility so our customers can grow and innovate with confidence. We help more than 19,000 organizations handle their most critical content and processes with flexible, configurable software solutions. To learn more about Hyland's solutions, visit Hyland. | DocuWare is recognized by Gartner, Nucleus and other leading analyst firms as a best-fit document management and workflow automation solution for teams and organizations of any size.Available as both an on-premises and cloud solution with feature and design parity, DocuWare not only flexes to fit your unique business processes, but the demands of your IT strategy. Visit site for more info | dwsales@docuware.com or 888-565-5907 | Laserfiche is the world's leading software for content management, business process automation, and productivity-boosting data analytics. With users spanning more than 80 countries across the globe, in nearly every industry—including government, education, financial services and healthcare—Laserfiche solutions make organizations smarter, more collaborative, more efficient and more effective. At Laserfiche, we don't just build software. We transform the enterprise. Get a personalized Laserfiche demonstration and learn how your Enterprise Content Management solution will improve collaboration, optimize daily tasks and transform how your organization works. | Egnyte delivers the only modern content collaboration platform that is purpose-built for business. We empower IT with centralized data governance, so they can protect business-critical content wherever it resides, allowing secure content collaboration. Egnyte helps organizations identify, monitor and report on all assets, while staying fully compliant with the latest data regulations. Now teams have secure file sharing capability and access to content delivered at hyper-speed, regardless of file size, location, device or bandwidth.To integration contact Partners@egnyte.com or call 1-877-734-6983. |
| | | | |
| --- | --- | --- | --- |
| M-Files is the only intelligent information management platform that organizes content based on what it is, not where it's stored. You can even connect to existing network folders and systems to make them more intelligent with built-in AI to automatically categorize and protect information. Email contact@m-files.com for more information. | | | |
Two types of integrations are supported for fi-7300NX through PaperStream NX Manager.
Easy NX Connect
Simple Authentication and Cloud Delivery
New features and destinations in Easy NX Connect v1.30!

OCR/ICR Integration: Integration with Kofax OmniPage Server and Microsoft Azure Cognitive Services supports customers' requirements to transform documents into searchable PDF file formats, providing access to the information locked inside scanned images – at the point of scan.
Easy NX Connect Toolkit: For FCPA partners looking to build their own connectors with very little development, allowing users to configure an NFC card or a unique ID to a registered user, automatically configure jobs for users based on the destinations provided by the connector, and create a runtime installation environment with the partner connector for distribution.




The FUJITSU fi-7300NX Document Scanner with NX Manager just became more powerful and easier to use with FCPA's new Easy NX Connect. Easy NX Connect is a convenient software package that includes multiple authentications and destinations in one license allowing businesses to connect to popular cloud applications without the need for complicated IT or professional services.

More Connectors. Simplified Implementation.

In keeping with our promise to provide continuous improvements to our best in class imaging products, we are announcing new connectors for the Easy NX Connect for fi-7300NX scanner with NX Manager. Easily scan directly into popular destinations with these connectors:

Authentication & Destinations
Destinations:

• Nintex
• M-Files
• Egnyte
• Laserfiche
• OpenText RightFax*
• DocuWare
• SharePoint Online
• Box
• OneDrive for Business
• Amazon S3
• FTP, FTPS, and SFTP
• Scan to Print
• Active Directory email and folder
• Local DataBase email and folder
• Web Mail (i.e. Yahoo, Gmail)

*To learn more, please contact partnermarketing@opentext.com.

Authentication:

• NFC to Active Directory
• NFC to Local DataBase
• PIN / Password to Active Directory
• PIN / Password to Local DataBase




1. Provides enterprise level flexibility - With it, businesses can maintain centralized scanner management, implement PC-Less scanning, reduce training requirements for employees, authenticate users, and scan directly to popular cloud destinations




2. Convenient and easy to use even for inexperienced users

Simple NFC authentication using existing badges or stickers reducing login time from minutes to seconds
One button scanning to Active Directory Home Folder or Email
Authenticate and scan directly to Box or OneDrive, mapping a button for each workflow




3. Includes FCPA's industry leading U.S. based customer support, a 1-Year maintenance warranty, free connector updates and access to new connectors as they are added




4. Two reasonably priced license options available. One for less than a million pages per server. Another for unlimited scans per server.



Specifications
Product Name
fi-7300NX
Scanner Type
ADF (Automatic Document Feeder), Duplex
Scanning Speed(1) (A4 Portrait)
(Color(2)/Grayscale(2)/Monochrome(3))
Simplex: 60 ppm (200/300 dpi)
Duplex: 120 ipm (200/300 dpi)
Image Sensor Type
Color CCD x 2 (front x 1, back x 1)
Light Source
White LED Array x 2 (front x 1, back x 1)
Optical Resolution
600 dpi
Output Resolution(4)
(Color / Grayscale / Monochrome)
50 to 600 dpi (adjustable by 1 dpi increments), 1,200 dpi (driver)(5)
Output Format
Color: 24-bit, Grayscale: 8-bit, Monochrome: 1-bit
Background Colors
White / Black (selectable)
Document Size
Maximum(6)
216 x 355.6 mm (8.5 x 14 in.)
Minimum(7)
50.8 x 54 mm (2 x 2.1 in.)
Long Page Scanning(8)
5,588 mm (220 in.)
Paper Weight (Thickness)
Paper
27 to 413 g/m² (7.2 to 110 lb)(9)
Plastic Card
1.4 mm (0.055 in.) or less(10)
ADF Capacity(11)(12)
80 sheets (A4 80 g/m² or Letter 20 lb)
Typical Daily Duty Cycle(13)
9,000 sheets
Multifeed Detection
Overlap detection (Ultrasonic sensor), Length detection
Paper Protection
Lag detection, Sound detection (iSOP)(14)
Display
4.3 in. TFT color touch screen
Authentication
Keyboard (on touch screen), NFC
Interface
USB 3.1 Gen1 / USB 3.0 / USB 2.0 / USB 1.1
Network Interface
10BASE-T, 100BASE-TX, 1000BASE-T
Network Protocols
IPv4(15), TCP, UDP, ICMP, DHCP, HTTP/HTTPS, DNS
Power Requirements
AC 100 to 240 V ±10 %
Power Consumption(16)
Operating
42 W or less
Power Saving
2.4 W or less
Power Off
0.35 W or less
Operating Environment
Temperature
5 to 35 °C (41 to 95 °F)
Relative Humidity
20 to 80% (Non-condensing)
Environmental Compliance
ENERGY STAR®, RoHS
Dimensions(17) (W x D x H)
300 x 202 x 170 mm (11.8 x 7.9 x 6.6 in.)
Weight
4.9 kg (10.8 lb) or less
Supported Operating System
Windows® 10 (32-bit/64-bit), Windows® 8.1 (32-bit/64-bit), Windows® 7 (32-bit/64-bit), Windows Server® 2016 (64-bit), Windows Server® 2012 R2 (64-bit), Windows Server® 2012 (64-bit), Windows Server®2008 R2 (64-bit), Windows Server® 2008 (32-bit/64-bit)
Included Software / Drivers
PaperStream IP Driver (TWAIN/TWAIN x64/ISIS), WIA Driver(18), PaperStream Capture, ScanSnap Manager for fi Series(19), Software Operation Panel, Network Setup Tool, ABBYY FineReader for ScanSnap™(19), Scanner Central Admin
Image Processing Functions
Error diffusion, Dither
Included Items
Chuter unit, AC cable, AC adapter, USB cable, Setup DVD-ROM
Actual scanning speeds are affected by data transmission and software processing times.

Indicated speeds are from using JPEG compression.

Indicated speeds are from using TIFF CCITT Group 4 compression.

Selectable maximum density may vary depending on the length of the scanned document.

Some limitations may apply to the size of documents that can be scanned, depending on system environment, when scanning at high resolution (over 600 dpi).

Scans folded documents of up to 297 x 432 mm (11.7 x 17 in.) with carrier sheet scanning.

Capable of scanning in both portrait and landscape orientation.

Capable of scanning documents longer than A4 (210 x 297 mm / 8.3 x 11.7 in.) sizes. When using PaperStream IP (TWAIN/ISIS) to scan at 200 dpi, the maximum scanning length is 5,588 mm (220 in.).

Thicknesses of up to 128 to 209 g/m2 (34 to 56 lb) can be scanned for A8 (52 x 74 mm / 2.1 x 2.9 in.) sizes.

Capable of scanning up to 3 cards at a time (Note: does not set more than one embossed card at a time).

Maximum capacity depends on paper weight and may vary.

Capable of setting additional documents while scanning.

When operating 8 hours a day.

Intelligent Sonic Paper Protection.

IPv6 is not supported.

Scanner automatically enters power saving mode when not used and powers off by default when not used for 4 hours.

Excludes the ADF paper chute and stacker.

Functions equivalent to those offered by PaperStream IP may not be available with the WIA Driver.

Software can be downloaded from the website designated in the Setup DVD-ROM.
Enhancements
fi-7300NX
Part Number
Description
Service
fi-7300NX 3 Year Advance Exchange
S7300-AEMYNBD-3
Parts, Labor, Shipping
fi-7300NS 3 Year Depot
S7300-DEPW5DY-3
Parts, Labor, Return Shipment
Consumables
Brake Roller
PA03670-0001
Every 200,000 sheets or one year
Pick Roller
PA03670-0002
Every 200,000 sheets or one year
Cleaner F1
PA03950-0352
100 ml bottle for Roller cleaning
Cleaning Wipe
PA03950-0419
1 pack (24 sheets) for Roller cleaning
Cleaning Paper
CA99501-0012
1 pack (10 sheets) for use with Cleaner F1
Options
Carrier Sheets
PA03360-0013
Each package contains 5 carrier sheets
Warranty
Find out the details about your product's warranty and information on how to extend your warranty.
Warranty Information