FUJITSU Image Scanner ps-capture
Overview
Automatically converts documents into crisp clear image data, elevating work efficiency and productivity
PaperStream IP enhances standard TWAIN and ISIS applications by integrating cutting edge image processing technologies, without the need to change or modify any software.
Compatible with standard ISIS and TWAIN applications
Advanced image processing functions providing high quality images


Image Cleanup
Auto color detection
Auto rotation
Auto cropping and deskew
Blank page deletion

Easy to understand, workflow-oriented user interface. Settings and configuration made simple.
"Automatic Profile Selection" function automatically determines optimal profiles for each document based on pre-registered formats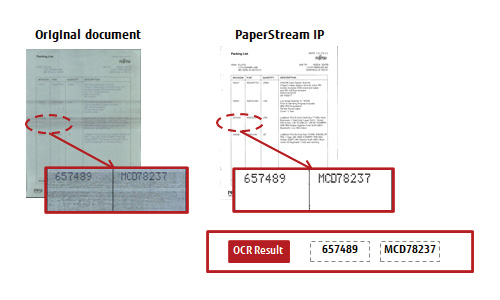 Features
Advanced Cleanup Technology
Cleans up reversed type characters and special backgrounds including halftones, stamps and background patterns. Generates easy-to-read image data with remarkable recognition rate for OCR.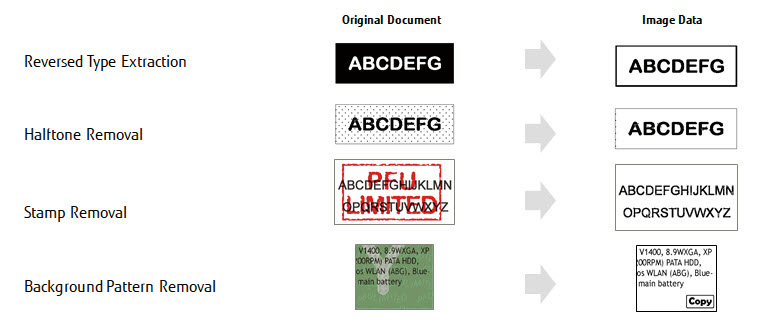 Efficient scanning with improved accuracy of "Automatic Rotation" function
Automatic rotation increases efficiency and reduces document preparation, saving valuable time. The new custom rotation settings allow precise rotation accuracy for common documents.
Assisted Scanning with intuitive interface
Users visually choose the best image for image replacement or profile setting without having to learn and manipulate advanced driver settings.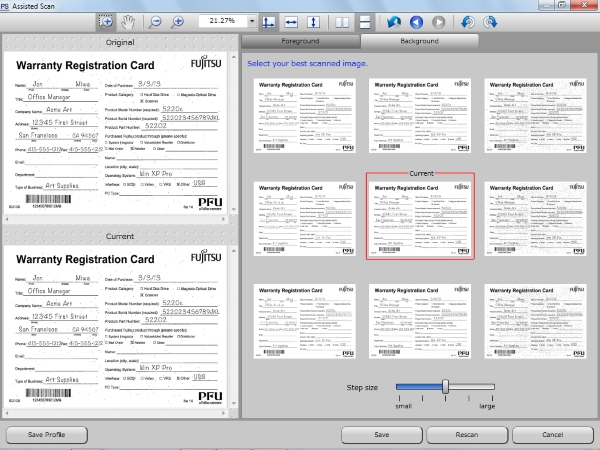 Easy to understand, workflow-oriented user interface
Recognizable icons allow users to configure and change settings easily. The preview function allows for real time adjustment of image quality to quickly configure the optimal settings for the documents.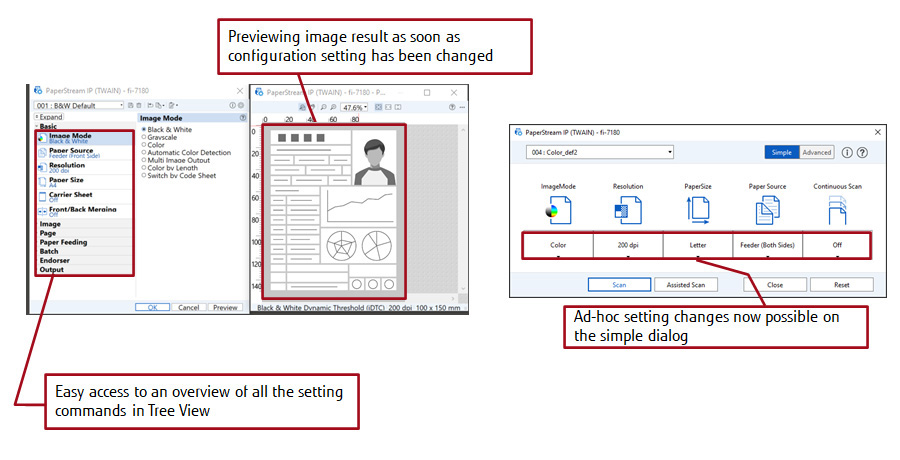 Specifications
Product Name
PaperStream IP
Supported scanners
Workgroup
fi-8170 / fi-8270 / fi-8150 / fi-8250 / fi-7300NX / fi-800R / fi-7160 / fi-7260 / fi-7140 / fi-7240 / fi-65F / fi-7030 / SP-1425 / SP-1130 / SP-1125 / SP-1120 / SP-1130N / SP-1125N / SP-1120N
Departmental
fi-8190 / fi-8290 / fi-7180 / fi-7280 / fi-7480 / fi-7460
Production
fi-7900 / fi-7800 / fi-7700 / fi-7700S / fi-7600
Discontinued
fi-6140Z / fi-6240Z / fi-6130Z / fi-6230Z / fi-6110 / fi-5530C2 / fi-5950 / fi-6800 / fi-6400 / fi-6770 / fi-6750S / fi-6670
Supported Languages*1
English, Japanese, German, French, Italian, Spanish, Chinese (Simplified/Traditional), Russian, Korean, Portuguese, Arabic, Turkish
Supported Operating System
Windows® 11, Windows® 10, Windows® 8.1, Windows® 7, Windows Server® 2022, Windows Server® 2019, Windows Server® 2016, Windows Server® 2012, Windows Server® 2012 R2, Windows Server® 2008 *2, Windows Server® 2008 R2
Hardware
Requirements
CPU *3*4
Intel® Pentium® 4 1.8GHz or higher (Recommended: Intel® Core™ i5 2.5GHz or higher, except for mobile)
Memory Capacity *3*4
1 GB or more (Recommended: 4 GB or more)
Display Resolution
1024 x 768 Pixels or more
Disk Capacity
1.5 GB or more *4
Software
.NET Framework 4.5 (excluding Windows® XP)
.NET Framework 4 + the latest Windows Update (Windows® XP)
For the following languages, only text recognition with searchable PDF is supported: Greek, Vietnamese, Swedish, Dutch, Polish, Czech, Romanian, Hebrew, Ukrainian.

Scanning speeds may drop if recommended CPU, memory capacity and USB 1.1 requirements are not met.

The scanner may not operate if the recommended CPU and memory capacity requirements are not met.

Additional 1GB or more free disk space is required for "2D Barcode for PaperStream".
Videos
Introduction