Connect with Connected Retail
The Fujitsu TP8 family of 15" / 18" All-in-One (AIO) and Modular Point of Service (PoS) solutions are available with a wide variety of Processor, Memory and Storage options to ensure maximum feature / functionality / price fit for each retailer's unique requirements. Based on 6th Generation Intel processors, for full legacy application compatibility or 7th Generation for maximum performance, TP8 provides a future-proof platform for Fujitsu and third-party applications. With a common motherboard between AIO and Modular, along with simple to change display panels, TP8 delivers a market-leading level of flexibility, serviceability and reliability for lowest TCO.
View some of our products
Genesis
U-Scan Genesis offers retailers new features, flexibility, scalability, reliability and usability. Some of the advanced features include: high capacity, space saving footprint, ATM-style "follow me" LED lighting, more intuitive customer interface, "above scanner" bill and coin accepting and dispensing units and multi-item scanning.
Using our sophisticated messaging framework and virtual POS design, U-Scan can be quickly integrated to most retailers' POS systems. POS upgrades are simple to implement, fast and less costly to integrate with the U-Scan software, meaning much lower impact to retailer's on-going POS release schedule.
Fujitsu U-Scan Genesis II provides the same high reliability that retail customers demand from their Self-Checkout solution providers, while at the same time has been carefully redesigned into a new sleek and elegant form factor. Below the new beautiful exterior, Genesis II's overall performance has improved using faster, more reliable and more energy efficient components. Support for the latest Intel® processors and Microsoft® Windows® Operating Systems is included in Genesis II, all fully integrated with the latest Fujitsu U-Scan version 6.0 software.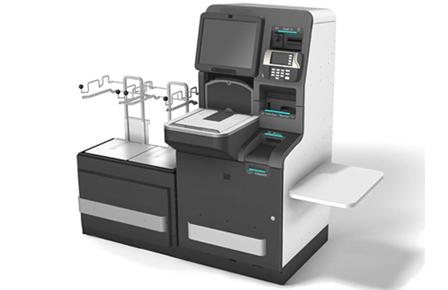 U-Scan Mini-Express™
40% smaller than its predecessor, the U-Scan Mini-Express™ optimizes your front-end options. Designed for credit and debit transactions only, the Mini-Express has far less equipment failures and interventions than devices that handle cash. The small and compact design allows retailers to place nearly double the number of standard SCO units in a desired space. Retailers are installing these in their stores across the globe as express lanes and well-merchandised checkout options, improving the customer experience, driving more customer traffic through self-checkout, and reducing costs.