Digital Government Transformation to enhance Citizen Experience
In a world where digital is becoming a basic human right it's not just Gen Y "millennials" or Gen Z that are impacted by transformation and the internet, technology is making a new generation out of all of us. But what kind of government is needed to partner with this new generation? Transformation implies more than being citizen-centric and putting services online but anticipating proactively, even pre-empting citizen events - enabling autonomy, protecting data and sharing securely.
Overcoming the challenges of
Digital Government Transformation 
At Fujitsu, we believe that key digital technologies, such as AI, RPA, Cloud Services and IoT, can lay the foundation for a digital future and transform the relationship between citizen and state. Through the end-to-end digitalization of both systems and processes, governments can better connect with citizens, keep pace with rising demand for improved omni-channel services, and deliver more effective, accountable, and transparent public services.  With continued pressure on budgets, governments are being forced to make difficult decisions as to their spending priorities. Private sector companies, compelled by an ever-competitive environment have already embraced digital, and it's time for governments to do the same.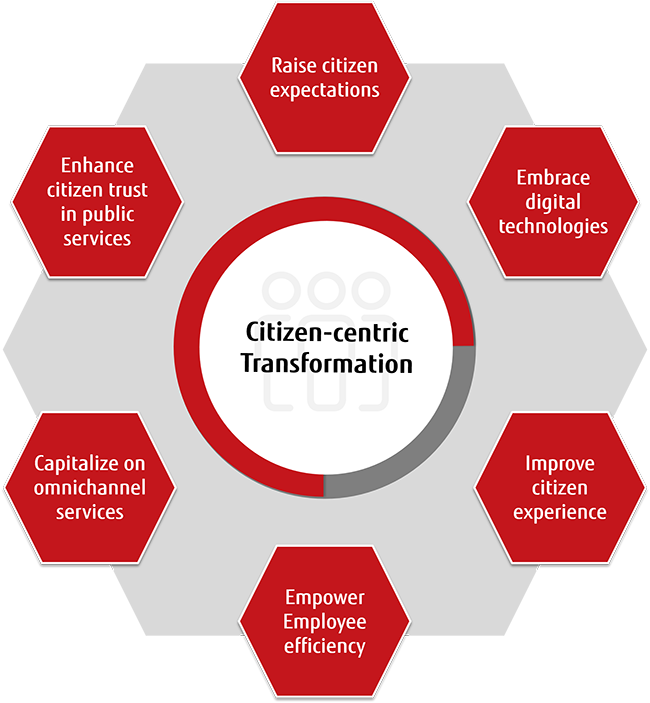 Solutions for Digital Government
Solving Complex Problems through
Trusted Digital Business Solutions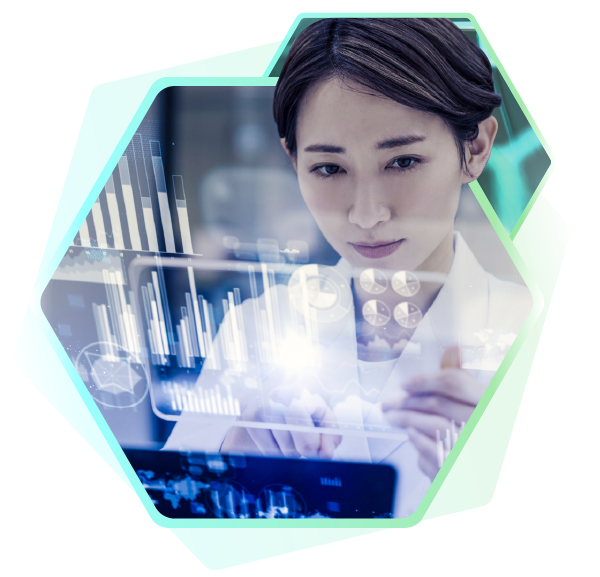 Robotic Process Automation (RPA)
RPA leverages software to emulate the interactions of people and technology. For governments, RPA can enable 24/7 processing, increase efficiency and improve governance.
Blockchain
Streamline government operations, reduce tax fraud, improve voting and foster more transparent government-citizen relations.
Artificial intelligence (AI)
Our F|AIR automated AI inspection solution fitted to trains, trucks and roadwork vehicles, can help determine current infrastructure status.
Data Analytics
Fujitsu Sholark solution enhances performance within crime prevention, detection, investigation, and prosecution.
Digital Annealer
Used by government, Fujitsu Quantum-Inspired Digital Annealer can calculate optimal investment when expanding existing roads or adding new ones.
Traffic route optimization can reduce carbon emissions to improve air quality for citizen wellbeing. Applied to First Responder ambulance routing it can save lives.
Internet of Things (IoT)
Reshaping government to provide better services, greater safety, smarter public infrastructures and strategic traffic management.
Geographic Information Systems
Communication, collaboration and analysis of issues based on location. Our GIS team have provided a regional and global picture of hydrological impact, affected municipalities, and road network status.

Unlocking creativity, knowledge & innovation
Employees, customers and the wider world around us. Historically these roles have been managed as three distinct and largely disconnected entities. You might practice great customer service. You may have effective employee engagement programs. And you might carry out initiatives to positively impact society. But in today's digital world, that's not enough. How is creativity and knowledge being harnessed to empower people to innovate? And is digital technology playing a role?
.