Fujitsu can Assist with your Reopening Journey
We are here to help you introduce safe and touchless fulfillment options with GLOVIA® OM as you reopen your business.
There's no doubt that within a few months COVID-19 has drastically changed the retail landscape. As restrictions are slowly lifted, now more than ever, customers require an omni-channel retail fulfillment experience, and retailers must be prepared to meet that demand.
Fujitsu is offering free GLOVIA OM software subscriptions with a quick deploy package to enable retailers to provide order fulfillment from store locations as they reopen.*
GLOVIA OM is a cloud based order management system with quick deployment options for a touchless retail experience. Get started in just days, not weeks or months, with our Plug and Play solution.
During this unprecedented time, we are committed to helping retailers launch safe order fulfillment capabilities.
*5 Free User Subscriptions for 6 months. Quick Deploy Package Includes 2 days of services to enable the solutions and provide training to quick deploy. Additional professional service integration to ecommerce platform can be provided for an additional fee. Contact us for a detailed quote.
Learn More Now
By submitting this form, you are confirming you have read and agree to the Terms and Conditions.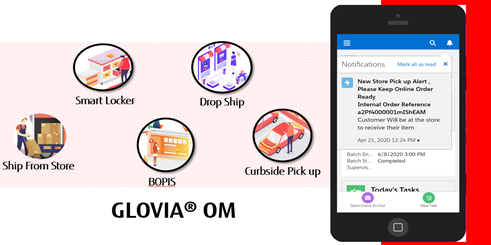 GLOVIA OM's Omni-channel retail experience empowers retailers to offer their customers multiple fulfillment options while stores are closed. Listed below are 5 different fulfillment features retailers can utilize with GLOVIA OM.
BOPIS
Plug and play solution to rapidly start fulfilling orders from your stores as you reopen using a smart mobile device. 
Curb side pickup
Associates throughout the store can be alerted of pending orders. Order status and updates can be sent to customers via email or SMS text message using additional paid apps. 
Smart Locker (Remote Pickup) Fulfillment
GLOVIA OM API's can be integrated with your API enabled smart locker service providers for an additional fee. 
Ship from Store
Shipping from store is a great method to manage in-store inventory and provide high turnover for store locations. 
Drop Ship
Totally bypasses the in-store obligation altogether with our direct drop shipping capabilities. Access can be provided to your suppliers to fulfill orders on the same platform.
Allowing GLOVIA OM to put it all together
GLOVIA OM has been consistently delivering omni-channel order fulfillment options for buy online, ship-from-store models. Our solution is capable of empowering any retailer with the tools necessary to fulfill orders from their store so they can delivery into your customers' hands in the fastest, most economical way possible.
We do understand that implementing new functionality like this may seem like a huge undertaking, however, GLOVIA OM is uniquely capable to be applied without a complete rip and replace of your current system. Fujitsu is prepared to assist, and avoid replacing your current infrastructure — by utilizing our best of breed distributed fulfillment solution into your existing ecosystem.
Not sure if you're ready?
You've got questions, and we've got answers




Want to download this information in PDF format? Click Here
1This offer is subject to the following Terms and Conditions.
We're committed to your privacy. Fujitsu uses the information you provide to us to contact you about our relevant content, products, and services. You may unsubscribe from these communications at any time. For more information, check out our Privacy Policy.