Archived content
NOTE: this is an archived page and the content is likely to be out of date.
Style Sheets
48. Display information in accordance with structural logic, using attributes and essential elements for structure and display purposes correctly. Use style sheets for essential display elements.
Through the usage of content division into elements and attributes for both display and structure, these can be used by a variety of browsers, including audio ones. For example, one audio browser sounds a tone before the voiceover of text which is designated as a title ((h1) to (h6)), perhaps indicating that it is a title. However, when a title is only specified by character size ((big), etc),  the same effect cannot be gained. Examples of visual elements are: (b), (i), (big), (small) and (tt).
Example and Implementation
Use logical structural descriptions rather than character decoration to display structural tags.
Titles: Use (h1) to (h6) for titles. Do not only usesize designation.
Quotations: Use (q) or (blockquote) for text in quotations.Do not use to indent text.
Lists: Use (ul) or (ol) for lists Do  for listsDo not use to indent text.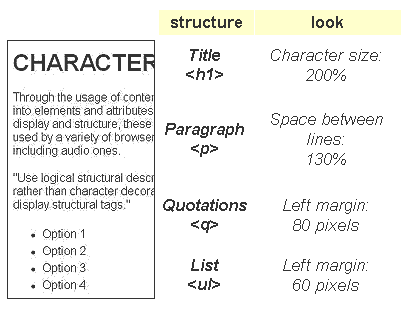 49. When using style sheets, enable viewing by browsers which do not support them.
Some regular browsers and audio browsers do not support style sheets. For example, when the display order (layout) is specified using style sheets (layers, etc), that specification is not reflected in the audio browser and they are read aloud in an incomprehensible order.
Example and Implementation
Check your content by disallowing the specification of style sheets.
Top of Page