Environment
Fujitsu Components' Group Environmental Policy
Fujitsu Components Group strive to save energy, recycle resources and provide environmentally sound components through its business activities.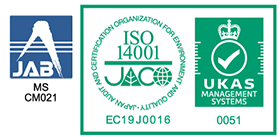 Principle
The Fujitsu Components Group, recognizes the value and importance of protecting the global environment as one of the most important issues. Our environmental philosophy is:
We shall adhere to the best corporate activities while improving our coexistence with the environment.
As an enterprise that develops, designs, manufactures, and sells electrical components, we promote the Environmental Management System (EMS) in accordance with ISO14001.
Action Guidelines
We continuously improve our environmental management system to reduce and prevent environmental pollution by keeping the environmental aspects in mind through our activities, products and services.
We offer products that both help achieve business growth and protect the environment.
We comply with the various environmental laws as they apply to our activities, products and services.
We completely ban hazardous substances in our products and do not discharge any hazardous substances into the environment as specified by Fujitsu Components Group.
Every employee shall strive to improve the environment including use of sustainable sources, climate control, and biodiversity conservation at work and at home and extend those activities to society.
Priority Items
We take on following priority items which pertaining to environmental aspect of our products and services.
Improvement of environmental value throughout product lifecycle

Promotion of social contribution activities

Reduction of greenhouse gas CO2 emission

Improvement of energy consumption per unit

Improvement of waste emission per unit
Supplement
This policy is shared our employees, group members and all other parties concerned.

Our Analytical Engineering Department is responsible for the Environmental Policy.
April 1, 2020
Fujitsu Components Group EMS Management
The 8th Phase of Fujitsu Components' Group Environmental Protection Program
April 4, 2020 (3rd issue)
The Environmental Protection Program defines the action plan of the Fujitsu Components' group environmental policy. The goal is to achieve the medium-term action plan by the end of FY2021. The plan is subject to change depending on the review of the previous year's results.
Contribution to Society
Development of eco-friendly products
We shall develop 10 or more new eco-friendly products which meet one of the following by the end of FY2021:
Top energy efficient products (Note 1)

Improved resource efficiency of products (Note 2) by 1% or more compared to FY2016 to FY2018.
Promotion of Social Contribution Activities

All employees continuously engage in social contribution activities in their local communities.

We proactively offer resources for activities that help solve social or environmental issues, such as biodiversity conservation.
Business Activities
Reduction of CO2 emissions
We will implement various energy saving activities to achieve the reduction of 3,132t-CO2 (Note 3) by the end of FY2021.
Reduction of energy consumption per unit
We will reduce the energy consumption per unit (Note 4) by an average of 1% per year or more at each office/factory location.
Reduction of industrial waste per unit
We will keep the waste emission unit (Note 5) equal or lower than that of FY2018 by the end of FY2021.
Notes

Note 1:

In the group of top ranked products in terms of energy efficiency. (World's or industry's first, world's best).

Note 2:

Saving resources by making products smaller, lighter, thinner, reducing number of piece parts, improving the recyclability, or decreasing the amount of waste generated.

Note 3:

15% reduction of CO2 emissions since FY2018 (20,870t-CO2) for an average of 5% reduction per year.

Note 4:

Total energy consumption amount (kl crude oil equivalent) divided by sales amount or production quantity.

Note 5:

Total waste emission (t) divided by sales amount or production quantity.
Environmental Report
This is the report about Fujitsu Components Group' environmental approach. It is made public to our customers and other parties concerned, expecting to be used as a tool for interactive communication.
Please save the pdf file when it does not open within the browser.
Right-click and select "save as" to save the target.
Environmental Report < FY2020 >
Environmental Report < FY2019 >
Environmental Report < FY2018 >
Environmental Report < FY2017 >
Environmental Report < FY2016 >
Environmental Report < FY2015 >
Environmental Report < FY2014 >
Environmental Report < FY2013 >
Environmental Report < FY2012 >
Environmental Report < FY2011 >
Environmental Report < FY2010 >
Environmental Report < FY2009 >
External Evaluation
EcoVadis
Fujitsu Components Group has been awarded a Silver rating for sustainability performance in a survey conducted by EcoVadis.
The company rated an exceptional 80 points in the Environment category.