Archived content
NOTE: this is an archived page and the content is likely to be out of date.
Hybrid Cloud Solutions


With Hybrid Cloud Fujitsu delivers the perfect balance of services
With our Hybrid IT offering, we provide a broad range of solutions that blend internal IT systems with new cloud-based services. We seamlessly integrate public, private and managed cloud, with existing on-premises IT, to improve accessibility, agility, and deliver better business outcomes.
Our Hybrid model offers scalability, flexibility, cost control, high levels of security and appropriate governance. Globally we have:
more than 5,000 large scale implementations
a network of more than 30 cloud platforms
public cloud availability measured at 99.99986%
Uptime Institute Tier III data centre certification
Fujitsu Hybrid Cloud Management
No one implements, orchestrates and manages Hybrid Cloud better than us. Our hybrid model supports business growth, innovation, digital transformation, and competitiveness across a wide-range of industry sectors. With our digital business platform MetaArc, we provide the tools that are needed to integrate and manage cloud alongside traditional IT.
MetaArc is built on our next generation cloud platform Cloud Service K5, which was developed to deliver highly effective and cost efficient digital business transformation. Through MetaArc and K5, we enable you to maximise your existing IT investment, and reduce the complexity of managing a hybrid environment.
The benefits of adopting a Hybrid Cloud approach.
Cloud on its own delivers many benefits such as:
cost reductions
increased flexibility and agility
fast support for innovation
However, taking a hybrid approach offers even more. It enables you to migrate to cloud-based services, while still making the most of your in-house systems and existing IT investment. With Hybrid Cloud you can continue to use the enterprise servers, storage devices and networking equipment, that remain vital to the maintenance of your long-established business critical operations.
With our help, you can take advantage of bimodal IT, which combines legacy IT - where the main focus is on stability, with cloud-based services - where the main focus is on agility.

Increasing Hybrid IT efficiency through Service Orchestration
To evaluate the strengths of Hybrid IT and Service Orchestration, Fujitsu recently commissioned a study by Forrester Consulting to survey organisations in Australia, the US and Europe. The key findings were:
Organisations need to adopt Hybrid environments if they are to adapt to and meet customer expectations. However, for organisations to receive the maximum benefit from Hybrid IT, Service Orchestration is required to unify strategies from both IT and the business.
Hybrid IT Service orchestration must happen on multiple layers. While it's common to begin with increased speed, efficiency and agility across disaggregated platforms, to build a truly efficient environment, Service Orchestration must also be extended to security, compliance, digital supply chain efficiency and supplier management.
Hybrid IT and Orchestration advice is required from expert service partners with a proven track record in developing and implementing Hybrid IT environments.
The benefits of Hybrid IT and Service Orchestration include; improved scalability, flexibility and agility, improved competitiveness and lower total cost of ownership.
Review Service Orchestration: Increasing the Efficiency of Hybrid IT (468 KB) findings in more detail, or contact Fujitsu to find out about our Hybrid IT Orchestration services.
Why choose Fujitsu as your Hybrid Cloud Solutions provider?
We are a world-leading Hybrid Cloud Service provider. Our extensive experience has led us to develop an in-depth understanding of the requirements of organisations wanting to migrate to the Cloud. We know that business needs vary greatly, and so unlike many other service providers, we never take a standard one-size-fits-all approach.
We work in close partnership with you, and help you to work out which services and solutions should be migrated to the Cloud, and which should be left in-house.
We listen to your requirements, and then individually design and develop a tailor-made cloud solution aligned to your unique business needs.
We deliver an effective hybrid solution that provides the right balance of services to efficiently manage your workload and deliver your business goals.
Contact Fujitsu to find out more about our Hybrid Cloud solutions.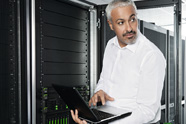 The future of the data centre in the age of Hybrid IT (1.20 MB)
A data centre equipped for the Hybrid IT era blends the best of cloud and on-premise to drive innovation.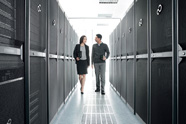 7 top data security risks for Hybrid IT - and how to tackle them (2.83 MB)
Learn how to tackle new security challenges and unlock the benefits of the cloud and Hybrid IT.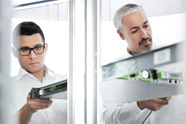 The new security challenges for delivering bimodal IT (499 KB)
Tackling security challenges around bimodal IT delivery will enable businesses to unlock the benefits of the cloud and Hybrid IT.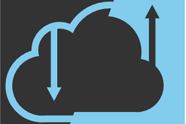 Forrester Consulting Thought Leadership Paper (468 KB)
Service Orchestration: Increasing the Efficiency of Hybrid IT. Transform IT to deliver success in the digital age.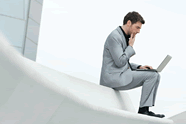 White paper: New value for legacy data through Hybrid IT (498 KB)
Making the business case for transformation isn't necessarily simple or straightforward. Find out how we can help.

Top of Page