Imaging Anywhere - Enabling collaborative diagnostic imaging
The Challenge
The NHS faces an acute shortage of radiologists, in fact almost three quarters of clinical directors in England's radiology department's state there are not enough radiologists to deliver safe and effective care.
This shortage is set to increase from 34% to 43% by 2024. At the same time the number of CT and MRI scans required is growing year on year. In 2019, this shortfall of radiologists cost NHS England an estimated £162m in outsourcing, insourcing and locum budgets.
Fujitsu is working with technology partners Citrix and Microsoft to enable radiologists to work from home - delivering a better working from home experience for radiologists at a lower cost. Helping to accelerate transformation of radiology in line with vision set out in the long term plan.
Flexible home working for Radiologists
We need to make sure we offer radiologists a better working environment that reduces stress and burnout. Working from home not only delivers this, it also keeps radiologists safely away from hospitals during the pandemic.
However, despite best efforts, current technology solutions available to radiologists are not optimised for home working. Downloading images can be very slow using VPNs, and the screen resolution rarely matches the 'in hospital' experience. This poor user experience is impacting radiologists making it difficult to review scans, produce reports and reduce the growing backlog of work, which in turn negatively impacts patient outcomes.
The impact and benefits of 'Imaging Anywhere'
Fujitsu, Citrix and Microsoft have developed a solution specifically optimised for radiologists to work from home, without impacting existing processes.
By enabling radiologists to work from home, you will be able to:
Save 10 minutes per scan
Increase collaboration between trusts
Recruit from a wider talent pool
Our solution
Our solution actually exceeds the 'in hospital' experience in terms of performance and ease of use by providing:
Instant access to scans with no need to download large images
Reporting grade quality through high resolution images
No dependence on variable VPN bandwidth
Single screen with no need for heavy, powerful workstations in the home
By implementing these changes, radiologists can save over 10 minutes per scan, compared to existing working from home technology.
Fujitsu's cloud-based solution delivers a more flexible experience for radiologists whilst enabling a better collaboration between radiologists across the UK
With faster technology and a better working environment, radiologists will benefit from a better work life balance, as they're able to do the exact same job, from the comfort of their own homes.
Removing geographical boundaries allows Trusts to recruit from a wider talent pool. Radiologists can collaborate and share workloads using a common platform.
A better working experience will reduce attrition rates, and may even encourage those who retired to return part time, offering flexible working.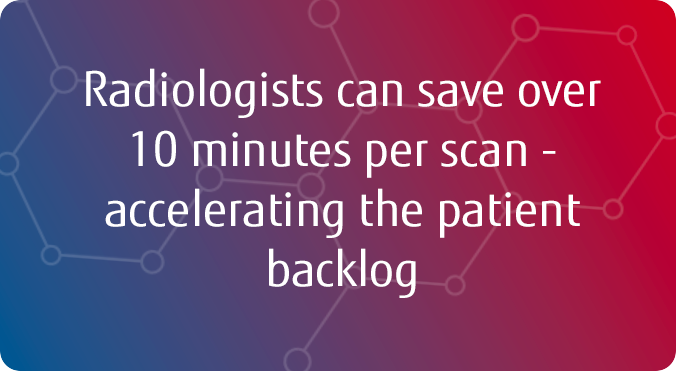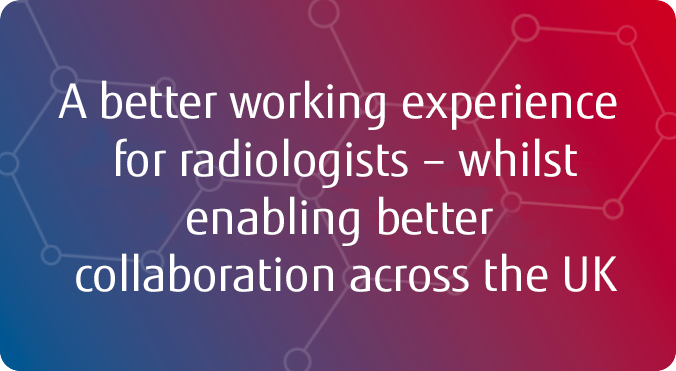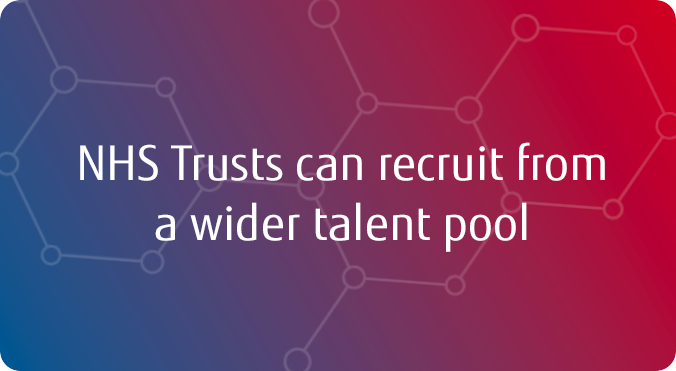 Demonstration
Mat Chase, Healthcare CTO, Fujitsu presented at Convenzis' Innovation in Imaging Conference. In this session Mat shared the work Fujitsu, Citrix and Microsoft have been doing in partnership to make a first class reporting experience from any location a reality. Any images of any size or quality can be reported without the need to cache or use a VPN all in the luxury of your own home. Mat demonstrates how the solution can scale to ICS level and beyond with the power of the cloud.