Fujitsu – benefiting society through responsible business
At Fujitsu, we believe that responsible business is all about ethical practices, working to benefit society and creating tangible benefits. Through strong leadership and an unwavering dedication to Corporate Responsibility, we have become a leading authority on all matters related to Responsible Business, which includes responding to global megatrends.
Corporate Responsibility lies at the heart of our long-term business strategy, which highlighted by our achieving a 99% score in the 2015 Corporate Responsibility Index. Our continued commitment and efforts in the area of Business Responsibility, has been rewarded with our being named as Business in the Community's 'Responsible Business of the Year 2015'.
We have a longstanding affiliation with the British Armed Forces, and this forms a significant element of our responsible business drive. In particular, we focus on supporting Service Leavers, veterans, reservists and their families.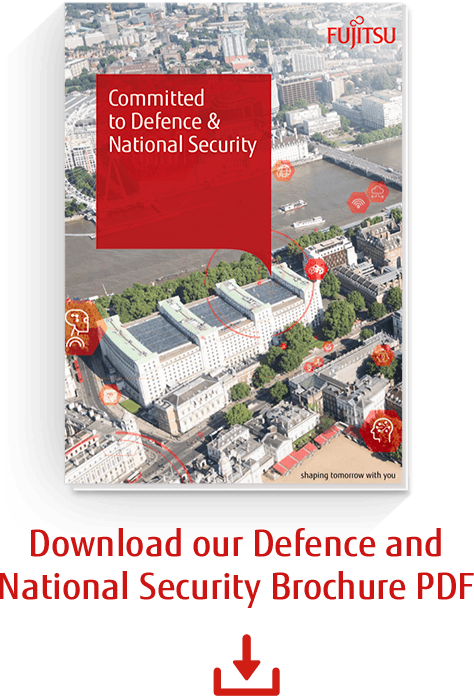 Inspired by you
With over 50 years of working with global Defence and Security organisations, we are proud and inspired to be part of your community. Together we face up to the challenges of a changing world, anticipating your needs and supporting you wherever you go.
Catch up with our Defence & National Security videos on YouTube »
At Fujitsu, we're very proud of our long history of both working alongside and supporting the MOD. Our continued involvement in initiatives is a crucial part of our ongoing pledge to the Armed Forces Covenant, and our long-standing commitment to supporting Service Leavers and reservists.
Ministry of Defence Armed Forces Covenant Signatory
In January 2014, Fujitsu was one of the first UK companies to sign the Ministry of Defence Armed Forces Covenant. Since this time, we have more than delivered on our pledge to support the British Armed Forces by upholding key principles. On 1st November 2016, alongside General Sir Gordon Messenger KCB DSO* OBE ADC Vice Chief of Defence Staff, we were proud to update our promises and re-signed our commitment.
In addition to being a longstanding supplier of products and services to the MOD, our organisation also has a longstanding history of employing Service Leavers, reservists and ex-military personnel. Our covenant commitments have formally introduced a number of policies and initiatives to better support reserve personnel, veterans and their families. Read more about the Armed Forces Covenant and our pledges.
Defence Employer Recognition Scheme - Gold Award winners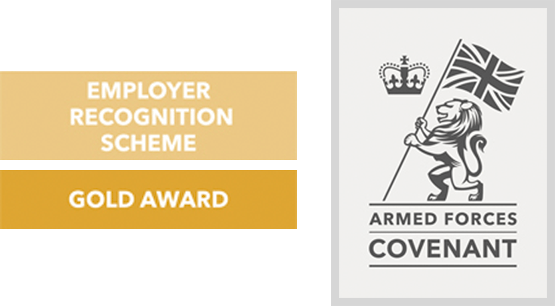 Fujitsu are exceptionally proud to be Gold Award winners in the MOD Employer Recognition Scheme. Nationally the Gold Award is the highest level given to employers who demonstrate advocacy for Armed Forces veterans (which includes individuals who are injured, wounded and sick), reservists, military spouses/partners and military charities.
We are working closely with the MOD to build a mutually beneficial partnership that ensures close ties between the Armed Forces and commercial sector.
Fujitsu - Working with Armed Forces charity organisations
We are a long-term partner and friend of SSAFA, the Armed Forces Charity. Since 2007 we have been supporting the charity to provide financial, practical and emotional support to 57,000 Armed Forces personnel, Service Leavers, veterans and their families every year. We are a Corporate Friend of SSAFA and have supported a number of events and initiatives over the years including:
Participating in and sponsoring the Ride of Britain – which was a 5-day, 501-mile Edinburgh to London bicycle ride.
Running annual Big Brew Up events in offices around the country to raise vital funds.
Commemorating the centenary of World War I, by enabling 300 of our employees to volunteer and participate in the project to plant ceramic poppies around the Tower of London.
Our partnership with SSAFA, which began in 2007, has strengthened year-on-year and we're proud to say that we have raised over £200,000 for the charity.
We are also a longstanding sponsor of UK Armed Forces Sports, supported by Team Ethos. We are committed to UK Armed Forces Rugby, Army Football, Royal Navy Rugby League, Royal Navy Hockey and British Soldier - the Army Sailing Association (ASA) racing yacht. These relationships reinforce our shared belief in fulfilling potential beyond what is expected, through determination, resourcefulness and experience. At present, we are in the process of expanding our support to include the RAF within the next year.