Defence IT Offerings and Capabilities


Fujitsu secure, agile and innovative Defence technology
For over 5 decades, Fujitsu has been a trusted National Security and Defence solutions provider to the UK MOD. We have vast experience working within the Defence sector, and have a deep understanding of the complexities and challenges faced by today's military organisations and intelligence communities.
While modern-day Defence requirements are highly specific, particularly in relation to security, agility and communication, not all Defence ICT solutions need to be bespoke. In line with MOD ICT strategy, we develop and implement solutions using industry-leading commercial off-the shelf (COTS) products, that can be hosted on existing legacy infrastructure to ensure cost efficiencies.
Working in close collaboration with SMEs, we innovate and bring together specialist skills and technologies, to deliver agile Defence specific solutions with security at their core. By working closely with CESG, the Information Security arm of GCHQ, and the Accreditation community, we ensure that all security aspects meet exacting MOD requirements.
Explore our Offerings and Capabilities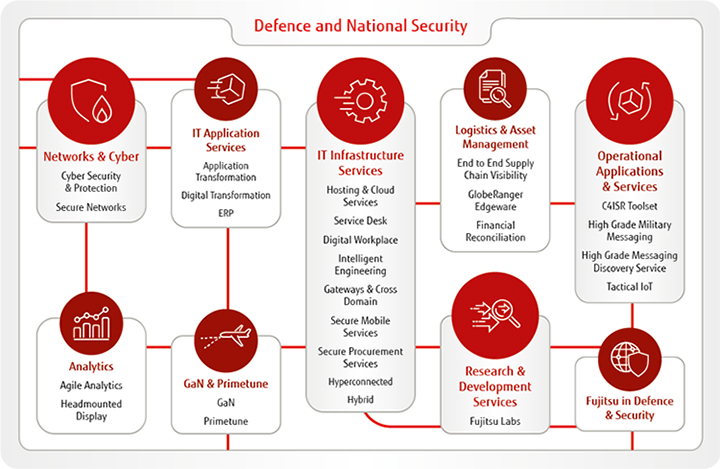 Agile Analytics

With our innovative and agile analytics, we help drive valuable data insight for military organisations relying on data feeds to perform effectively in difficult operational environments. Our approach is based on open, scalable architecture that embraces open source technologies and enables the rapid interrogation and analysis of large volumes of data from different sources, in a fraction of the time.
Find out more (332 KB).

FUJITSU Head Mounted Display in Defence

With our Head Mounted Display (HMD) solution, we maximise operational effectiveness. HMD utilises augmented reality software to deliver and administer remote maintenance, training and support, whilst monitoring the safety and wellbeing of personnel. It conforms to US Military Standard MIL-STD-81, and meets the challenges faced by people operating in the Defence sector. It's robust, easy to use and flexible, and has many uses from training and simulation through to reconnaissance missions in the battlespace.
Find out more (971 KB).

Secret Cloud

Our cloud-based approach is delivered in a highly secure environment that meets stringent Government Security Classifications SECRET and TOP SECRET. Secret Cloud Service is based on our K5 digital business platform and utilises VMware virtualisation technology to deliver secure digital transformation. Find out more (663 KB) about what we offer with K5 Secret Cloud:

a low cost of entry private cloud solution
inbuilt flexibility and systems agility
security and information assurance
simplified governance and operations
high-speed secure network connectivity

Secure Service Desk

Our "Social Command Centre" approach puts the user experience at the centre of service provision, enabling the user with self-help and self-provisioning. Globally we have 5 service desk delivery centres, 8000 service desk staff and provide 24/7/365 support across multiple channels, to over 4.5 million users in 30 countries. Through our Sense and Respond methodology, we deliver a pro-active approach to identifying and eliminating problems before they occur.

We have experience of designing, delivering and managing highly secure service desk solutions for Defence and National Security. Using their knowledge of Defence practices, priorities and users, our Defence specific support team can help you to improve your operating efficiency.
Find out more (813 KB).

Digital Workplace

Our digital workplace services are designed to reduce costs (on average our customers make savings of up to 30%), improve efficiency and increase agility. Our solutions take care of your desktop environment and cover every aspect of the service lifecycle, from the development of a managed strategy, to the disposal of technology at the end-of-life. As a world-leading IT security service provider we deliver desktop services that protect your assets and keep your data safe.
Find out more.

Intelligent Engineering

Intelligent engineering is our delivery platform designed to eliminate service disruption and provide high availability across the entire technology estate. With our help, incident volume and incident resolution are reduced to the lowest possible cost and quickest point of transaction. Our break/fix offering is provided by a specialist Defence technical maintenance team with engineering, operational support, deployment, and transition services at its core. We apply lean thinking to continually evolve and improve our service offering which includes - installation, moves and changes, deskside and enterprise services. Our approach goes well beyond traditional service metrics and service level agreements, and includes tools, automation and operation processes.
Find out more (195 KB).

Browse Down

Using technology from our partners Garrison and Deep Secure, we provide access to services across domain boundaries. This gives the ability to use services and exchange rich information between security domains and can provide a secure way of browsing the internet for military organisations. Giving the user access to all their services from a single terminal enables them to aggregate information from multiple domains into a common view.
Find out more (783 KB).

Gateways and Cross Domain

With our Cross Domain Solution (CDS), we provide the capability to manually or automatically access or transfer information between multiple security domains. We have significant experience building gateways to enable secure, efficient and affordable collaboration and information access and exchange with allies and partners. Working with a number of specialist world class technology partners, including Garrison, Nexor, and Deep Secure, we;

provide a secure way of browsing the internet for military organisations needing enhanced cyber security for their users
deliver real protection against advanced cyber-attacks by providing advanced firewalling functionality
join up networks and information
enable the enrichment of high classification data repositories with data feeds from lower classifications

Find out more (1,005 KB).

Secure Mobile Services

Our highly secure Managed Mobile Service provides anytime, anywhere mobile access to intelligence classified up to Secret. It's a portable service that offers a secure network gateway through a secure VPN to enable Secret traffic to be transmitted over a public network. It offers:

Secure transmission of voice, video and data
Specific routers to enable the use and integration of Mobile Network Operators (MNOs)
Access to collaborative tools delivered by COTS and GOTS software
Encrypted network routes and secure data using compact and self-powered encryption devices
Encrypted hardware
Scalability – from 20 to over 1000 users
Defence Assurance and Information Security accreditation
ISO 27001 certification

Find out more (159 KB).

Secure Procurement Services

Our highly secure end-to-end IT Procurement and Logistics service guarantees that your hardware is configured in a secure environment, hasn't been tampered with as it travels through the supply chain and is securely disposed of at end of life. It offers:

Procurement – we anonymise the supply chain and source competitively priced equipment on your behalf.
Build and Configuration – we configure your equipment within a List X environment using security -cleared experts. Once configured, equipment is asset registered and security sealed.
Storage –we allocate a bonding code to your equipment and store it in a List X cage until it's ready for despatch. Storage at Above Secret classification can be also provided.
Delivery – we provide secure, point-to-point transportation by a two-person team of security-cleared experts up to Secret level classification.
Disposal – we manage the secure disposal and destruction of hardware up to Secret level classification. Our destruction process is approved by the Centre for the Protection of National Infrastructure (CPNI).

Find out more (506 KB).

End to end supply chain visibility

Using our proven Edgeware technology, we deliver comprehensive, trusted and effective end-to-end supply chain visibility that lowers the cost of ownership of military assets. Data from our Automated Identification Technology (AIT) readers and sensors - such as RFID tags or IoT devices, is captured, analysed and translated into insightful information and real-time intelligence to enable more effective military supply chain decision making.
Find out more (732 KB).

GlobeRanger Edgeware

With our comprehensive suite of GlobeRanger technology and offerings, we deliver proven and cost effective Defence related solutions, specifically designed to meet the requirements of today'¬s global battlespace. GlobeRanger solutions power some of the world'¬s largest RFID production deployments, including for the US Defence Logistics Agency. Our portfolio includes Defence information infrastructure, hosting and network services, Automated Identification Technology (AIT) and sensors. We integrate data from human-to-machine, machine-to-machine, RFID and other sensor technologies.
Find out more (483 KB).

Financial Reconciliation Solutions

Using our Oracle-based dynamic military asset and finance reconciliation solution, we take data feeds from a broad range of formats and sources, and reconcile them into a single, central repository. Data across each accounting period remains constantly available, and is securely hosted in our Fujitsu dual location datacentre. Our reconciliation solution delivers; improved data processing, increased accuracy, improved insight, improved resource allocation and faster reconciliation.
Find out more (224 KB).

Cyber Security and Protection

As experts in cyber security, we have the capabilities to protect valuable military information assets from IT security breach. Our intelligence-led portfolio of security services helps reduce risk, and comprises of a range of OFFICIAL Sensitive through to TOP SECRET managed cyber security and protection services. We have a state of the art cyber security centre known as the Secure Network Operations Centre or SNOC, which is a purpose-built facility based on NATO design that runs a 24/7/365 operation. Our security service adheres to all requirements stipulated by industry regulators, including the Defence Cyber Protection Partnership, HMG Security Policy Framework and supporting Security Policies.
Find out more (372 KB).

Security Information and Event Management as a Service (SIEMaaS)

Our SIEMaaS offering is underpinned by a Security Intelligence Platform that provides deep visibility. Using automated analytical techniques, threats and risks can be detected before they happen and compromise security. Fujitsu SIEMaaS offers:

24/7 real time event/log monitoring from our state of the art Security Operations Centre
identity and access management
co-ordination of security monitoring and security incident management
correlation of data from multiple sources including; firewalls, IPS/IDS, network devices, applications, and operating systems
compliance reporting including; PCI-DSS, SOX, HIPAA, and GPG13

Find out more (418 KB).

Secure Networks

Our highly secure networks are delivered from SNOC, our Secure Network Operations Centre, at OFFICIAL, SECRET and TOP SECRET Security Classifications. They deliver seamless integration and resilient connectivity across multiple domains to ensure that you can connect and collaborate with your military colleagues regardless of their location. Our network solutions integrate people and technology with the very latest COTS technologies from industry-leading suppliers. Our services ensure real-time tracking and rapid response, and include; service management, secure operations and network operations from OFFICIAL through to TOP SECRET. Benefits include:

improved service levels
increased bandwidth to support military demands
increased security
fixed pricing to improve budgeting accuracy

Find out more (512 KB).




Cyber Baseline Assessment

Our Cyber Baseline Assessment is specifically designed to enhance your organisation's understanding and management of its cyber security posture. As cyber security threats become evermore sophisticated, the task of evaluating and managing your security risks is increasingly testing. This five-day evaluation is an integral part of our XpressWay consultancy and solution development framework, using a blend of custom and of-the-shelf techniques. Our team of security experts will work with you to identify and address any security weaknesses and areas of vulnerability. The Cyber Baseline Assessment puts you in complete control of your evolving cyber security future.

Find out more (455 KB).

C4ISR Toolset

Our operational information services augment existing IT environments and remove the need for complex IT infrastructure rollouts. We deliver fully scalable solutions ranging from highly available and highly resilient data centre services, to smaller scale applications in deployed operations. COAST simultaneously manages multiple operations to transform command and control capability.
Find out more (403 KB).

High Grade Military Messaging (HGM)

Our High Grade Military Messaging capability provides a highly available and robust service for land, fixed or deployed units. Our HGM solution interoperates with all existing military messaging systems, and can deliver to international military messaging gateways. It provides confidentiality, integrity, availability, authenticity and accountability. Our technology and services are compatible with the latest IT infrastructures and comply with the most effective service, delivery and security models.
Find out more (507 KB).

Fujitsu Tactical IoT

Our tactical IoT solutions use a lean, low bandwidth protocol to combine previously dispersed information. We protect the boundary between high and low security classifications, by utilising 2iC's innovative tactical cross domain architecture in conjunction with Deep Secure's IX guard. The result is the delivery of critical intelligence from the battlespace environment right through to the command centre. We offer a broad range of IoT solutions that deliver critical data on people, assets and equipment.
Find out more (423 KB).

We understand the modern-day complexities and challenges facing military organisations. Our work across the Defence sector means we have excellent insight into the challenges surrounding the 'joining up' of information across many large agencies. In implementing our technology, military agencies can respond effectively to any situation that may arise.

Top of Page