The Value-Driven Workplace in Financial Services

Unlock the benefits of a connected Financial Services workplace
Workplace technology has often been neglected on the basis that it's seen as a cost centre, not a value generator. But this cost-driven approach to workplace IT could actually be having the opposite of its intended effect – increasing overall costs.
For financial services organisations, the workplace has traditionally been rigidly locked down, making organisation-wide change impossibly difficult to achieve. This lock down hinders the rapid innovation that's vital not just to succeed, but to keep ahead and prevent new FinTech organisations from captivating market share.
Workplace Anywhere – a user-centric solution for Financial Services
Fujitsu's Workplace Anywhere solution will help businesses to start focusing on the user, not the technology. By focusing on what the users actually need, organisations have an opportunity to realise the full potential of the workplace. In effect, this will accelerate productivity as well as enhancing customer satisfaction.
As a result, collaboration, between colleagues and between departments, becomes simpler too. Modern collaboration tools connect the right people at the right time to the right information, to align strategic planning, fuel innovation and accelerate decision making. And that means, in a volatile financial services market that's constantly changing, you can get great ideas to market, fast.

User support costs will fall as employees gain access to more reliable technology. By working with the right partner on your workplace transformation, you should also expect to see significant cost reductions for software licensing and hardware procurement. And IT maintenance overheads will shrink as aging legacy systems are upgraded to more efficient, powerful and reliable new solutions.
Regardless of the size and complexity of your workplace environment, we can help you find the right balance of performance, cost, flexibility and security – so you can benefit from a workplace driven by business value, while avoiding common pitfalls in design, implementation and management.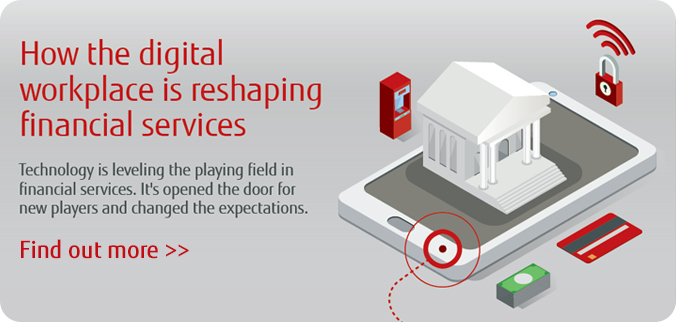 Top of Page