Archived content
NOTE: this is an archived page and the content is likely to be out of date.
Digital Workplace Services
Fujitsu digital workplace - empowering your business and your users
With our digital workplace services, we enable you to meet the transformational needs of your organisation. Our managed workplace offering empowers you to keep pace with increasing technological change and rising user demand for more mobile and innovative services.
Our human-centric workplace IT solutions are designed to enable you to unleash the potential of every individual working within your organisation. We ensure that you are well placed to achieve increased business value, maximum productivity, and a consistent user interface across any device. We:
Connect everyone by bringing people, technology, and processes together in a secure, always-on environment, enabling them to connect to information and services when and wherever they need to. We empower your employees to make the most of their working day.
Enhance collaboration by unifying technology. We enable your employees to work with the same data in the same systems to make better and informed decisions that can deliver the results your organisation needs.
Future Workplace 2025
Is your organisation ready for the workplace of the future? The next decade will see a revolution in the ways we work as millennials control boardrooms, AI goes mainstream and traditional office boundaries disappear. We have created a collection of resources in order to help you prepare for the future workplace. Register for our webinar, download our latest research or see what our experts are saying about the workplace in 2025.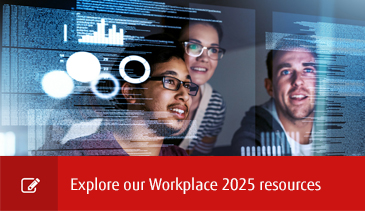 The benefits of Fujitsu digital workplace transformation
Fujitsu deployment methodologies and platforms are all built on a framework that's proven to accelerate true enterprise-wide transformation. Using predictive, contextual, and seamless analytics based support services and an effective framework combining processes, services, technologies and people, we can guide and support you on your journey to digital transformation.
From the use of process automation through to artificial intelligence, we have the solutions that allow you to focus on what you do best – which is driving business growth.
The benefits of our virtual workplace services include:





Increasing Productivity

By optimising workflow and eliminating inefficient processes we help your employees to work smarter. Through secure access to a unified platform, your employees can use the same tools wherever they are.




Driving Innovation

By drawing on new and innovative technologies such as AI to provide a platform for creativity and ingenuity to thrive. Through process automation, we can help you to reduce your dependency on manual processes and realise the benefits of new technologies.




Delivered Securely

By ensuring your data is protected when and wherever it's used by your employees regardless of the network, device or location.
Fully Integrated Digital Workplace Services
At Fujitsu, we offer a blend of technologies that can help you to become fit for digital and create a more personalised and frictionless workplace. Explore our digital workplace solutions:

Workplace Anywhere
Delivers increased collaboration, agility and productivity through the secure provision of tools that can be used anywhere, at any time and on any device.
Read more >>


Next Generation Service Desk
Creates a consistent and personalised experience across every device and channel. It delivers a user-centric omnichannel support service that's powered by AI, virtual assistants and cognitive learning to deliver services when, where and how they are needed.
Read more >>


Intelligent Engineering Services
Use data analytics to deliver a predictive, proactive and preventative experience that helps to lower IT costs, cut the disruption of on-site intervention and prevent downtime by proactively addressing problems before they become failures.
Read more >>
Contact

to discover how to master enterprise-wide digital transformation with Fujitsu.
Top of Page