Hybrid IT Transformation Services
Migrate from the traditional data centre to a more agile and efficient Hybrid IT model
Future-proof your organisation against the accelerating pace of change, with Fujitsu Hybrid IT infrastructure. We're Hybrid IT experts, with a vast amount of experience successfully helping CIOs and their departments to overcome the challenge of balancing the conflicting demands placed on their IT infrastructure.
Today, many organisations are working with legacy enterprise IT solutions that have evolved over many years, and while these maybe inefficient and outdated, they remain fundamental to business operations. At Fujitsu, we can help you to transform your business and migrate from those legacy solutions which have switched from being a key enabler to being a key business issue. With our Hybrid IT Transformation services, we enable you to plan, deploy and manage a modern and efficient IT environment that can deliver the business value a traditional data centre simply cannot match. As a world-leading Hybrid IT transformation partner, we ensure that your migration is not a risky, daunting or uncertain process.
Fujitsu Hybrid IT infrastructure methodology
At Fujitsu, we take a return-on-investment focused approach to transformation that's divided into two phases:
1. Blueprint - we help clients to identify the most appropriate blend of traditional and cloud hosting environments to meet their specific needs, we then help to develop a solid business case for change. Our hybrid transformation experts:
rapidly analyse your data centre based systems from multiple points of view
create a transformation plan and return on investment projection, articulating the business value to justify the proposed implementation
2. Implement - we provide an optional follow-on service that can:
ensure all key actions are taken to enable you to fully realise the required business value outcomes
deliver transformation change in as non-disruptive and risk-free way as possible
Why choose Fujitsu as your Hybrid IT transformation service partner?
We understand that the best mix of public/private cloud and traditional data centre environments are unique to each customer, and that's why our Hybrid IT transformation service has been developed to provide flexibility and impartiality. Ours is one of the most mature transformation methodologies available in the industry today, specifically designed to minimise the risk of transforming complex enterprise environments.
Our methodology harnesses our extensive experience across cloud provisioning, server and storage, hosting, security, networking and applications.
Expertise from all these areas in integrated together to provide a multi-disciplined approach that ensures your future Hybrid IT environment is aligned to what your business needs and to what is achievable.
We remove the risk and complexity involved in Hybrid IT transformation, helping our customers to develop and run cost-effective flexible Hybrid IT.

Explore our Hybrid IT Solutions and how they can benefit you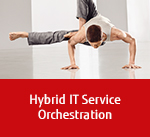 Top of Page