Fujitsu Cloud Service K5
With Cloud Service K5 you can do incredible things
Today, organisations are being placed under intense pressure to provide customers with access to data and services at any time, in any place and on any device. The challenge is to meet these demands whilst simultaneously reducing costs, increasing operational efficiency and growing into new more competitive markets. Through digital business transformation organisations can overcome the challenges they face in preparing their business for the future.
Fujitsu K5: The digital cloud platform for transformation
Cloud Service K5 is currently the most agile, open and compatible enterprise cloud platform available on the market today. Powered by OpenStack, K5 offers PaaS and IaaS to support both Systems of Engagement and Systems of Record. With K5 your critical business systems run more effectively in your choice of Cloud environment. It offers the perfect solution for organisations wanting to drive digital transformation and Hybrid IT across virtual private, private and public clouds, it also enables you to unlock value in your legacy systems. K5 embraces digital transformation through:
Innovation – new services and apps can be rapidly developed, deployed and scaled to drive new business.
Modernisation – systems can be easily converged with cloud-based technologies for greater efficiency.
Interoperation – digital micro-services can be co-created to securely reuse common resources.
Extension – API services can be built to create new sources of growth from platforms and legacy systems.
Doing the incredible: What makes K5 different?



Open




Cloud Service K5 is the most open service available today.Based on OpenStack, K5 also has the market leading sets of technologies for cloud-native application development and secured managed API services deployed via the cloud.




Compatible




K5 is also one of the most compatible cloud platform available. With K5 you can mix and match OpenStack.VMware and bare metal-based implentations in the public,virtual private and private clouds,based on your organizational requirements. K5 also offers support for Oracle and SAP.




Scalable




When developing K5, Fujitsu enhanced open source performance and scalability features so that it can be scalable world wide for the enterprise. The K5 public cloud continues to grow towards one of the largest open source based platforms in the world.




Agile




K5 has 100% infrastructure and applications compatiblity across public and private clouds, so you can move workloads between them without the need to retest or recode. For example,if your proof of concept work in the public cloud test and development enviornment ,you can move it into private cloud production and scale anywhere,fast




Enterprise Focussed




K5 has been designed, built and configured specifically for the enterprise. It's also connected using our own network and managed completely by fujitsu from end-to-end. We can provide enterprise focused SLAs at 99.99% availability across K5 public. virtual private and private clouds.




Lowest Tco




As a result of its unique agility,compatiblity and open-source architecture, K5 can offer a significantly lower Total Cost of Owenership than any proprietary cloud platform available.
Why choose Fujitsu Cloud Service K5?
Operational efficiency.K5 can help you to achieve the operational efficiencies your sector market expects: lower costs, increased responsiveness and pay-as-you-go models.
Digital transformation. K5 enables enterprise modernisation, innovation and improved interoperability. It's been designed to allow users to build and deploy new digital services easily and at speed. It delivers unprecedented application support that simplifies digitalisation. Essential platform services include dashboards, tools and execution environments that enable fast systems delivery, operation and maintenance.
Competitive edge. Our digital services empower you to set up proof-of-concepts at speed, which gives you a market advantage. Whichever cloud platform you choose, K5 has the same architecture, which means you can quickly move from test and development to production, without needing to re-test. New concepts can be tested cost-efficiently, and successes can either be scaled out on the same platform or, for example, moved to a K5 platform that has increased security and governance.
Hybrid IT. Organisations today need to embrace Hybrid IT – combining their existing IT with private, public managed cloud-based services. With the right Hybrid IT approach, you can get the most out of your existing IT while expanding into new areas. With K5 we make embracing Hybrid IT cost-effective and straightforward. Built using our vast experience, expertise and knowledge, it gives you a secure model for hybrid IT.
Fujitsu Cloud Service K5 is the engine of the Fujitsu Digital Business Platform MetaArc. MetaArc is our way of delivering digital transformation. It is our foundation for digital business that brings together everything an organisation needs to digitalise with confidence.
Find out more about MetaArc >>

Explore the entire Hybrid IT portfolio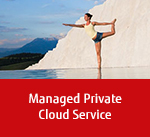 Top of Page