PaperStream Server is a web-based enterprise-class document processing platform that enables organizations to collect, enhance, process, index and route business critical content into Line-of-business (LOB) or Enterprise Content Management (ECM) systems.  PaperStream Server facilitates effective data management to help organizations improve responsiveness, reduce costs of document management, and maintain the ability to grow and evolve business processes.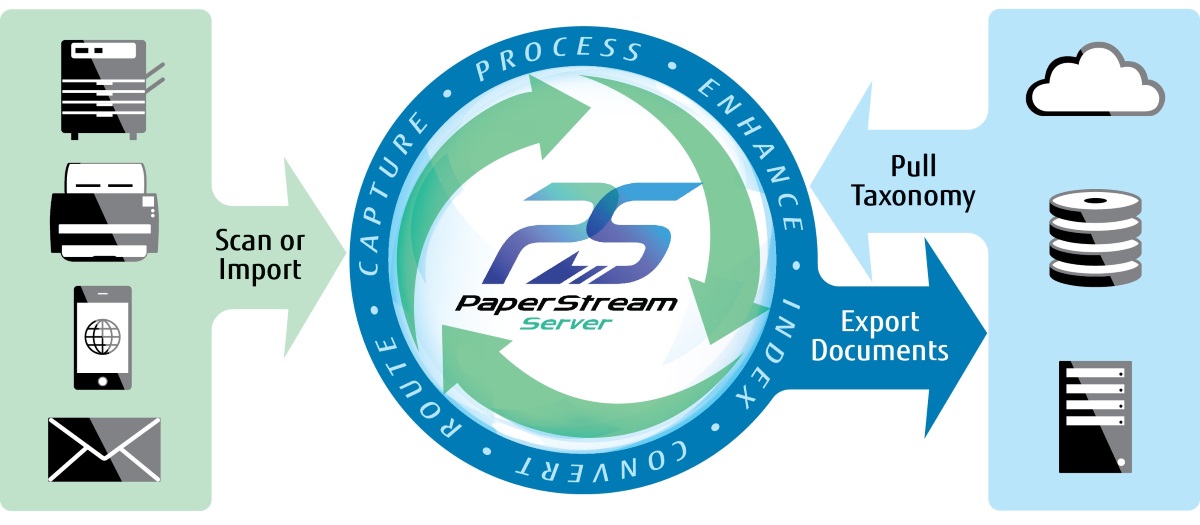 Designed for scalability and custom configuration, PaperStream Server allows organizations to add additional servers, add users, and add document volume.
PaperStream Server comes with many out-of-the-box features including:
Adaptable Processes – Includes a visual workflow process designer: simply drag-and-drop required steps into the capture process.  Organizations can write in their own custom steps.
Flexible Ingestion - Capture and ingest documents from multiple sources, whether paper or digital.
Image Processing – Server based image processing utilizes PaperStream IP to enhance and clean up images for improved data extraction and indexing accuracy.  The solution also auto rotates pages, eliminates background noise, removes hole punch marks, and cleans up color.
Web Indexing – Index documents anywhere, anytime via the web.

Document Separation – Recognizes Barcodes, Fixed Page and Patch Codes to separate documents.
Extraction and Indexing – Uses methods such as Web Indexing, Barcode, Database Lookup, and System Data for indexing and metadata creation.
Validation – Validates data using Pattern Matching, Required Fields, Read-Only Fields, Database Lookup, and Default Values.
Release – Releases images as TIFF, PDF or Full Text Searchable PDF.  Releases data in XML.  Releases to a folder or network folder.  Easily configures for connection to LOB or ECM systems.