Overview
PaperStream NX Manager is a server software that provides seamless integration with various client systems and applications. In environments with multiple scanners, it allows central management of user authentication functions, job menus, and other scan settings. Installation and operation costs are reduced significantly, and provide maximized business assistance and efficiency.
Create and distribute jobs
Scan from the scanner
Scan from computer/mobile device/thin clients
Various user authentication methods
Send scanned images to client systems
Monitor scanning status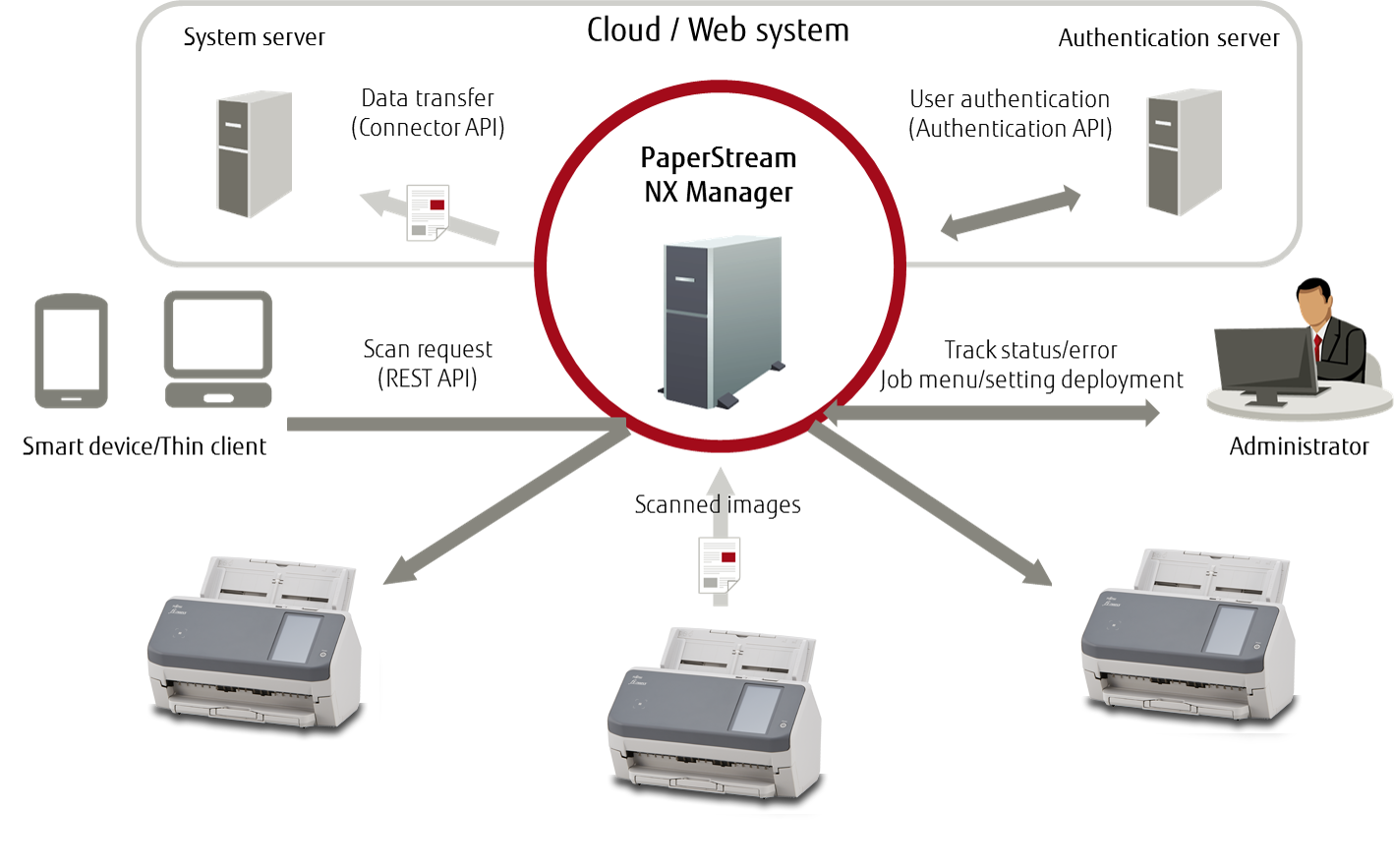 Features
Customized jobs for increased productivity
Administrators can create and distribute job groups appropriate to each operator group, so that operators can easily select their own job without sorting through those irrelevant . A maximum of 100 job groups can be created.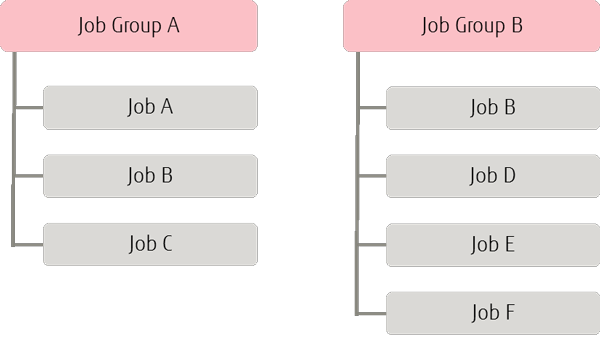 Customize jobs with unique names, descriptions, file format settings and much more. When setting file formats for each job, users can select from PDF*1, SinglePage PDF*1, Tagged Image File Format, MultiPage Tagged Image File Format or JPEG*2.
*1 Searchable PDF and PDF/A are not supported.
*2 Available only with grayscale or color images.
Scan from scanners and smart devices
Users can scan and save documents without any operation of the computer. PC-less operation helps reduce preparation and computer maintenance costs.
Scanning from mobile or web applications on smart devices or thin client terminals* is also possible, while seamless integration into company systems allows users to use various devices for scanning operations.
*Development with REST API is required.
User authentication for efficient and secure data entry
Various authentication methods, such as job group code, username and password, and NFC* are available for users to use, ensuring efficient and secure decentralized data entry.
*Development with Authentication API is required.
Displayed on the fi-7300NX touch screen: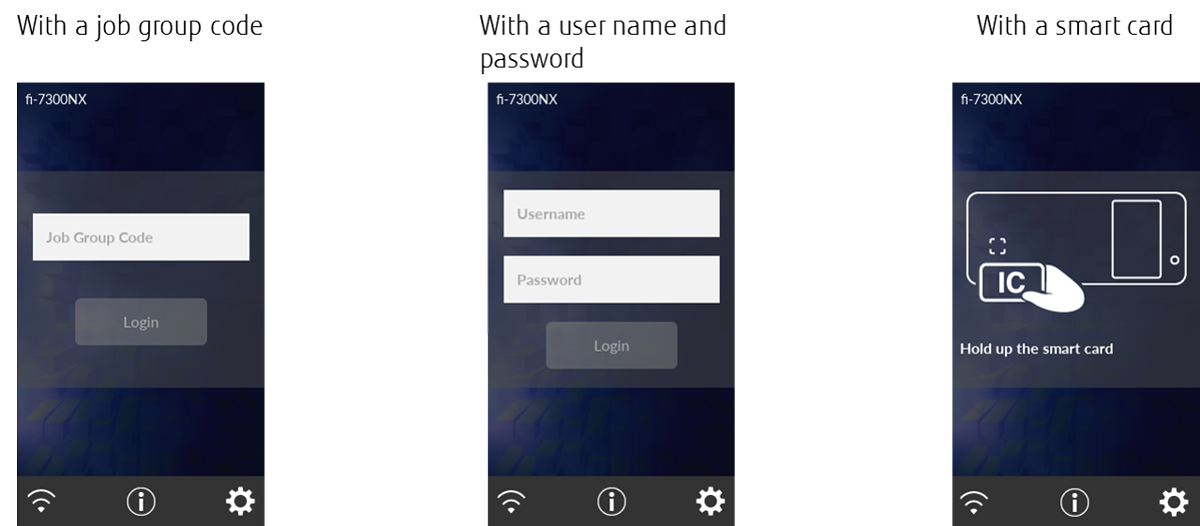 High image quality for effective data utilization
Image processing offered with PaperStream IP is also available in PaperStream NX Manager. The driver automatically converts images into exceptionally clean images, and helps users to avoid making fine setting adjustments for OCR processes.
Seamless data saving to various destinations
PaperStream NX Manager enables users to save scanned images to their preferred destinations, such as SharePoint, SharePoint Online, FTP, FTPS and e-Mail. By using Connector API, scanned images can also be saved to users own systems.
Easy task management for administrators
Providing users with statuses of all scanned image processes, PaperStream NX Manager allows them to monitor and manage all scanning records. It will also notify them of any output errors in the case any occur, so that data processing can be completed smoothly.
Specifications
Software
Operating system
Windows Server 2019
Windows Server 2016
Windows Server 2012 R2
Windows Server 2012
.NET Framework
.NET Framework 4.5.2
.NET Framework 4.6
.NET Framework 4.6.1
.NET Framework 4.6.2
.NET Framework 4.7.1
Web Server
Internet Information Services 8.0 or later
Other Software
SQL Server 2014 Express Edition(1)
Browser
Internet Explorer 10
Internet Explorer 11
Hardware
CPU
3.5 GHz quad-core processor or higher
Memory
16 GB or more
Disk space
120 GB or more of free disk space
Others
Registrable Units
Up to 1,000 scanner units
Registrable Users
Up to 3,000 users total per server
Creatable Jobs
Up to 1,000 jobs
If SQL Server 2014 Express Edition is not installed yet, it is installed together with NX Manager when NX Manager is installed.