Easy NX Connect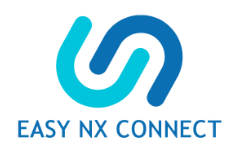 Development-Free Cloud Integration and Access Management
Powerful server software that extends the capabilities of your Fujitsu fi-7300NX
Easy to Implement, Easy to Use
Easy NX Connect runs alongside NX Manager on your Windows server and enhances the capabilities of your fi-7300NX scanner fleet.
It offers a raft of professional scanning capabilities over and above those delivered by NX Manager alone. These features can be implemented with general IT management skills without any software development.
Like those delivered by NX Manager, the enhanced features of Easy NX Connect are designed for simple operation using the touch panel and NFC card reader on the fi-7300NX, so training operators to use the scanners becomes a simple, low-cost exercise.
Integrate with a Growing List of Cloud Services
Easy NX Connect connects directly to popular on-line services without the need for further development.
Box, OneDrive, OneDrive for Business, SharePoint Online and Amazon S3 are all supported.
Integrates directly into Microsoft Azure Cognitive Services and Kofax Omnipage Server to allow use of OCR/ICR services from these providers.
Continually enhanced, with new integrations being added every 2 months.
Additionally, specialised versions of Easy NX Connect available for some key document management services including M-Files, Egnyte, Laserfiche, Docuware and Opentext RightFax.
RPA integration with UiPath Orchestrator, create scanning profiles and map jobs to bots and processes to automate your workflows
NFC Card Authentication Made Easy
Easy NX Connect is designed to simplify the use of NFC cards for controlling access to the fi-7300NX scanner.
Faster scanning is therefore enabled using a simple "tap and scan" approach or PIN and password can also be used where multiple authentication methods are required.
Quickly implement new 'scan-to' options
Easy NX Connect is designed to make scan-to simpler than with NX Manager alone and adds new options.
Licensing
One Easy NX Connect license is required for each instance of NX Manager, irrespective of how many fi-7300NX scanners are connected.
How it Works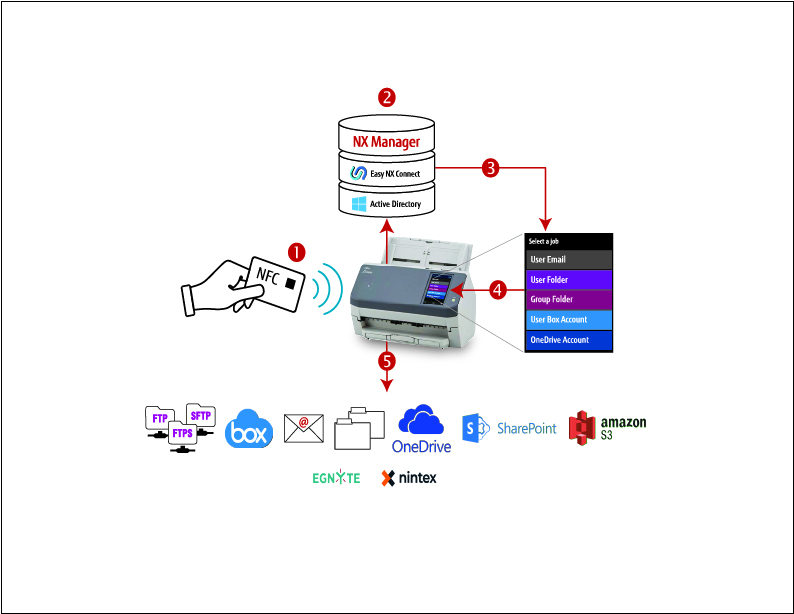 Specifications
Software
Operating system (1)
Windows Server 2012 (64 bit)
Windows Server 2012 R2 (64 bit)
Windows Server 2016 (64 bit)
Windows Server 2019 (64 bit)
.NET Framework
.NET Framework 4.5.2
.NET Framework 4.6
.NET Framework 4.6.1
.NET Framework 4.6.2
.NET Framework 4.7.1
Web Server
Internet Information Services 8.0 or later
Other Software
SQL Server 2014 Express Edition (2)
Browser
Internet Explorer 10
Internet Explorer 11
Hardware
CPU
3.5 GHz quad-core processor or higher
Memory
16 GB or more
Disk space
120 GB or more of free disk space
Cloud
Compatible cloud platform
Microsoft Azure™
Amazon Web Services™
Others
Registrable Units
Up to 1,000 scanner units
Registrable Users
Up to 3,000 users total per server (3)
Creatable Jobs
Up to 1,000 jobs
To use NX Manager on Windows, you need to purchase a CAL (Client Access License). For details about Client Access Licenses, please contact Microsoft.

If SQL Server 2014 Express Edition is not installed yet, it is installed together with NX Manager when NX Manager is installed.

Can be increased by Active Directory group integration.