How it works
Gateway to flexible capture
The fi-7300NX boasts a speed of 60 ppm/120 ipm (200/300 dpi) for scanning A4 portraits, loads up to 80 sheets at a time.
Scan from the scanner with touch screen operation
Various authentication methods for improved efficiency and security
Scan from your smart device to any business platform
3 types of SDKs to suit any environment
PaperStream NX Manager and Scanner Central Admin for centralized management
Paper Protection function protects scans from jamming by detecting anomalies in document length and sound
Manual Feed Mode for scanning folded or bound documents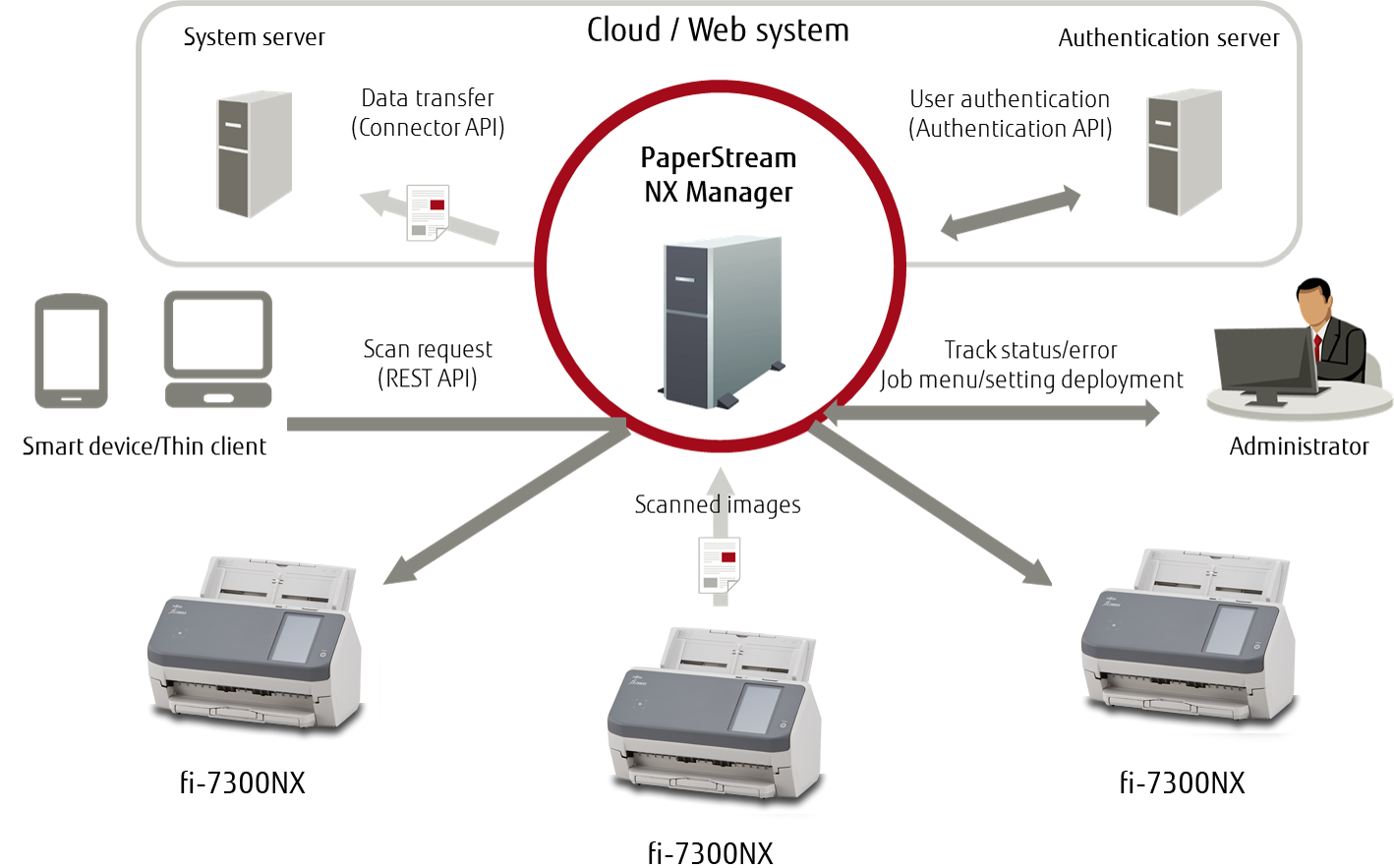 Seamless integration into business systems
Users can begin scanning from the scanner's touch screen or from various applications on smart devices to suit all business needs. Not only is direct data transfer to client-unique web systems possible with SDK use, but secure data transfer is also possible with strong data encryption.
Scan without the computer
Users can scan and save documents without any requirement for a local computer. They can simply login to the scanner using user authentication and select a job from their personalized job menus on the fi-7300NX's touch screen. Customized job menus ensure efficient and secure decentralized data entry is possible for each user.
The fi-7300NX supports NFC (Type-A and Type-B) authentication and user authentication with username and password input on the touch screen. It is also possible for different job menus to be assigned to each scanner, and avoid any authentication processes.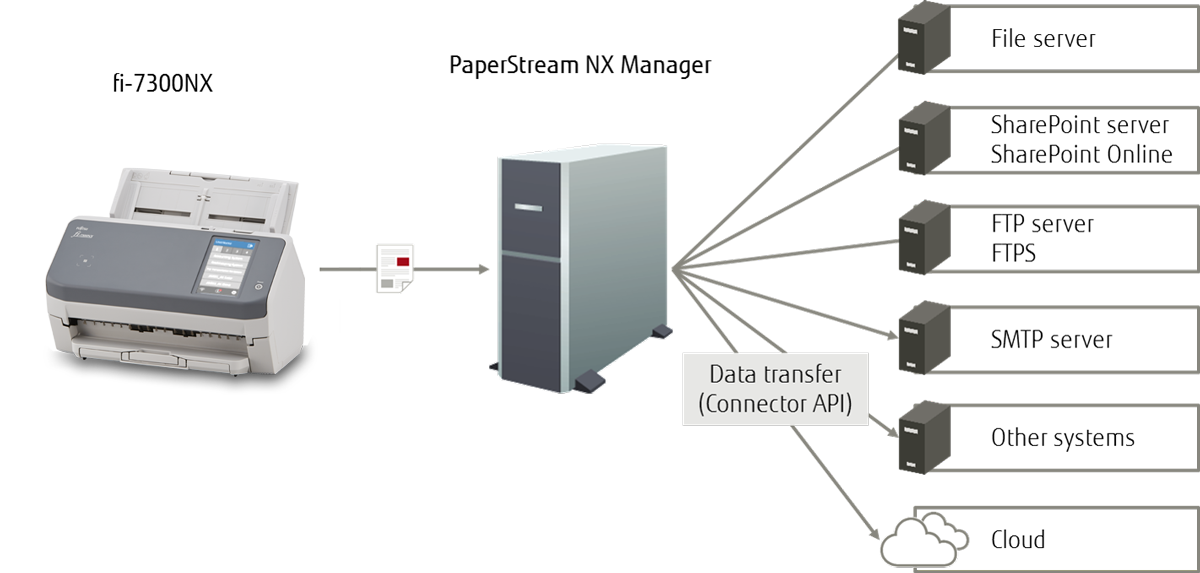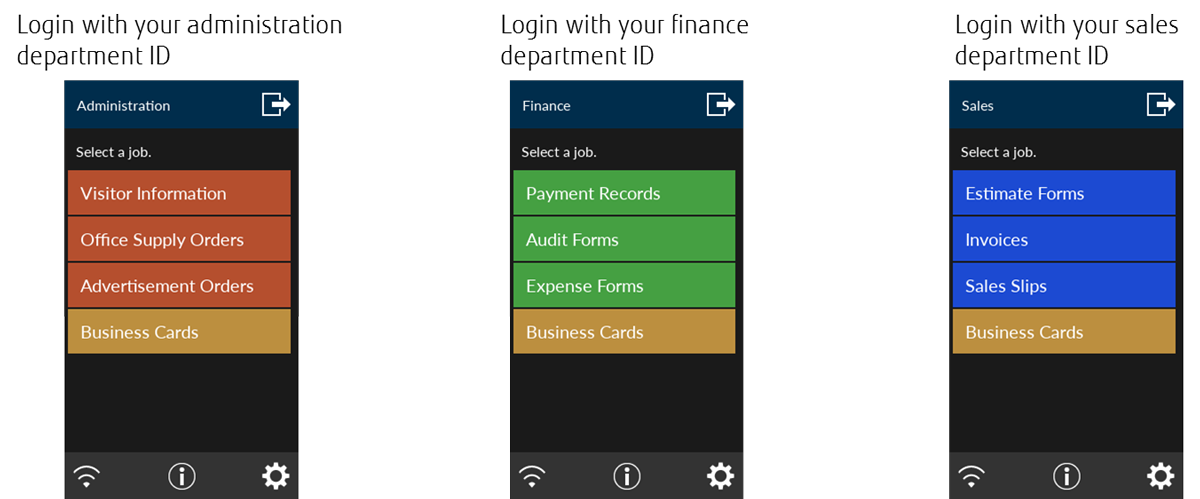 Scan from your smart device to any business platform
With PaperStream NX Manager, users can scan from mobile or web applications opened up on smart devices or thin client terminals. Seamless integration into company systems enables use of a variety of devices for scanning operations.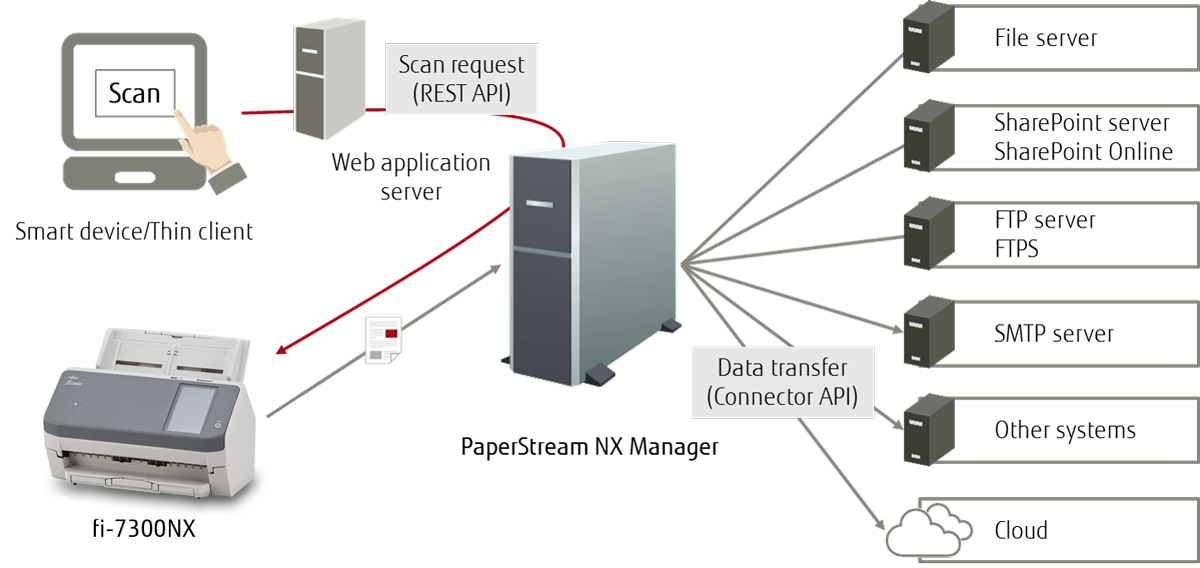 3 types of SDK to suit user environments
The PaperStream NX Manager SDK is provided to enable integration with various client systems and applications. Developers can utilize suitable SDK for their clients who want to use their own systems.
・REST API
An interface for development of web applications that carry out scanning functions. With the REST API, web applications can call on the fi-7300NX to scan paper documents.
・Authentication API
An interface for development of applications that use the fi-7300NX's authentication function. Not only can users link the scanner to NFC, but can also link the scanner with their currently used authentication server.
・Connector API
An interface for development of applications designed to link PaperStream NX Manager with various systems. With the Connector API, users can link to their business systems or OCR/document management software.
Reduce operation cost with centralized management
The user authentication function, job menu, and other scan settings are all centrally managed with PaperStream NX Manager and Scanner Central Admin. With the fi-7300NX's server software, there is no need for the conventional single client computer to scanner environment and the system administrator to stand by the scanner. This reduces the total burden of installation*, expansion, operation, and management.
*Installation requires other tools such as fi-7300NX Rollout Tool and Network Setup Tool for fi-7300NX.
Development-free cloud integration and access management with Easy NX Connect
Powerful server software that extends the capabilities of your Fujitsu fi-7300NX scanner
The server software carries out user authentication, job management, image processing of scanned data, and data output for the fi-7300NX. Automatic sharing of authentication methods and job settings throughout all connected scanners can be done with PaperStream NX Manager, capable of managing up to 1,000 fi-7300NX scanners.
The software specializes in centralized management of multiple scanners, including batch updates of scanner settings and firmware, as well as monitoring of errors and consumables status. This is also capable of managing up to 1,000 scanners per server.
User-friendly hardware
Consistent, high-speed scanning
Inheriting the fi Series legacy of high-speed, consistent paper feeding, the fi-7300NX boasts a speed of 60 ppm/120 ipm for A4 size documents*1. Documents folded in half and carbon-copy sales slips are also an ease to scan with Manual Feed Mode.
*1 A4 size documents fed in vertically, 200/300 dpi.

4.3 inch touch screen
The touch screen enables users to perform operations intuitively, like scanning and data checking, with thumbnail reviews of scans. The screen also displays messages or instructions with illustrations so that users can handle errors themselves.

Suitable operation methods for your environments
When scanning with computers, the fi-7300NX can be used with PaperStream IP, a specialized scanner driver for Fujitsu image scanners, via Wi-Fi connection, wired network, and USB connection. Connection without need for the USB cable allows the scanner to be positioned wherever needed, to improve user productivity, reduce interruptions, and make more room for more frequently used equipment.
Both advanced driver and software, PaperStream IP and PaperStream Capture, enable users to fully enjoy simple scanning operations and high quality images, like our other Fujitsu image scanners.
Product Name
fi-7300NX
Scanner Type
ADF (Automatic Document Feeder), Duplex
Scanning Speed(1) (A4 Portrait)
(Color(2)/Grayscale(2)/Monochrome(3))
Simplex: 60 ppm (200/300 dpi)
Duplex: 120 ipm (200/300 dpi)
Image Sensor Type
Color CCD x 2 (front x 1, back x 1)
Light Source
White LED Array x 2 (front x 1, back x 1)
Optical Resolution
600 dpi
Output Resolution(4)
(Color / Grayscale / Monochrome)
50 to 600 dpi (adjustable by 1 dpi increments), 1,200 dpi (driver)(5)
Output Format
Color: 24-bit, Grayscale: 8-bit, Monochrome: 1-bit
Background Colors
White / Black (selectable)
Document Size
Maximum(6)
216 x 355.6 mm (8.5 x 14 in.)
Minimum(7)
50.8 x 54 mm (2 x 2.1 in.)
Long Page Scanning(8)
5,588 mm (220 in.)
Paper Weight (Thickness)
Paper
27 to 413 g/m² (7.2 to 110 lb)(9)
Plastic Card
1.4 mm (0.055 in.) or less(10)
ADF Capacity(11)(12)
80 sheets (A4 80 g/m² or Letter 20 lb)
Expected Daily Duty Cycle(13)
9,000 sheets
Multifeed Detection
Overlap detection (Ultrasonic sensor), Length detection
Paper Protection
Lag detection, Sound detection (iSOP)(14)
Display
4.3 in. TFT color touch screen
Authentication
Keyboard (on touch screen), NFC
Interface
USB
USB 3.1 Gen1 / USB 3.0 / USB 2.0 / USB 1.1
Ethernet
10BASE-T, 100BASE-TX, 1000BASE-T
Wi-Fi
IEEE802.11 b/g/n
Frequency band: 2.4 GHz (15)
Network Protocols
IPv4(16), TCP, UDP, ICMP, DHCP, HTTP/HTTPS, DNS
Power Requirements
AC 100 to 240 V ±10 %
Power Consumption(17)
Operating
42 W or less
Power Saving
2.4 W or less
Power Off
0.35 W or less
Operating Environment
Temperature
5 to 35 °C (41 to 95 °F)
Relative Humidity
20 to 80% (Non-condensing)
Environmental Compliance
ENERGY STAR®, RoHS
Dimensions(18) (W x D x H)
300 x 202 x 170 mm (11.8 x 7.9 x 6.6 in.)
Weight
4.9 kg (10.8 lb) or less
Supported Operating System
Windows® 10 (32-bit/64-bit), Windows® 8.1 (32-bit/64-bit), Windows® 7 (32-bit/64-bit), Windows Server® 2016 (64-bit), Windows Server® 2012 R2 (64-bit), Windows Server® 2012 (64-bit), Windows Server®2008 R2 (64-bit)
Included Software / Drivers
PaperStream IP Driver (TWAIN/TWAIN x64/ISIS), WIA Driver(19), PaperStream Capture, ScanSnap Manager for fi Series(20), Software Operation Panel, Network Setup Tool, ABBYY FineReader for ScanSnap™(20), Scanner Central Admin
Image Processing Functions
Error diffusion, Dither
Included Items
Chuter unit, AC cable, AC adapter, USB cable, Setup DVD-ROM
Actual scanning speeds are affected by data transmission and software processing times.

Indicated speeds are from using JPEG compression.

Indicated speeds are from using TIFF CCITT Group 4 compression.

Selectable maximum density may vary depending on the length of the scanned document.

Some limitations may apply to the size of documents that can be scanned, depending on system environment, when scanning at high resolution (over 600 dpi).

Scans folded documents of up to 297 x 432 mm (11.7 x 17 in.) with carrier sheet scanning.

Capable of scanning in both portrait and landscape orientation.

Capable of scanning documents longer than A4 (210 x 297 mm / 8.3 x 11.7 in.) sizes. When using PaperStream IP (TWAIN/ISIS) to scan at 200 dpi, the maximum scanning length is 5,588 mm (220 in.).

Thicknesses of up to 128 to 209 g/m2 (34 to 56 lb) can be scanned for A8 (52 x 74 mm / 2.1 x 2.9 in.) sizes.

Capable of scanning up to 3 cards at a time (Note: does not set more than one embossed card at a time).

Maximum capacity depends on paper weight and may vary.

Capable of setting additional documents while scanning.

When operating 8 hours a day.

Intelligent Sonic Paper Protection.

Availability of 5 GHz Wi-Fi may vary depending on region.

IPv6 is not supported.

Scanner automatically enters power saving mode when not used and powers off by default when not used for 4 hours.

Excludes the ADF paper chute and stacker.

Functions equivalent to those offered by PaperStream IP may not be available with the WIA Driver.

Software can be downloaded from the website designated in the Setup DVD-ROM.
F1 Scanner Cleaning Wipes (72 Pack)


Pack of 72 F1 Cleaning Wipes for Fujitsu scanners.
Scanner Cleaning wipes Impregnated with manufacturer approved F1 cleaning fluid.
Suitable to clean glass, plastics, rubbers and metals in Fujitsu Document scanners.
SKU: CON-CLE-W72

Consumable Kit: 3670-400K


Includes 2x Pick Rollers and 2x Brake Rollers.
Estimated Life: Up to 400K scans.
SKU: CON-3670-400K

Carrier Sheets (Pack of 5)


Transparent sleeves for scanning A3, small or damaged documents
Enables damaged documents and receipts to be scanned as well as A3 with image stitching function.
SKU: PA03360-0013
1 Year Standard Warranty


Advance Exchange - Next Business Day.
Included in the price of a new scanner product.
Valid for 1 year from date of purchase.

3 Year Extended Warranty


Advance Exchange - Next Business Day.
Extends the 1 Year Standard Warranty to 3 Years.
Includes replacement of defective product and two-way shipping costs.
SKU: U3-EXTW-WKG

3 Year Bronze Service Plan


Onsite Service - 8 Hour Response + 8 Hour Fix.
Extends the 1 Year Standard Warranty to a 3 Year Service Plan which upgrades the service type to Onsite Service 8+8.
Includes spare parts, labour and travel costs.
SKU: U3-BRZE-WKG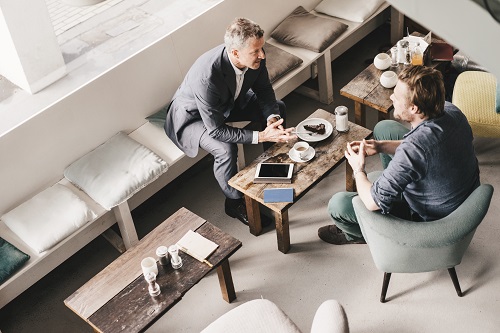 OptoSweden
Main Use: Invoicing
fi-7300NX
To stay competitive, SMEs need the same level of automation, efficiency and security as enterprises. With OptoSweden's intuitive new solution, CrossState ScanClientNX, they can do so at an affordable price. We partnered with OptoSweden, to provide SME customers with the ability to adapt their scanning architecture quickly, securely and effectively with the CrossState ScanClientNX. It's powered by NX Manager software and the fi -7300NX scanner.
Document Logistix
Main Use: Document Management for Logistics
fi-7300NX
The Document Logistix solution built on the fi -7300NX does far more than make businesses less reliant on paper. It makes them more compliant and efficient. Together, we're stepping away from the traditional scanner and towards a model that makes work flow. In summary, with a lower cost of ownership, quicker deployment and seamless user adoption, the expert partnership of Fujitsu and Document Logistix have created a solution that meets the demands of busy businesses.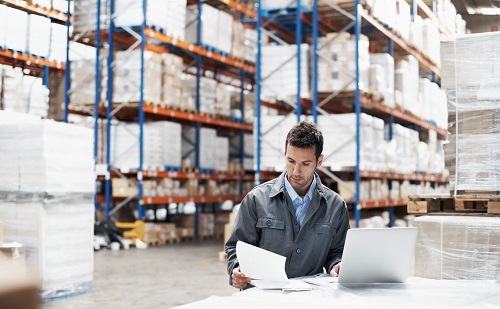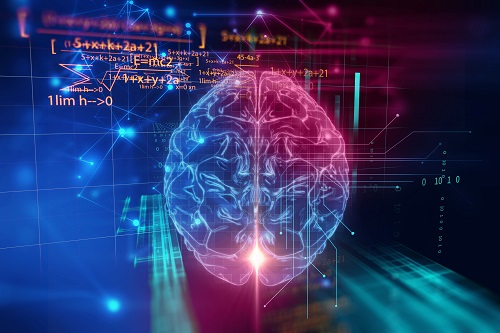 Lemmana
Main Use: Content Platform
fi-7300NX
The business world relies heavily on scanners to turn paperwork into digital formats that can be saved and shared. The problem is, until now, they still also rely on a very manual approach to ensure the right documents, and the valuable data they hold, are classified and managed correctly. That's where our fi-7300NX model and Lemmana's Machine Learning supported content services have changed the way businesses can work. Making it possible at the touch of a button, to scan, automatically extract, classify and use data to deliver a more agile way of working.