4Cheque
The most powerful and reliable solution to use an A4 Fujitsu fi Series document scanner as a real cheque scanner.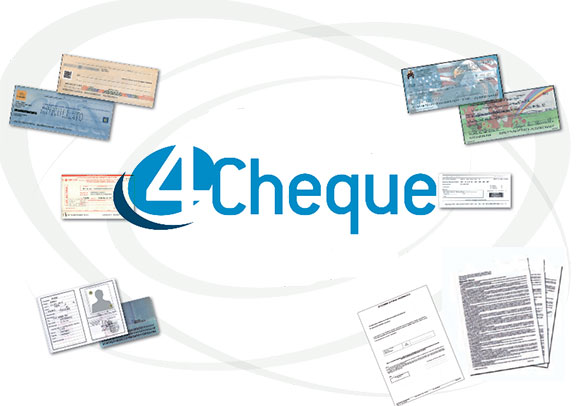 The most powerful and reliable solution for cheque A4 scanner for banking and financial environment

4Cheque is the ideal and reliable solution for treating any kind of documents within banking and financial market: cheques, bulletins, ID cards, barcodes etc… 4Cheque, in combination with Fujitsu fi Series scanners, realizes the first and real Banking Scanner, which has already achieved an outstanding success, with over 40.000 installations worldwide.
Thanks to its innovative and advanced decoding engines, result of years of experience and in-depth analysis, and to exceptional acquisition features of Fujitsu fi Series scanners, with outstanding image quality levels, 4Cheque can achieve optimal and reliable decoding results of magnetic MICR fonts (CMC7&E13B), optical fonts (OCR-A, OCRB-, numeric and alphanumeric) and barcodes, ensuring the safety of acquired data.
Key Functions
One solution, many documents
4Cheque permits to upgrade a Fujitsu fi Series scanner in a real cheque scanner, ready for the treatment and decode of all cheques and banking documents provided with:
Magnetic fonts MICR: CMC7 & E13B
Optical character: OCR-A, OCR-B numeric and alphanumeric
Barcodes:

Linear: EAN13, EAN8, UPACA, UPCE, 2of5, 3of9, code 128 etc…
bidimensional: PDF417, Data Matrix, QRCode
4Cheque permits to reach superior acquisition performances and exceptional data accuracy.
Available for various informative systems and easy to integrate
4Cheque is already available and well-integrated within informative systems developed by some of the most important Italian suppliers of banking services (Cedacri, Phoenix Informatica Bancaria, Iside, SBA and CSE). In addition, 4Cheque can be easily integrated within other informative systems existing.
Other features
Available languages
4Cheque is currently available in these languages:
Italian
English
French
German
Spanish
Portuguese
O.S. supported
4Cheque supports the following O.S.:
Windows XP
Windows 7 (32/64 bit)
Windows 8 (32/64 bit)
Windows 8.1 (32/64 bit)
Software Development Kit
4Cheque Software Development Kit for fi Series scanner - allows developers to use and integrate 4Cheque software bundled with fi Series scanners.