Fujitsu Executive Discussion Evenings

Held twice a year, the Fujitsu Executive Discussion Evening series (EDE) brings together an influential community of senior decision-makers from across the UK's public and private sectors to discuss key boardroom-level issues. The events offer this community the opportunity to hear valuable insight from a range of business leaders, opinion-formers and subject-matter experts alongside networking with a senior peer group.
The series has been running since 2003 and is designed to take you away from the day-to-day issues, to clear space for you to tackle some of the bigger issues in your organisation. These events are free of charge to invited guests.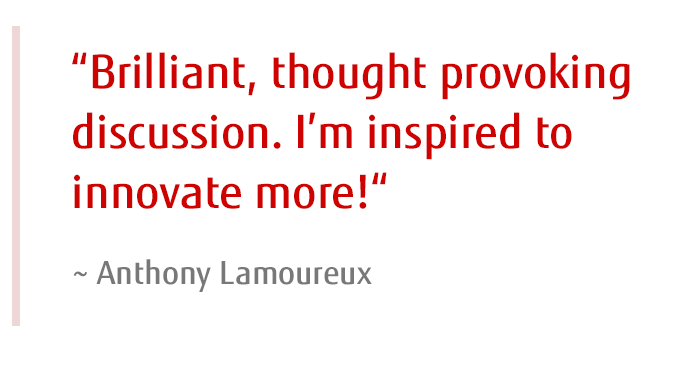 Highlights from our latest events
Are we running out of trust? Power and responsibility in a digital age
t
At the March 2019 Fujitsu Executive Discussion Evening we asked, 'Are we running out of trust? Power and responsibility in a digital age,' and explored the ever-changing nature of trust in business and society.
Technology is central to the production and proliferation of information and gives it value – so much so that it has become a currency in its own right.

Executive Discussion Evening - Technology in a transforming Britain: is uncertainty the new certainty?
t
At our latest EDE we brought together exciting guest speakers to lead a discussion about the role of technology in a transforming Britain.
The discussion kicked-off with some sobering headlines from Fujitsu's research into this topic, highlighting that only 37% of the British public feels equipped for a digital future, and only 10% believe they have the skills required to be successful.
It was our aim to explore the many facets of the debate about Britain's future in a digital world with the help of our guest speakers; former Diplomat and Foreign Policy Advisor, Tom Fletcher and CEO and Academic, Daniel Hulme.
October 2017 – The digital dichotomy: personalisation vs privacy
t
At our latest EDE we had some outstanding discussion and debate around our topic, 'The digital dichotomy: personalisation vs privacy.' We were joined by guest speakers Nathalie Nahai, Web Psychologist and Author, and Scott Seaborn, Global Mobile Strategy Director at Aimia, to explore the ever-heightening tension brought about by business' ability to access and use our personal data.
March 2017 - 1+1=3 Co-create to innovate in the Digital Age
t
Do you ever wish you could go back to a simpler time, when there were clear boundaries and everyone played by the rules? In the digital era, it's all a bit messy and complicated; new entrants are breaking into established markets every day, bringing with them smarter, faster ways of accessing and influencing consumers and citizens. And they're fuelling new expectations, making it increasingly difficult to deliver today and plan for tomorrow – especially at scale.
The fact is, there are never was a 'simpler time'; the pressures were just different. Today, we are living through an unprecedented era of disruption, forced upon us by seemingly seismic digital shifts.
In research commissioned by Fujitsu 52% of respondents said their organisation will not exist in its current form in five years' time and 92% told us their business needs to evolve to thrive in a digital world.
Undoubtedly, many organisations will look very different in a few years – different size, different shape, different ways of engaging with customers and employees. But one thing seems clear – we all need to adapt and collaborate in order to survive.
Over 70% of respondents in our research recognised that they need to collaborate more strategically. We believe the time is right to explore how we can co-create in order to exploit the full possibilities of the digital era.
October 2016 – Jobs for the 'bots'? Digital innovation and the end of the world as we know it
t
We sought to uncover the reality of workplace automation, and to determine whether we will, in fact, all be replaced by 'bots' in the near future. We heard from experts Murray Shanahan, Professor of Cognitive Robotics, Imperial College London, and Hamish McRae, Forecaster and Author.
We explored the topic of Specialist AI, which can be applied to specific tasks and is already driving automation, is well advanced with driverless cars being the best-known example, where jobs are genuinely under threat. Artificial General Intelligence on the other hand - the science fiction-style replication of the human brain – is much further away, leaving us more confident that the wholesale change promised in the movies will not be felt for some time.

Hamish MacRae, Journalist and Futurist, examined the progression of robotics and AI technologies from the perspective of the wider economy, examining the careers that are under the greatest threat from automation, and delivering the good news for construction and education workers that for the time being, their roles are safe! Hamish called for educational standards to be improved, to protect those people most vulnerable to displacement and provide alternative job opportunities.

March 2016 – Responsible Business
t
On 1st March 2016 we questioned whether responsible business can be considered a genuine business strategy, or if it is in fact the by-product of a difficult economic era. Responsible business, has become increasingly relevant and powerful in recent years, fuelled by the realisation that the world's long term economic, social and environmental prosperity cannot be taken for granted.
Our speakers for the evening were former Home Secretary Rt. Hon Lord (David) Blunkett, and entrepreneur and founder of confused.com, Sara Murray. David and Sara approached responsible business from very different perspectives yet agreed that it can only create value if the motivation is genuine and driven from the leadership of the organisation.

David said that responsible business – if sustained – can see organisations through good times and bad, and Sara asserted her belief that responsible business is actually a by-product of running a business in accordance with our values as 'decent human beings'. But it's not just about the softer factors; responsible business can also contribute tangibly to the bottom line and to wider economic prosperity, since responsible businesses are more likely to be successful because they are perceived to be 'on the customer's side'.
Despite all this positive endorsement for the importance of responsible business, our experts agreed that there is still a way to go; 'We are on the cusp of getting it right or getting it badly wrong,' said David.

Key Event Programmes