Fujitsu World Tour 2016 - World Tour 2016 : Fujitsu UK

Technology Showcase
Visit the technology showcase, which will feature some of the latest digital technologies, all in the context of your business. Our showcase consists of 13 'zones' where we will bring together digital solutions in the context of specific sectors, or specific points on the digital journey. So, whether you are looking to build a firm foundation for digital, connect everything or move at pace, there will be something relevant for you.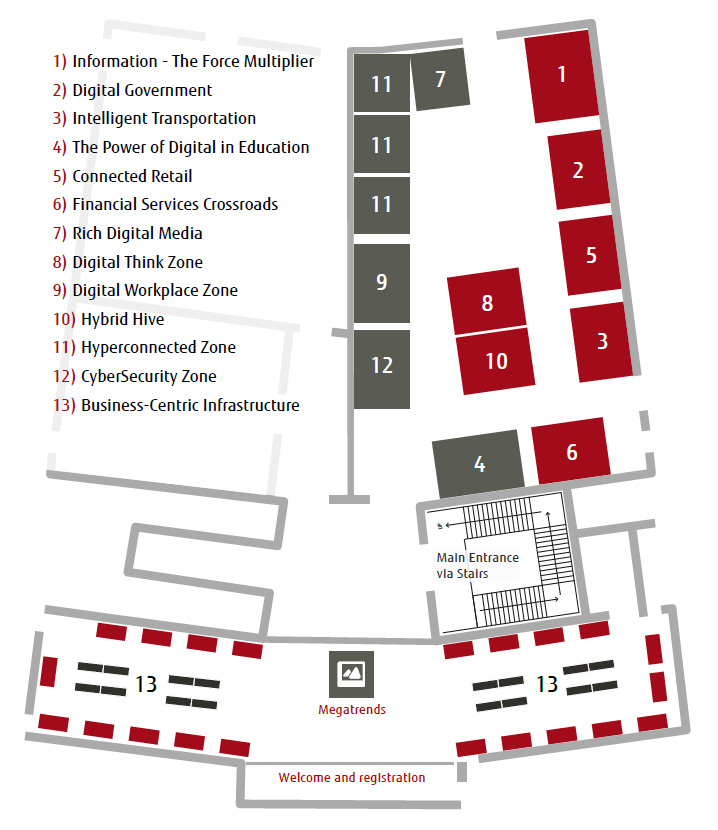 1. INFORMATION – THE FORCE MULTIPLIER
Information is the Real Force Multiplier. With over 50 years' ICT experience with the MOD, we believe Fujitsu are the first corporate entity with a comprehensive response to bringing together a range of technically advanced, global secure information solutions and services meeting the demanding needs of Defence and National Security clients.
We will be demonstrating real approaches to supporting the Military, focusing around information exploitation, cross domain working providing universal access, agile hosting as the underpinning to DaaP and modernised Defence logistics. Each of these approaches are adaptable to suit specific needs as threats or circumstances dictate.
2. DIGITAL GOVERNMENT
Everyone's doing it or aspires to doing it. Everyone is going Digital and that includes government. Departments, agencies and authorities are transforming processes and reengineering applications to drive efficiency, productivity and deliver better public value. Whether it's using cloud and Government as a Platform, IoT or maximising the use of government frameworks and the Digital Marketplace, to find out how Fujitsu can help you make a difference to people's lives through Digital, come and talk to us at Fujitsu World Tour.
3. INTELLIGENT TRANSPORTATION
The digital age of transportation has begun. New technologies are transforming the way that transport is delivered and, for the first time, giving the passenger access to information that will allow them to take control of their journeys. But in these exciting times of increasingly intelligent mobility, technology holds the key to delivering more and achieving sustainability, despite the competing demands of accelerating urban growth.
See first-hand at the Travel and Transport Zone how Fujitsu is improving transportation by creating our own ground breaking solutions in response to specific transportation challenges. Fujitsu's solutions put the passenger at the heart of the travel experience and directly contribute towards the industry's imperatives; capacity, efficiency, sustainability and security.
4. THE POWER OF DIGITAL IN EDUCATION
The past year has seen a wave of digital disruption across education. It's become clear that transforming education for the millennials and providing them with relevant skills for their future takes the right combination of digital tools. Join us in our education zone at Fujitsu World Tour to discover why integrating technology and digital approaches within education helps educators build engaging environments and students reach success. Hear first-hand stories and explore example scenarios from some of our customers who are adopting digital approaches within their education environments, and learn about the powerful impact that these approaches are having on teaching and learning outcomes.
5. CONNECTED RETAIL
The world of Retail & Hospitality is in a constant state of flux. In order to react and continue to grow, retailers are forever reliant on technology to enable them. Having worked closely with retailers for over 50 years and currently helping to keep over 24,000 stores running in the UK. Fujitsu deliver human centric innovation with a focus on growing efficiency, growing the customer base and enabling business growth for retailers. On the Connected Retail stand at World Tour 2016 you will find everything from leading analytics applications through to our specialist retail hardware and innovative future facing offerings from Fujitsu Labs.
6. FINANCIAL SERVICES CROSSROADS
The financial services world is changing, and technology is the driver. Challengers are carving up niche segments of the market and taking it from the traditional titans. Not a week goes by where we don't see the announcement of the next digital-only offering, catering to a growing segment of millennials keen to digitise every aspect of their lives.
With change comes opportunity… what do you need to succeed? What part does technology play in your vision? Explore the innovation from Fujitsu in Banking and Insurance to see how we're shaping technology to give you a competitive edge in a hyper-connected world.
7. RICH DIGITAL MEDIA
From the creation and hosting of on-line Virtual Reality gaming, to managing the movement and maintaining the integrity of rich-media content, Fujitsu helps provide a simple, trusted, connected experience in a complex digital world. As we are already part of the global audience, come and experience the Future Media Zone and discover how Fujitsu enables quality content to remain at the very heart of the value chain. See how Fujitsu technology seamlessly supports the evolving formats of media content movement and management, foster trust with the audience and consumers, enables the use of new end-user technologies, and facilitates the ever growing demands of high-quality content distribution. Through our heritage, expertise and unique partnerships, we can help you deliver a connected, immersive experience for your customer.
8. DIGITAL THINK ZONE
Being 'Digital' and getting to Digital are two separate things. Understanding the journey and navigating the challenges can be a frustrating experience.
Sometimes it's useful to get an alternative view. By joining our experts in the Digital Think Zone, you'll discover multiple ways to exploit the transformational power of digital across your business. Through practical knowledge, industry insight and hands-on experience, our digital guides will help you uncover the most effective route to realising your digital objectives and driving priority business outcomes.
9. DIGITAL WORKPLACE
The digital revolution is truly upon us. As a result, the opportunity to deliver substantive change within the enterprise to accommodate new technological challenges is creating complexity. How do you balance investment between your existing environment while supporting new innovation around social, mobile, cloud and predictive analytics? And bring these innovations into the workplace and to your customers?
With Fujitsu expertise around workplace transformation and our human centric approach to innovation, we can help wherever you are in your journey. Fujitsu Digital Workplace is powered by Fujitsu Digital Business Platform MetaArc.
10. THE HYBRID HIVE
Cloud adoption is surging as organisations seek the benefits delivered by digital technologies such as mobile, social, big data and the internet of things. At the same time CIOs are increasingly faced with the issue of striking a balance between the many conflicting demands being placed on the IT infrastructure. How do you ensure that business units have the agility to act and deploy new solutions, increasingly cloud based, yet ensure governance and compliance are not compromised? How do you have an IT environment that is robust, secure and flexible and yet have a prudent IT budget? The answer lies in a cleverly architected and seamlessly integrated Hybrid IT environment. By blending the best of cloud powered and on premise IT, the balance that large organisations seek is the balance that Hybrid delivers. And with more than 5,000 large scale implementations globally, no one does Hybrid better than Fujitsu.
11. THE HYPERCONNECTED ZONE
The big challenge for businesses is staying ahead of competitors. By 2018, 50% of all industries will be disrupted by a competitor from outside their industry. Businesses need to identify their digital transformation strategies. And they need a network that supports them today and tomorrow. Fujitsu has the experience, network capability and consultative expertise to help businesses become hyperconnected businesses. A hyperconnected business will have a network that supports new and transformational ways of working. It will have the data and insight to make decisions that keep them ahead. It's not about the IoT, it's about the Internet of Right Things.
12. CYBERSECURITY ZONE
Ransomware can have critical consequences if organisations are unable to protect and defend against this threat. Our experts will demonstrate how Fujitsu's Cyber Threat Intelligence team track new Ransomware variants, new exploits and provide some controls organisations can take to deal with the threat. And this breakout session is complemented by the 'CyberSecurity zone' which will feature a real 'attack and defend' scenarios.
13. BUSINESS-CENTRIC INFRASTRUCTURE
Today's move towards Digital business is pushing technology to the heart of business success. Pressure is being put on IT to implement new technology as quickly as possible, without disrupting existing services, in order to develop competitive advantage.
Fujitsu provides the technology that accelerates these outcomes and provides the backbone of your operations. Visit the Infrastructure Matters Zone to see the technologies and talk to our experts about how Fujitsu can help you deliver cost-effective, dependable services whilst building the foundation of a future-proofed infrastructure to support your business.
Top of Page