Fujitsu. An honest approach to Managed Print Services.
The five elements of Fujitsu MPS
The term Managed Print Services (MPS) is commonly used to describe a huge and complex area that can benefit your business in many ways. However, there are a lot of opinions and options out there, and sorting the facts from the fiction isn't always easy. Especially as your business is completely unique, and comes with its own specific challenges and needs.
So, we've set out everything you need to know here. Simply and honestly.
Read on to explore the elements of our vendor-neutral MPS offering, and how they can support your print and IT strategy.

The MPS
MPS will form the foundation of your print and document strategy. It will bring together the hardware technology and software solutions that allow an external provider (like us) to monitor and manage your print infrastructure, remotely. It will also let us automate associated processes, manage a supply chain, carry out break-fix engineering and boost device availability and uptime.
But it's just the start.
The Fujitsu approach can also be designed to deliver the following key elements, which can help you achieve a secure, efficient, resilient and scalable image and printing infrastructure. Work with us, and we'll help you settle on an ideal solution that can support your overall IT strategy, while helping you reach your business goals.

Process optimisation/automation
With Fujitsu MPS, you can reduce manual repetitive tasks and streamline processes.
To help you do this, we put all your paper-based data into electronic workflows, via Multi-Function Devices/Printers (MFDs/MFPs), scanners, emails, mobile devices, folders and desktop applications.
Then, taking into account your existing processes and business rules, we help you understand how to increase the accuracy and flow of digital information. This enables everyone in your business to get the information they need, faster, and your operations to become more efficient than ever.
What's more, we're uniquely placed to support your investments in other key areas. These include ERP, document workflow solutions, records management and output management, among others.
Ever thought about smarter scanning as part of your MPS?
Save money, boost productivity and free up space. With Fujitsu brand scanners, you can achieve all of this and more. That's because our workgroup, departmental and production-level scanners deliver:
Speed
Image quality
Great paper handling
Easy integration
Compatibility with document imaging applications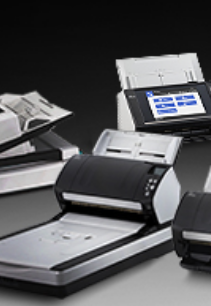 Whether your application involves document management, archiving, workflow or forms processions, we have the ideal scanner to capture your documents and data.
Discover what you can achieve, when you take a smart approach to scanning.



Document/content management
The more distributed your data storage, the more complex it is to manage. Especially when you factor in those users who choose to save business content to their own, personal clouds.
With our Document Management Solutions, you can capture, control, secure and access all of your content and documents – from wherever you are, in the original format. In addition, you can rely on intelligent, built-in AI to automatically categorise documents. Plus, you can link APIs to other Line of Business applications, for a seamless result.

Cloud print
Keen to get rid of those on-premise servers? You might be considering moving your entire infrastructure or print service to the cloud. With Fujitsu, set-up is simple, and deploying to end users can be achieved easily.
Our solutions take advantage of public, private and hybrid cloud options. What's more, data doesn't necessarily need to leave your local network. This means that your largest print jobs can be released quickly, and costs associated with network bandwidth consumption can stay low.

Enhanced document and print security
Print-related security isn't just about 'follow' print or 'secure release'. It's also about understanding what's being printed and why, and keeping your intellectual property safe.
Work with us, and we'll deliver market-leading technology and software that suits your exact needs.
You'll get greater control over documents, and gain access to the rules-based printing engine within our Secure Print Solution.
In addition, you'll get a full audit trail of what's being printed, and be able to search the content too.
How? Because when it comes to all forms of IT – including print – we're security experts. Meaning we can protect your sensitive data against all sorts of cyber threats in this key business area, as we can all the others.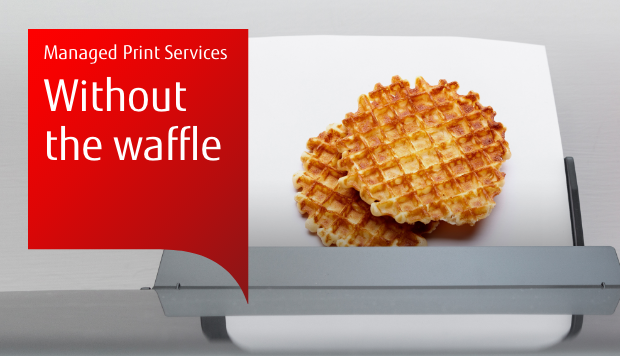 E-book: your honest guide to MPS
What is MPS? How can it benefit you, and what can Fujitsu offer? Get the answers to all these questions – and more – in this e-book.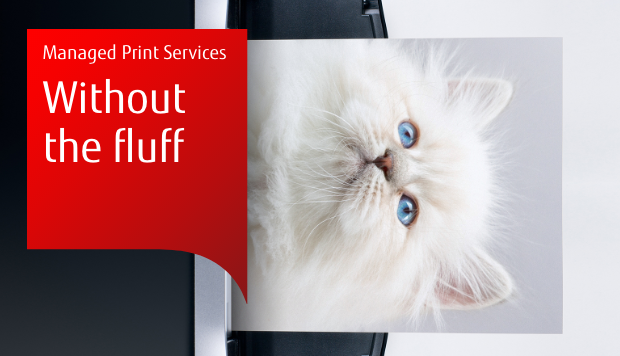 Infographic: MPS without the fluff
Before you can benefit from MPS, you need to get the full picture. Explore the landscape, key drivers and common challenges in this infographic.