Supply Chain
Since 2008, Fujitsu Electronics Europe (FEEU) has been awarded the Authorised Economic Operator (AEO = Zugelassener Wirtschaftsbeteiligter) status by the Customs Authority Darmstadt (Hauptzollamt Darmstadt).
AEO Certification is granted in one of three categories: Simplification by Customs Law (AEO C), Security and Safety (AEO S), or Simplification by Customs Law / Security and Safety (AEO F). FEEU received the highest category, AEO F.
AEO Status speeds up the flow of goods and materials through customs, an important consideration for companies operating internationally. AEO accredited companies are entitled to privileges with regard to security and safety-related customs inspections, and simplification of otherwise complex customs regulations.
AEO Status offers shippers advantages that include privileged and expedited customs clearance, control and confirmation of certificates of origin and community status, and the shortening of advance notification terms.
In order to apply for AEO Status, FEEU needed to demonstrate testable customs and financial accounting as well as proven financial security. Furthermore, FEEU had to demonstrate transparent organisation of their customs processes and appropriate security procedures against unauthorised access to goods or data.
The overall aim of the AEO programme is to provide security to the international supply chain starting from the manufacturer of goods and finishing with delivery to the end-user.
Based on a stringent audit conducted at FEEU by the Customs Authority Darmstadt, FEEU enjoys AEO Status, which is valid throughout the EU. It is also acknowledged in Japan and the USA.
In April 2012, Japan Customs has assigned an identification number (A00003V5DE00) to FEEU as an EU AEO for mutual recognition purposes. The use of this number by our Japanese business partners will enable Japanese customs to take into account FEEU's status as an EU AEO favourably during security analysis, leading to a reduction of inspections and increased predictability of FEEU's supply chain.
In July 2012, FEEU has been approved by the German Federal Aviation Office as a "known consignor (PDF)" pursuant to Regulation (EC) No. 300/2008.
FEEU's permanent establishment will thus be listed in the EC database of regulated agents and known consignors (RAKCD).
The accreditation is based on compliance with FEEU's security programme dated June 2011. By undergoing the voluntary audit and obtaining the status of "known consignor", FEEU ensures that its supply chain meets the highest security requirements, enabling the company to serve its customers as an "A" supplier.
Supply Chain Services
35 Years experience in Europe & ability to handle various Supply Chain Models
Firm Orders or Delivery Plans

EDI connections in place to all major accounts 
Weekly forecast updates 
Fully integrated into SAP 

Consignment stocks

CMI (customer mananged inventory) or VMI (vendor managed inventory) with fully integrated EDI solutions 
Self-billing 
Stock movement and stock level monitoring using EDI monitors 

Buffer, Security, BCM (Business Continuity Management), Bridge Stocks 

Available for ATP or reserved/customer specific 
Fixed quantities or dynamic (range-of-coverage) 

Philosophy to optimize customer requests and vendor requirements  
Logistics tailored to customer requirements 

Ranges from economy service to 1-day logistics from Japan to Customer premises 
Warehouse close to Frankfurt and 100% owned & secured by Fujitsu, incl re-packing capability 
Customer specific packaging and labelling 

Local programming, tape-on-reel, re-balling services 

Many years of experience with trusted subcontractors in Europe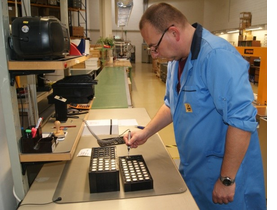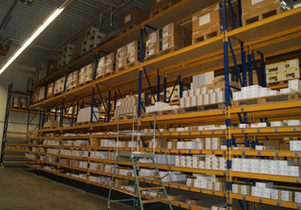 Very good logistics quality and experienced team
Contact Us
Find out how Fujitsu Electronics Europe can help you