Shrouded Header Connectors
Shrouded / box headers are male connectors with pins surrounded by side walls which are molded onto a plastic base. They can be used together with IDC cables. "Box" headers are named after the shape of the housing. Shrouded headers from Neltron feature ejectors (ejection latches) for easy removal and enhanced stability of the connection.
Shrouded and box headers are mainly specified by pitch size, orientation, mounting type and number of pins.
Available features include polarization notch for easy and accurate mating, high temperature insulation material (UL94V-0), a wide operating temperature range (from -40°C to +105°C), press-fit type, surface mount or THT, and a broad range of pin counts. Gold plating of the contacts offers excellent conductivity, low resistance, enhanced corrosion resistance and durability.
Available products include:
1.27mm Box Header Straight Dip Type
1.27mm Box Header R/A Dip Type
1.27mm Box Header SMD Type
1.27mm Shrouded Header With Ejector Straight Dip Type
1.27mm Shrouded Header With Ejector Right Angle Dip Type
1.27mm Shrouded Header With Ejector SMD Type
2.00mm Box Header Straight Dip Type
2.00mm Box Header SMD Type
2.00mm Box Header Dual Body Elevated Straight Dip Type
2.00mm Shrouded Header With Ejector Straight Dip Type
2.54mm Shrouded Header With Ejector Straight Dip Type
2.54mm Shrouded Header With Ejector R/A Dip Type
2.54mm Shrouded Header With Ejector SMD Type
2.54mm Box Header Straight Type
2.54mm Box Header Right Angle Dip Type
2.54mm Box Header SMD Type
2.54mm Box Header Dual Body Elevated Straight Dip Type
2.54mm Box Header With Ejector Right Angle Dip Type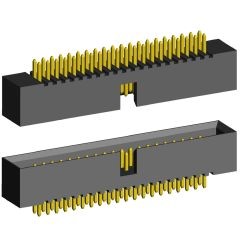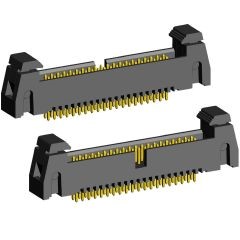 Contact Us
Find out how Fujitsu Electronics Europe can help you