Imaging & Graphics Solutions Products
The ASSP's developed by Socionext are mainly used in image and video processing applications. This starts with devices for video capture and ends with the visualization but of course the required devices for the video processing are covered by Socionext as well.
Capturing
The Imaging Solution BU carries out the development, manufacture, and sales of the "Milbeaut®" ASSP for a wide range of camera systems in the industrial imaging field, including prosumer DSLRs, smart phones, and surveillance cameras. In recent years, we have also been providing imaging solutions that can be applied to IoT through flying cameras, sensing cameras, and image sensing, going beyond the conventional market. The development of our unique image processing algorithm started along with the advent of digital cameras, where we have always provided the top image quality with the latest video codec features and various interfaces in advance to the market needs. While this is an ASSP, we also provide services including platforms and firmware development, sales, and image quality consultant, offering One-Stop Solution from start to end.
Milbeaut® ASSPs cover a wide range of camera systems from high quality digital SLRs for prosumers to digital cameras, mobile or smart phones with camera(s), up to industrial equipment based on monitoring cameras. These ASSP's incorporate a video codec function that offers the highest image quality and supports a number of interfaces. To provide the best possible result Socionext is not only providing the ASSPs as such but also offering all services and firmware needed for best in class image quality.
Product Features
Application Field
Product
Product Feature
Security Camera
SC2000
4K, H.264/H.265 (HEVC),
dual-camera support,
360-degree distortion correction
SC2002
3M/30p, H.264/H.265 (HEVC),
HDR, 3D Noise reduction (low illumination)
Digital Camera
SC2000
4K, H.264/H.265 (HEVC),
dual-camera support,
360-degree distortion correction<</td>
MB86S22
1080/60i, H.264
MB91696B
1080/30p, H.264
IoT Camera
MBG967
16M/30, dual-camera support, PDAF
360-degree Camera
SC2000
4K, H.264/H.265 (HEVC),
dual-camera support,
360-degree distortion correction
MBG967
16M/30, dual-camera support, PDAF
Action Camera /
Drone
SC2000
4K, H.264/H.265 (HEVC),
dual-camera support,
360-degree distortion correction
Tablet
MBG967
16M/30, dual-camera support, PDAF
Main IPs
HybridAF
Dual Camera IP
Color correction
Brightness correction
Electronic Image Stabilization(EIS)

Video HDR
Face detection/Face recognition
Auto haze density detection
Haze removal
Noise reduction/Sensitivity optimization
3DNR
Applications
Security Camera Solutions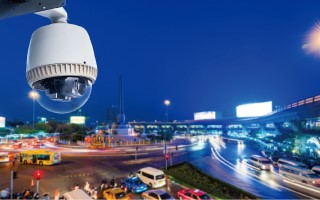 We provide security camera solutions that include a compact, lightweight, low-power ASSP with all the functions required for cameras. We also include technologies employed in monitoring fields, such as scene recognition, haze removal, tampering detection, camera-shake detection, motion detection, intrusion detection, line cross detection, and video HDR—all in a single package.
• Motion Detection/Tracking and Anomaly Detection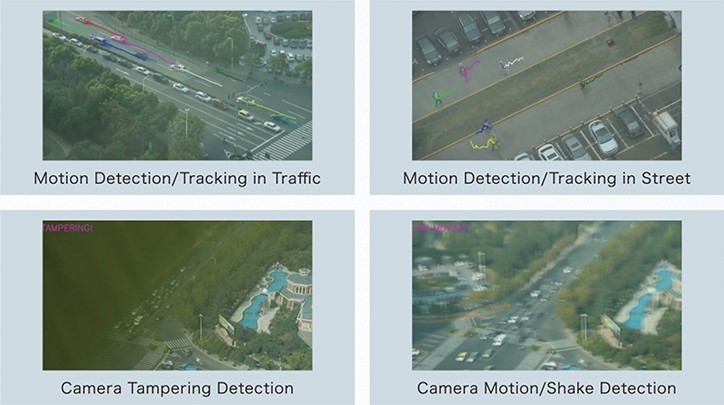 Our system has a motion detection feature which can be used in various situations, such as monitoring traffic and/or pedestrians on streets, tracking moving vehicles, etc. Also, with tampering and camera shake detection, camera troubles can be detected and alerted smoothly.
• Event Detection

High grade intrusion detection detects moving objects in various conditions such as empty, low-light indoor rooms at night.
• Haze Removal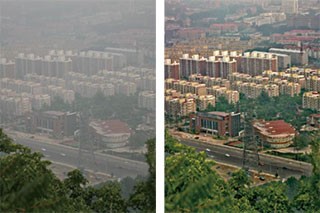 In cases where camera is set on high, far locations, weather conditions such as mist, rain, and snow may be obstacles to getting correct images. Our Haze Removal feature is useful in such condition where it detects and removes only the haze part, outputting clear image. Haze Removal clears out the haze but leaves background details such as smokes and clouds.
• Video HDR

In backlight scenes where subject tends to be overexposed/underexposed, HDR function adjusts luminance levels and brings out detailed, vivid image. Available in 1920x1080/30fps.
---
Action Camera Solutions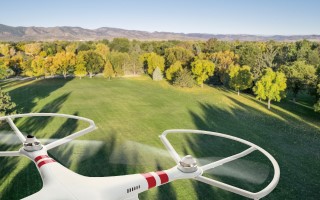 Our action camera solutions contain high-performance Electronic Image Stabilization (EIS) features that allow stable shooting of active scenes— perfect for shooting with drones or event data recorders (EDRs). In addition, with slow-motion features, suitable for shooting golf practice swings and our "Follow me/Follow you" feature for automatically following the subject, our technologies are perfect for shooting a variety of situations.
• EIS (Electronic Image Stabilization)
The EIS feature contributes to capturing beautiful images in action scenes.

Video IES

Provides smooth and stable images for action camera and drive recorders, in which the camera body itself is in motion.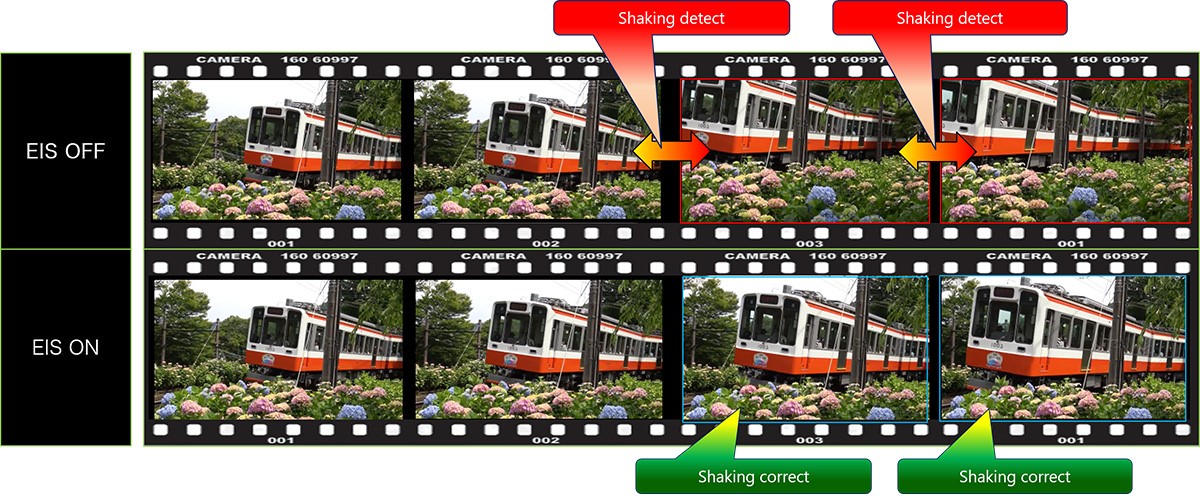 Rolling Shutter Correction

Detect and correct partial distortion caused by fast-moving objects. Can be combined with EIS to provide more stable video recordings.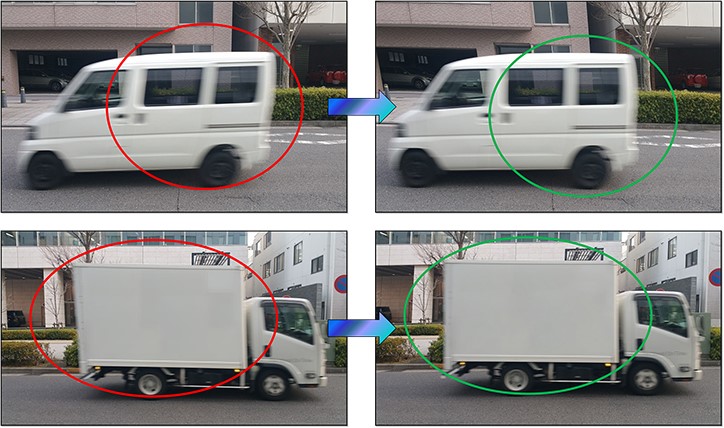 • Video HDR
Creates HDR image by alternately capturing (60 fps) short exposure and normal exposure images in full HD size (1920x1080) and merging them into one image internally. HDR reduces over exposure / under exposure in backlight, high contrast, or night scenes, bringing out detailed and vivid video images. Since it supports high speed, processing every frame, the Video HDR is very effective for drone and drive recorder cameras, where the camera is mostly moving around.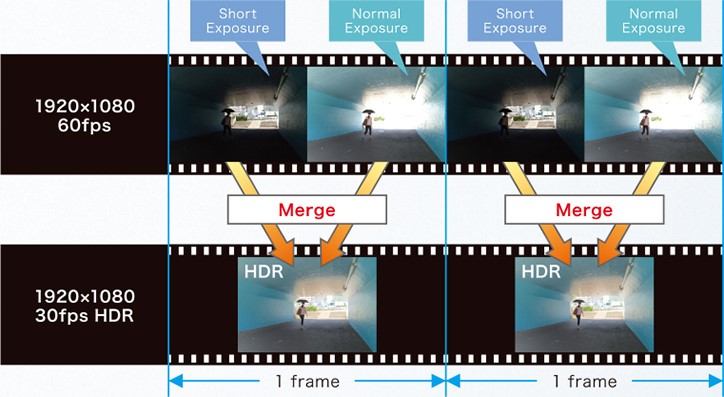 • Haze Removal
Under environment with poor visibility, such as rain or snow, Haze Removal can clear out the haze without removing the rain/snow itself. Also, rain droplets can be detected when falling upon camera, giving the camera an alert/trigger feature when it is wet or has vision troubles

• 4-Camera Stitching
It's possible to stitch the video captured from at most 4 cameras (Max : 4K 30fps). When using a fish-eye lens, it's possible to capture a video by the wider field angle by correcting the distortion in real time.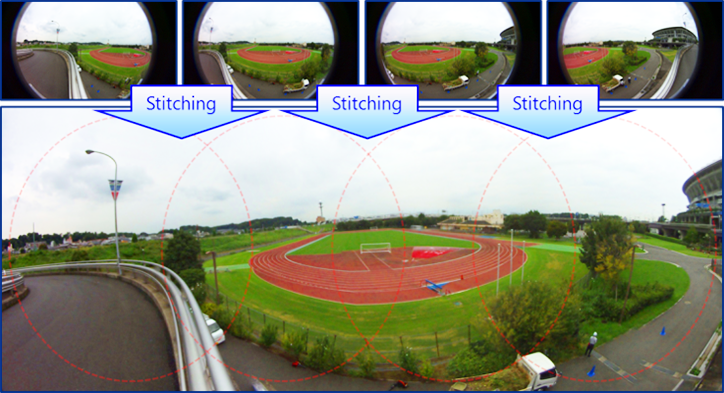 • Slow Motion (Full HD 240fps video)
High frame rate video capture is possible. The captured video can be enjoyed as slow motion video using an application that can change the playback frame rate.

---
IoT/DSC/DSLR Camera Solutions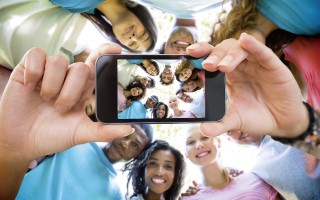 The demand for high quality images is growing across a wide range of markets, from consumer cameras and web camera systems to industrial cameras and wearable cameras. Our solutions continue to meet the diverse needs of the latest markets, delivering high-resolution image processing technologies, high-speed, highly accurate Hybrid AF autofocus systems, dual-camera systems supporting two sensors, and other advanced technologies.
• Depth Map (Distance Information) Generation
The generated depth map can be applied to produce background blurs, post-focus control, and subject cropping.

Background Blur

Can capture DSLR-like photos with background blur. This feature can also be used by applications to create composite images.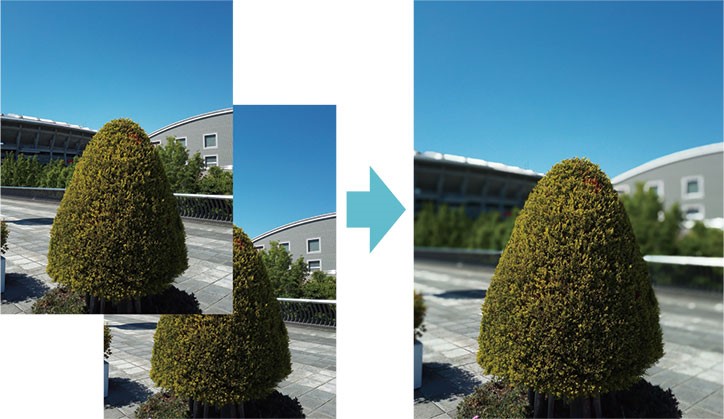 Post-Focusing

Allow user to change focal point after capturing. Focal point can be controlled in all ranges from infinity to macro to all-focused.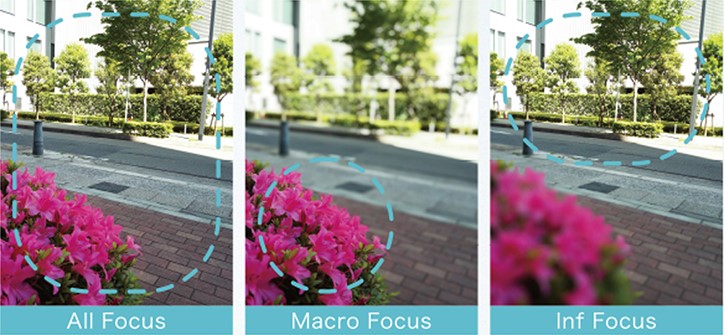 • Super Hybrid AF (Auto Focus)
Realizes high-speed, high-accuracy AF in various scenes by using a hybrid of 3 types of AF.
Contrast AF
Phase Detection AF
Laser AF
Contrast AF relies only on contrast values calculated per frame, thus takes too much time focusing in low-light conditions where frame rate falls. Hybrid AF automatically select AF algorithm that best fits the scene, such as using Phase Detection AF in basic scenes and laser AF in low-light or macro conditions. This switching allows our AF to operate at high-speed and high-accuracy.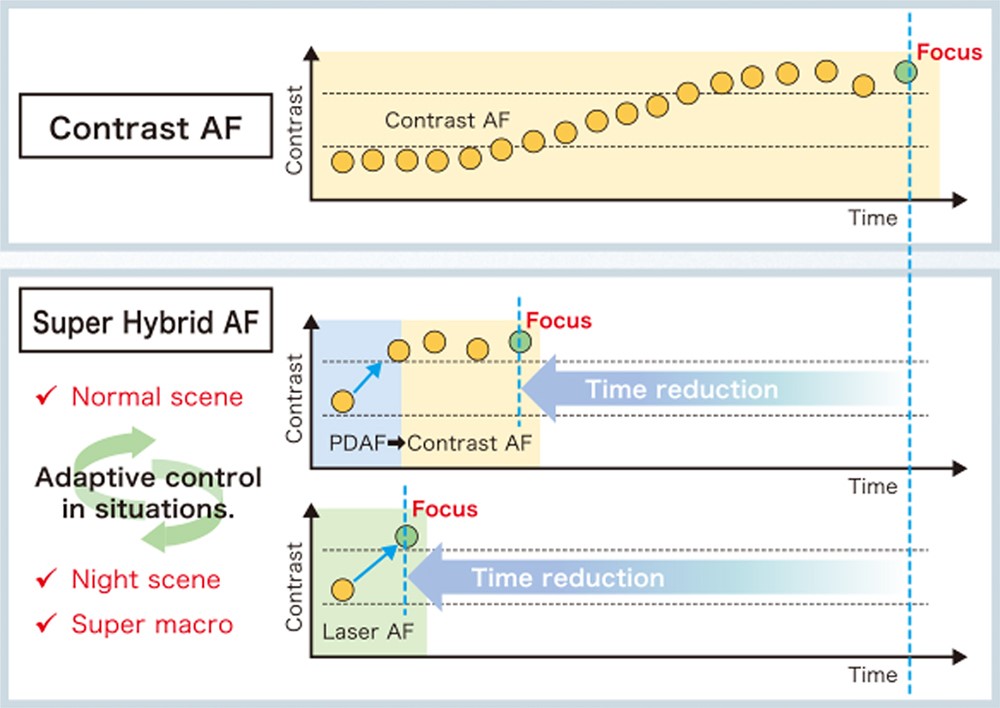 Processing
The established Socionext video processing devices (MB86M21, MB86M22, MB86M23) convert between Full HD (1920dots x 1080lines) H.264 video data and MPEG-2 video data within a 1.2W power budget for a H.264 translation. Also audio transcoding between various formats is supported. Due to their compact size, they can be used in a wide range of products, including mobile products such as smartphones and tablet PCs, as well as home digital broadcast recording equipment, such as TVs, hard disk PVRs, and PCs. See functional diagram and feature overview for MB86M2x below.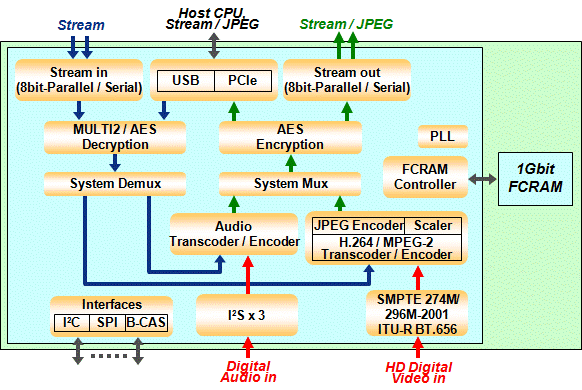 MB86M2x Feature Summary




From
To
Transcode
Video
MPEG-2 HD/SD
H.264 HD/SD + H.264 SD or lower
H.264 HD/SD
H.264 HD/SD + H.264 SD or lower
MPEG-2 HD/SD
MPEG-2 SD
H.264 HD/SD
MPEG-2 SD
Audio
MPEG-2/4 AAC-LC, HE-AAC, MPEG-1 Audio Layer2, Dolby Digital (AC-3)
Double Audio Re-multiplexing support


Encode
Video
VBS (Video Baseband Signal)
H.264HD/SD + H.264 SD or lower
VBS (Video Baseband Signal)
MPEG-2SD
Audio
MPEG-2/4 AAC-LC, HE-AAC, MPEG-1 Audio Layer2, Dolby Digital (AC-3)
Stream Format
MPEG-2 TS, MP4 filing sub-function
MPEG-2 TS, MP4 filing sub-function
MPEG-2 TS, MP4 filing sub-function


Thumbnail


JPEG Encode


Interfaces
PCIe, USB2.0(Device), Serial(UART), Stream-I/F(Serial or 8bit Parallel) [2 input, 3 output streams],Video I/F(SMPTE 274M / SMPTE296M-2001, ITU-R BT.656), Audio I/F(I2S)


Memory
1Gbit FCRAM embedded
Package
3 Package options 0.5 - 0.8 ball pitch, 13x13mm - 21 x 21 body size
Besides the MB86M2x Socionext is offering two more products for this application rag, one MPEG2 to H.264 Transcoder MB86M52 and a H.264 Codec. A high level feature comparison for the three H.264 related products is shown below:


MB86H52
MB86H46
MB86M2x
Type
Transcoder
Codec
Transcoder
H.264 encode
Up to 1080i60
Up to 1080p60
Up to 1080i60
H.264 decode
Up to 1080i60
Up to 1080p60
Not supported
Transcode
MPEG2 > H.264
Not supported
MPEG2 > H.264
H.264 > H.264

Memory
512Mb DDR2 x 2
Embedded
Embedded
Control I/F
Parallel UART
PCI, Parallel UART
PCI-e, USB; UART
Typ. Power
2.7W
800mW
1.1W
Package
PBGA496


27mm x 27mm

FBGA650
15mm x 15mm
3 Options
In addition Socionext offers real-time encoding solutions for HEVC supporting 4Kp60.
Display
The Socionext graphics product portfolio offers two major product lines.
The SOC-line provides devices featuring a combination of ARM-based CPUs with high-performance graphics processing power.
The GDC-line main feature is the APIX2® interface providing point to point interconnectivity between displays, cameras and processors.
The graphic below gives an overview of the available devices.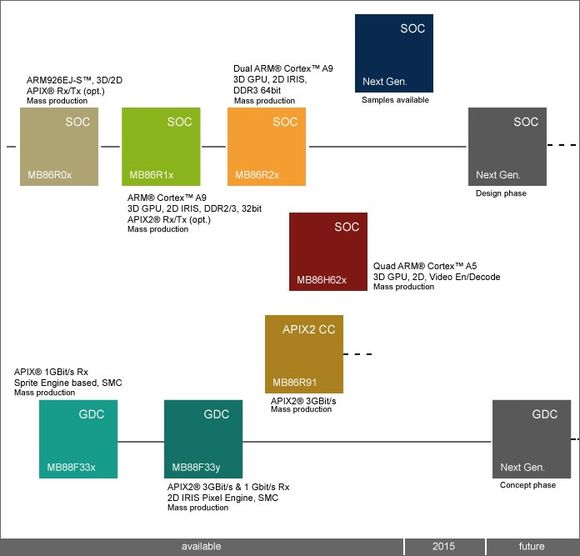 A wide selection of different processing performance gradations in single-, dual- or quad-core ARM architectures meet different requirements. The independent 2D and 3D graphics processors also offer a valuable benefit for multiple applications. Media encoder and controller functionality are also available.
The products of the GDC segment are driven by solving point to point connectivity solutions for display and camera applications. The integrated APIX2® interface is Inova Semiconductors' high-speed pixel link. That category also comprises the video and communication bridge.
SoC Line Overview
| | | | | |
| --- | --- | --- | --- | --- |
| Device | MB86R0x | MB86R1x | MB86R2x | MB86HD6x |
| Processor | ARM926EJ-S™ Single Core | ARM® Cortex™ A9 Single Core, ARM® Neon™ SIMD Engine | ARM® Cortex™ A9 MPCore ™ ARM® Neon™ SIMD Engine | Quad ARM® Cortex™ A5 MPCore ™ ARM® Neon™ SIMD Engine |
| 2D/3D Graphics Engine | 'Coral' | 3D: (OpenGL® ES 2.0) 'Ruby' 2D: 'Iris' | 3D: (OpenGL® ES 2.0) 'POWERVR SGX543-MP1' 2D: 'Iris' | 3D: (OpenGL® ES 2.0) 'POWERVR SGX543-MP1' 2D: 'Iris' |
| Memory IF | DDR2-SDRAM, x16/x32, 333MHz | DDR2-400/533/800 and DDR3-800/1066 | DDR3/3L-800/1066 | DDR3-1080 |
| Display Controller | 2 | 3 | 3 /2 (R25) | 2 |
| Display Controller IF | RSDS, RGB, APIX® Tx (R02) | RSDS, RGB, APIX2® 3x Tx (R12) | FPD, RGB | HDMI, RGB, ITU |
| Video Capture Units | 2 | 4 | 6 /3 (R25) | 2 |
| Video Capture IF | APIX® Rx (R02) | APIX2® 1x Rx (R12) | RGB, MiPI, …. | RGB, CCIR |
| Standard IF | I²C, I²S, UART, SPI, SD, PWM, ADC | USB, UART, SPI, I²C, I²S, … | Ethernet AVB, USB, UART, SPI, I²C, I²S, … | Ethernet, USB, UART, SPI, I²C, I²S, … |
| Special IF | MediaLB® (3-Pin), CAN | MediaLB® (3-Pin), CAN | MediaLB® (3-Pin), CAN | MediaLB® (3-Pin), |
| Part Numbers | MB86R01PB-GSE1 MB86R02PBH-GSE MB86R03PB-GSE1 | MB86R11FBH-GSE1 MB86R12FBH-GSE1 MB86R13FBH-GSE1 | MB86R24RBB-GSE1 MB86R25RBB-GSE1 | MB86HD6x |
| Packages | BGA-484, TEBGA-484 | BGA-544 TEBGA-544 | FCBGA-676 FCBGA-676 | TEBGA-484 |
GDC-Line Overview
| | | | |
| --- | --- | --- | --- |
| Device | MB88F33x | MB88F33y | MB86R91 |
| APIX® | APIX PHY | APIX2® Phy | 1 APIX2® Rx 3 APIX2® Tx |
| Sprite Engine | 512 sprites | 512 sprites | - |
| Signature Unit | ASIL B | 2 x ASIL B | - |
| Flash Memory | 160KB NOR | 32KB NOR | - |
| SRAM Memory | 128KB SRAM | 64KB SRAM | - |
| External Flash IF | F332 only | Yes | - |
| Standard IF | I²C, UART, SPI, PWM, ADC | I²C, UART, SPI, PWM, ADC | Ethernet (MII), SPI, |
| Special | Sound Generator | Sound Generator | 2 OpenLDI Rx, MIPI Tx, AIC, DRGB888 in, Ethernet switch |
| Part Numbers | MB88F332DAPMC-GSE2 MB88F333DAPMC-GSE2 | MB88F334PMC-GSE2 MB88F336PMC-GSE2 | MB86R291BGL-GSE1 |
| Packages | LQFP-208 LQFP-176 | LQFP-208 | PBGA-240 |
Contact Us
Find out how Fujitsu Electronics Europe can help you