Shinko Technology
Supply of Total Solutions for Semiconductor Packaging
Based on the "Interconnecting Technology" to electrically connect IC chips to PCBs, SHINKO has contributed much to the development of electronic equipment by supplying innovative products and services that meet diverse market needs.
In package products, for example, SHINKO has realized a wide product lineup with the latest buildup of PCB models and lead frames that boost high cost performance due to mass production. In addition, Shinko can handle diverse post-processes for semiconductor production from design to mass production via the supply of packaging services (assembly) for the mounting, electrical connection and assembly of IC chips by exerting its leading-edge interconnect technology. Shinko's advanced technologies effectively facilitate the speedy commercialization of semiconductor products at the clients.
Variety of Leading-Edge Technologies
SHINKO has always met the demands of the mainstay semiconductor package market in a timely manner. At the same time, Shinko has accumulated proprietary technologies and extended the product lineup to meet diversifying market needs. As a consequence, Shinko now has a wide range of products for semiconductor packaging incomposing core technologies.
Although many dedicated manufacturers specialize in specific product fields or technologies, SHINKO covers the entire semiconductor packaging area and is unparalleled in the world.
This original corporate feature has become a real strength in exerting Shinkos competitive edge in the global market.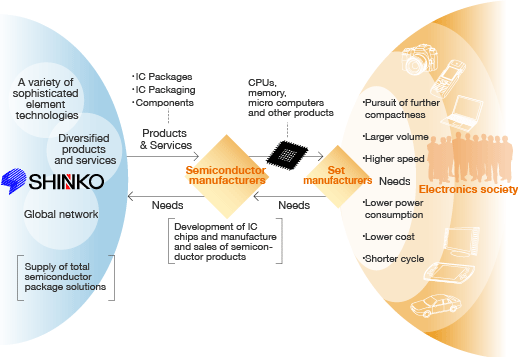 Contact Us
Find out how Fujitsu Electronics Europe can help you