Substrates
Shinko offers a wide variety in IC- Substrates, either being it Substrates based on Prepreg technology, similar to PCB manufacturing, or ABF materials for more advanced applications.
Prepreg Substrates: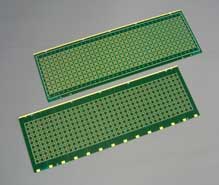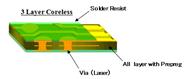 The Plastic-BGA substrates are mainly used for memory, controller, chipsets, and on-vehicles applications. They are characterized in the RIGID substrates with the base material containing glass cloth and also supplied by strip form. 
To meet customer's needs of smaller and higher density as substrates for Mobile devices, SHINKO can supply a multilayer Build-up substrate by applying "Finer pattern using a Semi-additives process" and "Stacked via."
Moreover, to meet the demand of thinner substrates, SHINKO has developed the coreless package (IVH3) with an unmatched thin structure. These superlative coreless substrates are achieved by removing the core layer. Also, SHINKO will continue to focus on the development of the next generation substrates. 
These substrates will exhibit features that enable even higher-density, more compact and thinner package size required by future markets.
DLL: High Density Substrates
Related to the recent performance improvement of electronic devices using Build-up Substrates produced by the Direct Laser & Lamination (DLL®) Process, have seen increases in demand due to achieving the dual benefits of higher-speed and higher-density. SHINKO has achieved these requirements by providing Build-up Substrates that have the outstanding features of fine line patterning through the use of a semi additive process, multi-layer structure, excellent electric characteristics and design flexibility through the use of stacked via structures.
Also IC design and technology has accelerated the use of high-density and high-speed packages. These packages have strong requirements for high-density, good electrical performance and a thinner structure.
Therefore, SHINKO developed the coreless package(DLL3®) which has an unmatched thinner structure coupled with good electrical performance and high design flexibility. This superlative coreless package was achieved by removing the core layer which held back electrical performance and design flexibility.
Also, SHINKO will continue to focus on the development of the next generation packages. These packages will exhibit features that enable even higher-speed, higher-density, more compact and thinner package size required by future markets.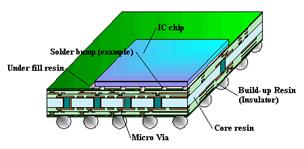 DLL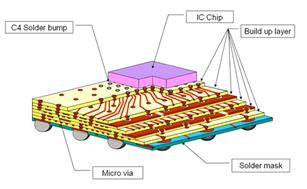 DLL3

Lead Frames
The increase in IC size and the development of advanced chip functions have placed new demands on improving the thermal dissipation and electrical properties of semiconductor packages. To meet these new demands, SHINKO is developing and manufacturing a variety of lead frames, such as stamping lead frames with 256 pins; etching lead frames, suitable for quick delivery requirements; multilayered (advanced) lead frames with superior heat-dissipation properties; and leads on chips (LOC*) for memory purposes. Shinko also develops super fine-pitch, matrix, and deep downset lead frames. SHINKO strives to improve package development and manufacturing from many perspectives. For example, Shinko is promoting the use of a lead-free palladium plating process, which will contribute toward protecting the global environment.
*LOC: A lead frame extended onto the IC and wire-bonded in the center of the chip
Highlights
One stop for all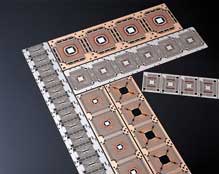 All required function for manufacturing Leadframes are joined in Shinko:
Tooling
Stamping / Etching
Plating
Downset and Cutting
Stamped Lead Frame - Super Fine Pitch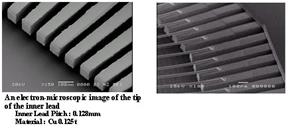 By placing an inner lead close to IC chip made possible for stabilized production of IC packaging and a significant amount of cost reduction.
Plastic Very Thin Quad Flat Non-leaded Leadframes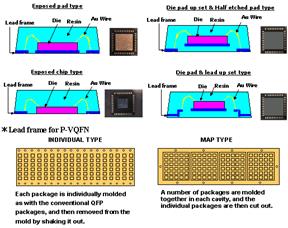 Palladium Preplated Leadframe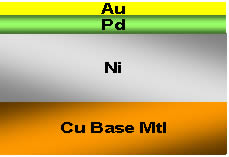 Higher functional characteristics is achieved by palladium plating in addition to nickel-plating on the lead frame
Solder processing at IC assembly is not required therefore it becomes possible to reduce assembly cost.
Lead, which is potentially damaging to the environment, is not produced.
Contact Us
Find out how Fujitsu Electronics Europe can help you