ClickBeetle™ Reference Platform: SensorBeetle I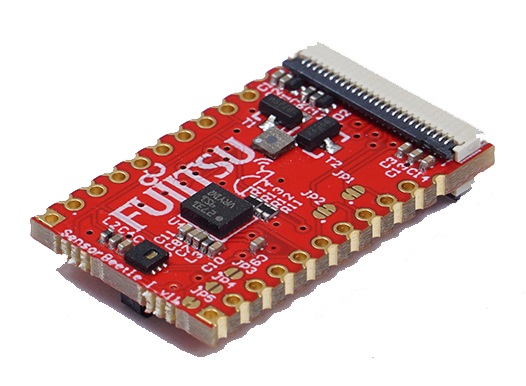 SensorBeetle I is part of the ClickBeetle Reference Platform and adds a sensing features with 9DOF sensor and humidity/temperature sensor to the application. SensorBeetle I contains a STM sensor and a HDK sensor.
SensorBeetle I is available in different versions:

Standard version is the fully assembled version with all optional parts

Ordering number: CB-SENSOR1

Light version (SensorBeetle I-Lite) does not include any of the optional components

Ordering number: CB-SENSOR1-L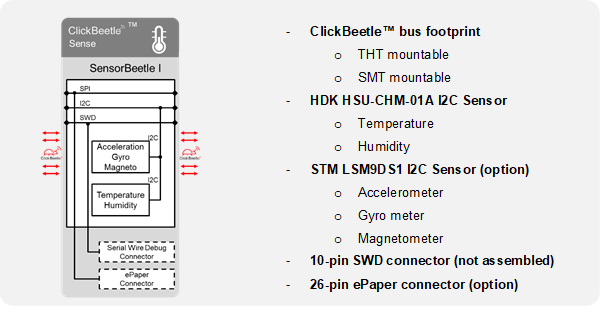 HDK HSU-CHM-01A I2C Sensor:
Small size, low profile package dimension 2.0×2.0×0.75 mm
Low voltage (1.17 – 5.5V)
High sensitivity
Low current consumption
Anti-dew condensation, Water-proof
STM LSM9DS1 I2C Sensor (option):
3 acceleration channels, 3 angular rate channels, 3 magnetic field channels
±2/±4/±8g linear acceleration full scale
±4/±8/±12/±16 gauss magnetic full scale
±245/±500/±2000dps angular rate full scale
16-bit data output
SPI / I2C serial interfaces
Programmable interrupt generators
Analog supply voltage 1.9V to 3.6V
"Always-on" eco power mode down to 1.9mA
Embedded temperature sensor
Embedded FIFO
Position and motion detection functions
Click/double-click recognition
Intelligent power saving for handheld devices
26-pin ePaper connector (option)
Download documents
*Note: browser plug-in may not support 3D documents.
Software Examples
| Name | Description | Download |
| --- | --- | --- |
| apollo1_clickbeetle-blinky-v10.zip | Example blinky software for ClickBeetles with Apollo1 based on FEEU MCU Templates | apollo1_clickbeetle-blinky-v10.zip |

SensorBeetle I is available in our webshop.
Please note: The ClickBeetle™-Reference Platform and all related boards are evaluation kits intended for the testing of components and development of products featuring the same. These custom-build evaluation kits are designed for professionals to be used solely at research and development facilities for such purposes and are only available on a business-to-business basis.
Size and Pin-Description
Contact Us
Find out how Fujitsu Electronics Europe can help you