ClickBeetle™ Reference Platform: PowerBeetle I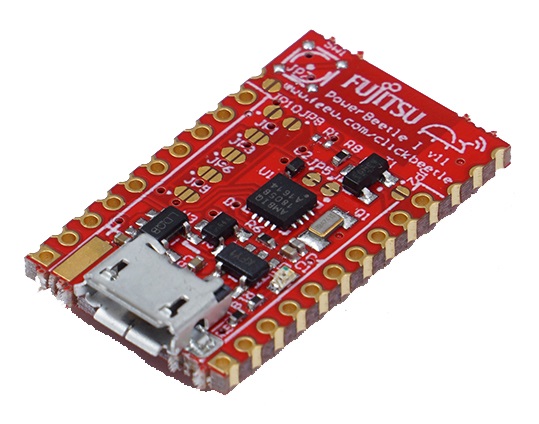 PowerBeetle I is part of the ClickBeetle Reference Platform and adds a power features with RTC/PMIC and charger to the application. PowerBeetle I contains an Ambiq Micro RTC with ultra-low-power consumption bundled with a LiPo charger chip.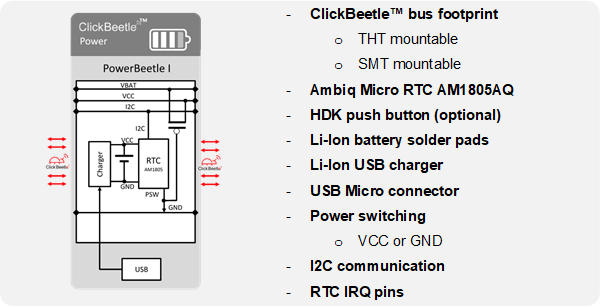 Ambiq Micro RTC AM1805AQ
Ultra-low supply current of:

22nA (calibrated RC clock)
55nA (crystal oscillator)

Advanced timekeeping features:

Integrated power optimized RC oscillator
Advanced crystal calibration to ± 2 ppm
Advanced RC calibration to ± 16 ppm
Automatic calibration of RC oscillator to crystal oscillator
Watchdog timer with hardware reset
256 bytes of general purpose RAM

Power management features:

Integrated ~1Ω power switch for off-chip components such as a host MCU
System sleep manager for managing host processor wake/sleep states
External reset signal monitor
Reset output generator
Supercapacitor trickle charger with programmable charging current
Automatic switchover to VBAT
External interrupt monitor
Programmable low battery detection threshold
Programmable analog voltage comparator

I2C (up to 400 kHz) and 3-wire or 4-wire SPI (up to 2 MHz) serial interfaces available
Operating voltage 1.5-3.6 V
Clock and RAM retention voltage 1.5-3.6 V
Operating temperature –40 to 85 °C
All inputs include Schmitt Triggers
3x3 mm QFN-16 package
Also available in wafer form
Download documents
*Note: browser plug-in may not support 3D documents.
Software Examples
| Name | Description | Download |
| --- | --- | --- |
| apollo1_clickbeetle-blinky-v10.zip | Example blinky software for ClickBeetles with Apollo1 based on FEEU MCU Templates | apollo1_clickbeetle-blinky-v10.zip |
| Restricted Access | Software examples for use with BLE stacks | Contact us using our contact form or Email us |

PowerBeetle I is available in our webshop.
Please note: The ClickBeetle™-Reference Platform and all related boards are evaluation kits intended for the testing of components and development of products featuring the same. These custom-build evaluation kits are designed for professionals to be used solely at research and development facilities for such purposes and are only available on a business-to-business basis.
Size and Pin-Description
Contact Us
Find out how Fujitsu Electronics Europe can help you