ClickBeetle™ Reference Platform: BlueBeetle I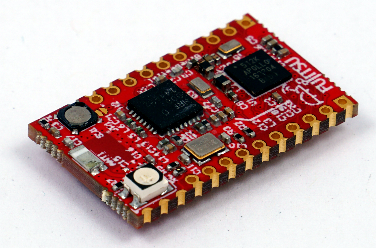 BlueBeetle I is part of the ClickBeetle Reference Platform and adds a brain with communication and BLE to the application. BlueBeetle I contains an Ambiq Micro Apollo 1 MCU with ultra-low-power consumption bundled with a Nordic NRF8001 BLE communications chip.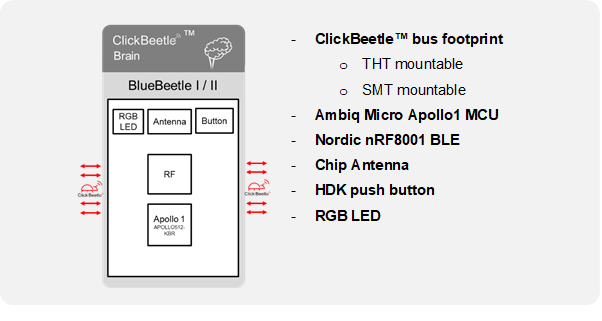 Ambiq Micro Apollo 1 MCU
Ultra-low active mode power consumption: 35µA/MHz (executing from Flash)
Ultra-low sleep mode power consumption: 143nA (with RTC on)
High-performance, 32-bit ARM Cortex-M4F processor

Up to 24MHz clock frequency
Floating point unit
Wake-up interrupt controller with 12 interrupts

Ultra-low power memory

Up to 512kB Flash
Up to 64kB low-leakage RAM

Ultra-low power interface for off-chip sensors

10-bit, 13-channel, 1MS/s ADC
Temperature sensor with ±4°C accuracy

Rich set of timing peripherals
Flexible serial peripherals

I2C/SPI master for communication with external peripherals
I2C/SPI slave for optional host communications
UART for communication with peripherals and legacy devices

Wide operating range: 1.8 to 3.8V
Compact package options

64-pin BGA with 50 GPIO
41-pin CSP with 27 GPIO
Nordic NRF8001 BLE
Radio features

Bluetooth low energy RF transceiver
Ultra-low peak current consumption <14 mA
Common TX/RX terminals
Low current for connection oriented profiles, typically 2 μA
Ultra-low current for connectionless oriented profiles, typically 500 nA

Auxiliary features

Integrated low frequency reference oscillator
Power management
Battery monitor
Temperature monitor
Integrated 16 MHz crystal oscillator
OTP for customer configuration
UART Test Interface for Direct Test Mode
Application Controller Interface (ACI)
Radio Active signal
Download documents
*Note: browser plug-in may not support 3D documents.
Software Examples
| Name | Description | Download |
| --- | --- | --- |
| apollo1_clickbeetle-blinky-v10.zip | Example blinky software for ClickBeetles with Apollo1 based on FEEU MCU Templates | apollo1_clickbeetle-blinky-v10.zip |
| Restricted Access | Software examples for use with BLE stacks | Contact us using our contact form or Email us |

BlueBeetle I is available in our webshop.
Please note: The ClickBeetle™-Reference Platform and all related boards are evaluation kits intended for the testing of components and development of products featuring the same. These custom-build evaluation kits are designed for professionals to be used solely at research and development facilities for such purposes and are only available on a business-to-business basis.
Size and Pin-Description
Contact Us
Find out how Fujitsu Electronics Europe can help you