Walking the digital tightrope
A Fujitsu report on digital transformation
"Digital business is shifting from a future strategic vision by IT leaders and digital leaders to providing a real competitive edge today."
Gartner
Business leaders agree that
digital
transformation is critical to their future success. However, a survey conducted in Europe and published by Fujitsu reveals that most companies lack a clear strategy for reaching this goal – and the majority still see the whole digitalization process as a gamble. 
Although there is widespread recognition that digital transformation impacts the top line in terms of how organizations create value for their customers, Fujitsu's research uncovers huge disconnects when it comes to the strategic priorities for digital projects.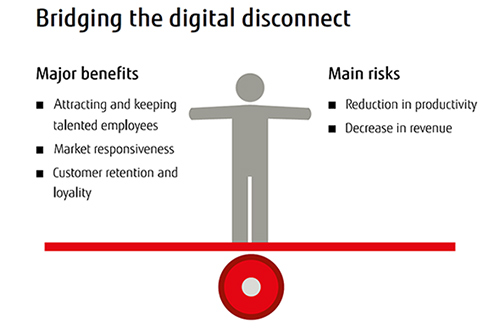 Bridging the digital disconnect
An extract from Fujitsu's 'Walking the digital tightrope' report
Key findings
Only one in three business leaders believe that digital priorities are fully aligned within their organization
Every second executive thinks digitalization is a job best left to the IT department
One in three business leaders think they are already over-spending on digital projects
Only a quarter of executives are "extremely confident" in advising on the right choices
Top of Page