Fujitsu Components' IoT Connectivity Solutions Mesh Evaluation Kit
The perfect package for highly scalable and robust Mesh IoT including location awareness solution
Fujitsu Components Europe
Hoofddorp, April 07, 2021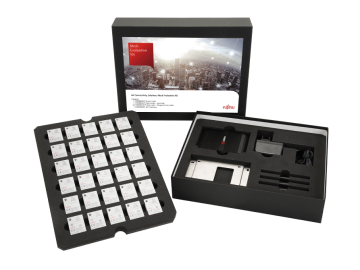 Containing all the required tools to build a mesh network of sensors and including the possibility of location aware asset tracking, Fujitsu's Mesh Evaluation Kit allows customers to test and evaluate different use cases that are possible with the Wirepas Mesh technology and Fujitsu hardware.
Before investing time and significant budget, businesses can utilize this evaluation kit as a low cost and flexible solution to check the value of IoT solutions based on scalable and robust Mesh technology.
Each Fujitsu Mesh Evaluation Kit ships with following components:
5 x FWM8BLZ07Y sensor nodes that have the following sensors onboard: Temperature, humidity, barometric pressure, accelerometer, luminance and sound level
5 x FWM8BLZ07P Mesh nodes set as asset tags
20 x FWM8BLZ07P Mesh nodes set as Wirepas Anchor nodes for location awareness
1 x FWM8GWZ01 Wi-Fi gateway with two Wirepas Sink nodes to connect the Mesh network to the cloud service
1 x concise manual explaining the usage and installation of the included hardware and software package
The kit launches with a three-month software evaluation license, which gives customers access to the Wirepas Network Tool, the Wirepas Positioning Engine and the sensor data webpage, which are all connected to a cloud instance.
Installation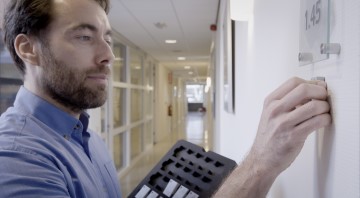 The Mesh Evaluation Kit can be installed quickly and easily as it comes equipped with all the necessary settings and cloud setup to ensure it's working right out of the box.
To get it up and running, all users need to do is install the software and connect the gateway before they can begin hanging up the sensor devices in the areas they would like to monitor. Follow the guidelines for installing anchor nodes within different areas of a building, select five assets that need to be tracked and the kit is ready to go.
It should not take more than a few hours to get the kit installed and up and running.
Features
Once installed, the Mesh Evaluation Kit gives an insight on how the Wirepas network works and visualises the asset location tracking, with a web-based monitor presenting all the sensor data in one glance.
With the standard software package, the installation and visualisation of the network and its data provides a simple overview of the possibilities. However, Fujitsu works with a host of industry partners who are specialised in the back-end software and can design a bespoke offering to fit various use cases.
Please check with your local Fujitsu Components sales team which partners are available within your region.
The Fujitsu IoT Connectivity Solutions Mesh Evaluation Kit is available from April 6th Contact our team for more information: IoT@fceu.fujitsu.com or visit our website: www.fujitsu.com/IoT
Fujitsu Components Company Information
Fujitsu Components is a leading manufacturer of relays and offers a full range of relay products. Through its heritage of over 100 years of experience Fujitsu is able to offer high quality relay products and service alike. Fujitsu Components Europe B.V., headquartered in Hoofddorp, The Netherlands is responsible for managing the sales, marketing and distribution in Europe, Middle East and Africa. 
Shaping tomorrow with you

www.fujitsu.com/components -Twitter -LinkedIn
Essiena Uyttenbroek
Diamantlaan 25
2132 WV
Hoofddorp
The Netherlands

Phone: +31 (0)23 556 0936
E-mail: essiena.uyttenbroek@fceu.fujitsu.com
Company: Fujitsu Components Europe B.V.
Manager, Marketing and Communication
---
All trademarks or registered trademarks are the property of their respective owners.
The Bluetooth® word mark and logos are registered trademarks owned by Bluetooth SIG, Inc. and any use of such marks by Fujitsu Component Limited is under license.

All information including price, specifications, services in this release are current information as of the announcement date. Please be noted that information in this announcement is subject to change without notice.


Date: April 07, 2021
City: Hoofddorp