Fujitsu launches the FP2000CL, a linerless standalone POS printer
POS printer brings endless benefits to the quick-service restaurants sector as well as hospitality and even medical industries
Fujitsu Components Europe
Hoofddorp, January 08, 2021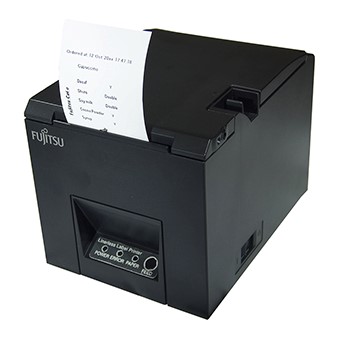 Fujitsu Components, the world's leading printer manufacturer, has launched the FP2000CL, a standalone POS device capable of printing labels without liner or release paper. 
Retaining the same compact and durable design as seen in previous Fujitsu POS printer iterations, the FP2000CL has been internally redesigned from the ground up to implement full linerless performance, offering customers flexibility while still fulfilling the requirements expected of any modern-day POS printer.
Environmental-conscious label printing without liner or release paper
In addition to not requiring any backing paper, the linerless labels printed by Fujitsu's latest POS device are supplied as a continuous printed reel of adhesive label material, allowing them to be cut to the desired length. This ensures the FP2000CL has a positive impact on the environment by reducing waste to landfill.
The self-adhesive, non-backed labels are also easy to collect from the printer, helping to increase efficiency on the production line thus saving resources and reducing overall cost.

By reducing complexity of user operation, this compact and versatile POS printer is perfectly positioned to benefit small, environmental-conscious businesses, such as the quick-service restaurants (QSR) sector, hospitality, and even the medical industry.
Features
The Fujitsu FP2000CL POS printer makes use of a drop-in paper loading design for ease of use and to increase efficiency during operation in business environments. This versatile device can also be installed horizontally or vertically in a number of settings, free-standing or wall-mounted with only two screws.
For printer speeds, users can expect a maximum of 230mm/sec with regular receipt paper and 150mm/sec with liner-less label paper, while a high endurance cutter will endure a lifetime of up to 3 million cuts. 
As expected, all current operating systems are supported, including Windows, OPOS, ESC/POS, to name a few. No compromises were made on the interface side of things, either, with USB, RS232C Serial and Wired LAN connectivity options available. There is also support for cash-drawer and buzzer functions, as standard.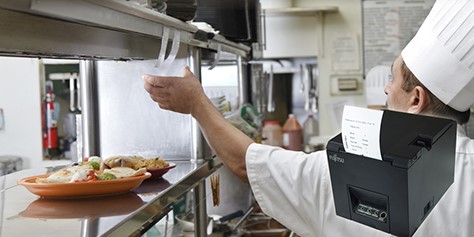 Real-world applications
The FP2000CL brings a host of benefits to a number of industries, specifically the QSR sector, with coffee shops, bakeries, takeaway food outlets all able to take advantage of printing on re-stick linerless labels. For instance, order printing on coffee cups and snacks like fast food, expiry date and/or material printing on deli packaging, and receipt printing for delivery of fast foods.
There's also a strong use case for "new-normal" operation in the medical sector, such as ticket printing of temperature measurement at building entrances, menu printing for patients in the hospital, 
The manufacturing industry could also benefit from linerless label printing, such as barcode printing to show manufacturing process checks, labelling and tracking of OEM products or order sheets, identification tags or delivery tags. FP-2000CL enables the best performance in combination with authorized lineless labels.
Christoph Hasekamp, Marketing Manager at Fujitsu Components Europe B.V.,"The FP2000CL is a full functional linerless printer without any compromises. The FP2000CL can be used as fully functional POS printer and at the same time offers the full Liner-less capabilities. The printer was designed to offer the customers ultimate flexibility without compromises".
Availability 
The Fujitsu FP2000CL printer will be available at Fujitsu Components Europe from January 2021.
To learn more about Fujitsu Printers: www.fujitsu.com/printers
More about POS Printers from Fujitsu Components Europe: POS Printers - FCEU
Contact info@fceu.fujitsu.com
Fujitsu Components Company Information
Fujitsu Components is a leading manufacturer of relays and offers a full range of relay products. Through its heritage of over 100 years of experience Fujitsu is able to offer high quality relay products and service alike. Fujitsu Components Europe B.V., headquartered in Hoofddorp, The Netherlands is responsible for managing the sales, marketing and distribution in Europe, Middle East and Africa. 
Shaping tomorrow with you

www.fujitsu.com/components -Twitter -LinkedIn
Essiena Uyttenbroek
Diamantlaan 25
2132 WV
Hoofddorp
The Netherlands

Phone: +31 (0)23 556 0936
E-mail: essiena.uyttenbroek@fceu.fujitsu.com
Company: Fujitsu Components Europe B.V.
Manager, Marketing and Communication
---
All trademarks or registered trademarks are the property of their respective owners.
The Bluetooth® word mark and logos are registered trademarks owned by Bluetooth SIG, Inc. and any use of such marks by Fujitsu Component Limited is under license.

All information including price, specifications, services in this release are current information as of the announcement date. Please be noted that information in this announcement is subject to change without notice.


Date: January 08, 2021
City: Hoofddorp