Fujitsu Advances Financial Data Analytics with New Platform
Fujitsu Laboratories of Europe Ltd.
News facts:
Fujitsu Laboratories of Europe has developed an advanced data analytics platform for the financial domain, integrating its proven deep-learning, graph network and social analysis tools.
Developed in close collaboration with financial sector experts, it uses a flexible open architecture for data mashup and analytics from heterogenous datasets.
Fujitsu's new platform will be demonstrated for the first time on September 23 at Data Transparency 2015 in Washington, D.C., US, with a number of trials scheduled during the remainder of 2015.
The new platform was developed specifically to address a tightly defined set of functional requirements, determined through close collaboration with financial experts, reflecting Fujitsu Laboratories of Europe's commitment to open innovation as the key development process. Despite the multiplicity of open datasets available in the financial domain, there has been a long-standing issue with handling and managing the data effectively. These include differences in data formats, missing data and format inconsistencies, different identifiers to represent the same entities, and uncertainty surrounding the freshness of the data itself. As a result, the principal challenge was to create a data management solution that would address these issues, while also enabling financial experts to integrate their own private data sources as well as the open data.
Platform Architecture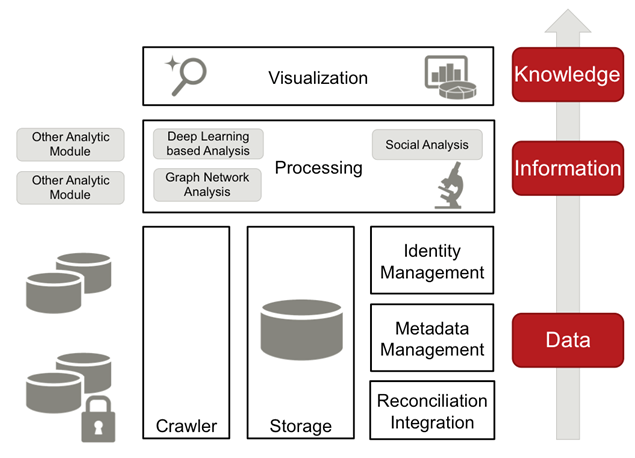 Figure 1: Platform Architecture
Fujitsu's intelligent platform comprises three layers: the storage layer, the processing layer, and the visualization layer (Figure 1). The storage layer crawls a variety of heterogeneous datasets, including financial statements in XBRL*1, text, image, SNS, and Linked Open Data (LOD*2), before storing them in the platform. Both open and private datasets are stored privately and securely, with the platform automatically updating, reconciling and integrating the data to ensure real-time accuracy and consistency. Legal Entity Identity (LEI*3) is also available as a key index for identifying enterprises.
The processing layer accesses any required data to perform detailed analyses, with fundamental KPIs such as the cash flow or the capital adequacy ratio calculated on the fly. An additional advantage is that advanced KPIs can be calculated using data from different datasets, simply by defining mathematical expressions. The processing layer also contains additional analytics modules, enabling deeper results to be obtained. A key user benefit is the integration of Fujitsu Laboratories of Europe's existing toolsets, including deep-learning based time-series analysis, knowledge graph network analysis, and social analysis. In addition, the platform's open architecture also allows for analytic modules developed by other developers, including FinTech (4) start-ups, to be easily integrated. The analytic results from the processing layer are output to the visualization layer, where users can access a comprehensive selection of interactive charts and tools.
Fujitsu Laboratories of Europe is demonstrating the platform at Data Transparency 2015, which is being hosted by the Data Transparency Coalition, in Washington, D.C., US, on September 23, 2015 (
http://www.datacoalition.org/events/data-transparency-2015/
). In addition, a number of trials are scheduled during the remainder of 2015.
Notes to editors:
*1 XBRL (eXtensible Business Reporting Language)
Standardized business reporting language based on XML to generate, distribute, and utilize financial reports.
*2 LOD (Linked Open Data)
A dataset published in the Linked Data format. A typical example is DBpedia, which converts information from Wikipedia into the Linked Data format.
*3 LEI (Legal Entity Identifier)
An world-wide identification system to identify entities uniquely.
*4 FinTech
Defined as a line of business based on using software to provide financial services. Financial technology companies are generally startups founded with the purpose of disrupting incumbent financial systems and corporations that rely less on software.
About Fujitsu
Fujitsu is the leading Japanese information and communication technology (ICT) company, offering a full range of technology products, solutions, and services. Approximately 159,000 Fujitsu people support customers in more than 100 countries. We use our experience and the power of ICT to shape the future of society with our customers. Fujitsu Limited (TSE: 6702) reported consolidated revenues of 4.8 trillion yen (US$40 billion) for the fiscal year ended March 31, 2015. For more information, please see http://www.fujitsu.com.


About Fujitsu Laboratories of Europe
Established in 2001 and with an active presence in Europe since 1990, Fujitsu Laboratories of Europe Limited represents Fujitsu Laboratories across EMEIA, focusing on regional initiatives that reflect the diverse mix of countries and ideologies. Fujitsu Laboratories of Europe is focused on the creation of cutting-edge solutions that benefit society, working with customers, collaboration partners and society as a whole to drive the evolution of information communication technologies. It works on the principle of open innovation, with particular emphasis on Future Networking, Big Data Analytics, the Internet of Things, Social Innovations, and Supercomputer Applications, please see http://www.fujitsu.com/uk/fle/.
Media Contacts
Garrett Axford Ltd (on behalf of Fujitsu Laboratories of Europe Ltd)

Phone: +44 1903 854900


E-mail: mail@garrett-axford.co.uk
Company:Garrett Axford Ltd
Georgina Garrett, Director

---
All company or product names mentioned herein are trademarks or registered trademarks of their respective owners. Information provided in this press release is accurate at time of publication and is subject to change without advance notice.
Date: 22 September, 2015
City: London
Company: Fujitsu Laboratories of Europe Ltd.

Top of Page