Environmental Policy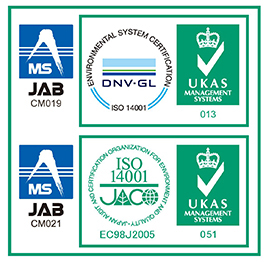 On July 28, 1998, Fujitsu Component Limited's Engineering and Development Center received a Certification of Environmental Management System, in accordance with ISO14001, from the Japan Audit and Certification Organization for Environment and Quality (JACO).
Then on July 27, 2005, Fujitsu Component Limited became part of the JACO Fujitsu group certificate. All our present and future corporate activities strive to reduce power consumption, recycle resources and provide environmentally sound components.
Principle
The Fujitsu Components Group, a member of the Fujitsu Group, recognizes the value and importance of protecting the global environment as one of the most important issues. Our environmental philosophy is:
We shall adhere to the best corporate activities while improving our coexistence with the environment.
As an enterprise that develops, designs, manufactures, and sells electrical components, we promote the Environmental Management System (EMS) in accordance with ISO14001.
Action Guidelines
We continuously improve our environmental management system to reduce and prevent environmental pollution by keeping the environmental aspects in mind through our activities, products and services.
We offer products that both help achieve business growth and protect the environment.
We comply with the various environmental laws as they apply to our activities, products and services.
We completely ban hazardous substances in our products and do not discharge any hazardous substances into the environment as specified by Fujitsu Components Group.
Every employee shall strive to improve the environment including use of sustainable sources, climate control and biodiversity conservation at work and at home and extend those activities to society.
Centerpiece
We promote the following activities as the most important environmental management aspects in regards to our business activities, products and services:
Develop and offer eco-friendly products
Cooperate with society and activities as good corporate citizens
Reduce greenhouse gas (GHG) emissions
.Improve energy efficiency
Promote reduction of CO2 emission in partner companies
Reduce waste and emissions.
Supplement
This policy is documented and made public to our employees, group members and all other parties concerned. Our Environmental Management Division is responsible for the Environmental Policy.
May 10,2016
Fujitsu Components Group EMS Management