FUJITSU Clean Desk Solutions
Sustainable Workplace Solutions for Smart Minds
At Fujitsu, we work in partnership with you to co-create a modern and individual solution for your workplace needs. We modularly equip your existing or future work desks with attractive solution components that are precisely tailored to the concept and design of your choice.
We support you in various aspects of workplace design and energy saving potential with an approach that is user-oriented, cost-effective, secure and flexible.
Fujitsu Workplace Connect
A universal and modular docking system with integrated power supply and network connection for data exchange for all client systems from Fujitsu and other manufacturers.
The modular structure of Workplace Connect enables a group-specific design and configuration.
Easy customization and integration into your working environment.
Highly cost-efficient due to shared desk structure and standardized Fujitsu components.
The ergonomically designed clean desk adapts to the employee - not vice versa.
Environmental consciousness through energy savings. The entire workplace can be switched off completely at the push of a button.
Clean Desk 2.0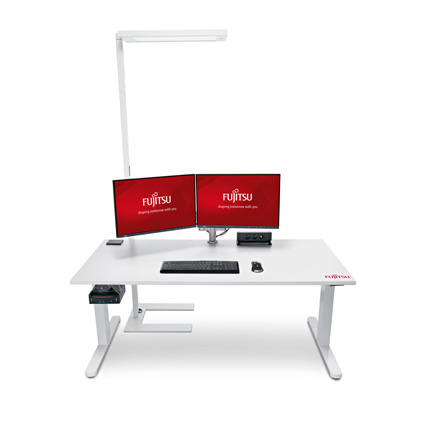 The Clean Desk 2.0 solution adapts to all needs and is therefore suitable for all work areas. You enjoy maximum safety, innovative lighting concepts and the Fujitsu Human Centric approach.
At a first glance, it's a classic two screen scenario with flexible arms and monitors but with added features that make it perfectly flexible as digital workplace for everyone.
Benefit from added value such as space savings, modular design with flexible monitor arms and almost wireless operation for maximum productivity and efficiency.
Clean Desk 2.0 Justice
Take workplace flexibility and ergonomics to the next level by implementing a Human Centric approach.
The "tablet mode" enables a natural reading position which demonstrably contributes to maintaining health as shown by brain research latest findings.
It is the smartest solution for all sectors that work with documentation and provide consulting services.
Benefit by implementing a solution that is already firmly integrated in complex areas such as justice.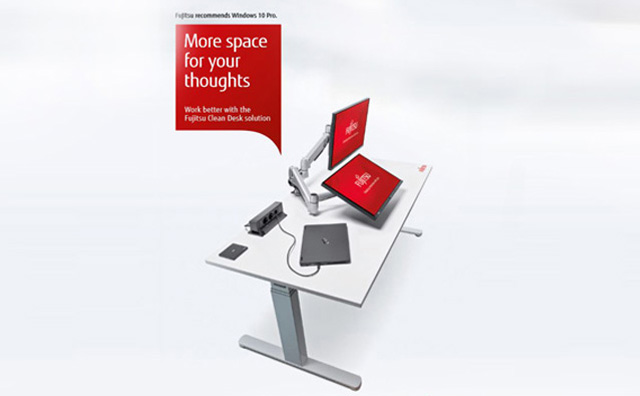 Fujitsu recommends Windows 10 Pro.
Our Offers for a future-oriented office
Fujitsu Workplace Solutions
---
Clean Desk 2.0
Ideal For All Sectors
---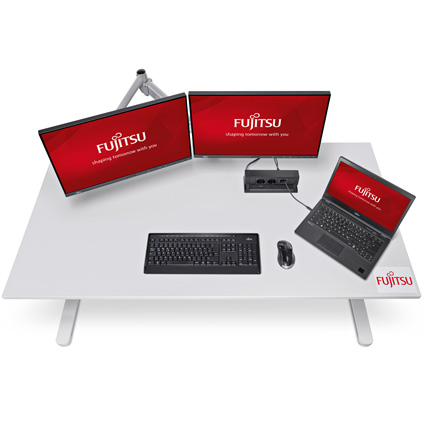 ---
A classic two screen scenario with flexible arms and monitors.
The perfect flexible digital workplace.
Modular, retrofittable and non-destructive reversible.
Space saving and flexible positioning thanks to versatile monitor arms.
Only one cable for power delivery and data with a vendor independent USB Type-C.
Monitor arms can be rotated through 90 degrees and extended for efficient work.
---
Clean Desk 2.0 Justice
Flexibility and ergonomics at highest level
---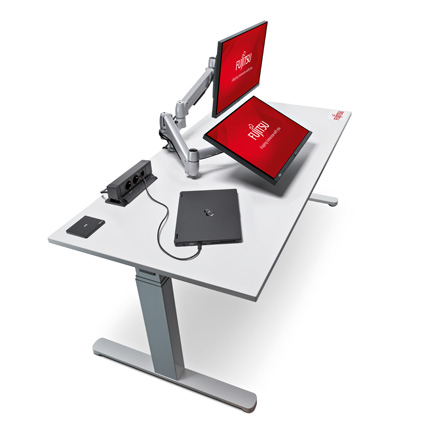 ---
Combination of identical designed touch screen with pull mechanism and standard screen.
Tablet mode for a natural reading posture and ergonomic working.
Not only for justice, also perfect for all customers with document handling issues e.g. banking.
Monitor arms can be rotated through 90 degrees and extended for smart variability due to single or double solutions.
---
Clean Desk Easy
Highest Quality at lowest Price
---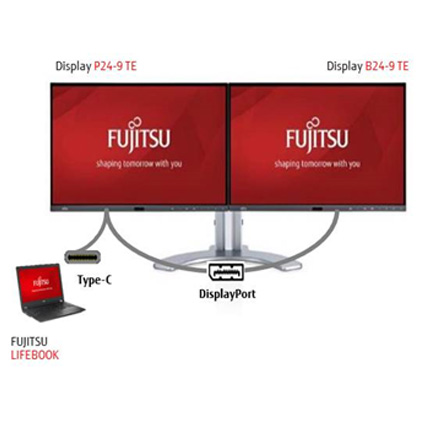 ---
A two monitor scenario with significant cost and space savings.
Integrated USB Type-C port replicator in one of the displays.
Uncomplicated component wiring and monitor connection thanks to daisy chaining.
Dual Display Bundle comes without monitor stands.
Download the Clean Desk Positioning Card