With Singularity on Horizon, Fujitsu Chief Evangelist Sees Profound Digital Transformation Ahead
Fujitsu's Iwao Nakayama predicts that rapid changes in such technologies as virtual reality, man-machine interfaces and AI will transform way we live and work.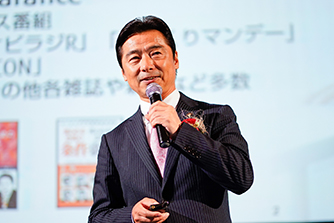 Iwao Nakayama
Chief Evangelist
Fujitsu Limited
Virtual reality, with its growing range of applications, will become a "huge market" in just a few short years, bringing with it considerable changes in consumer lifestyles and business practices, predicts Iwao Nakayama, chief evangelist for ICT giant Fujitsu Ltd.
But Nakayama, a keynote speaker at the recent Fujitsu World Tour 2018 Asia Conference Bangkok, foresees even more far-reaching transformation in the interface between man and machine. In coming years, humans will be able to communicate with computers "seamlessly" through a computer chip implanted in their brains, he noted. And experiments are going on now to digitize information from the brain itself.
"After converting it into digital data, you can do almost anything," he explained. "You can copy it, and you can send it to 100,000 people. This is a really, really huge possibility, but it's also scary. Now what's going to happen to human beings?"
Yet, perhaps no other technology has the potential to change the world more than artificial intelligence, and it's one that will help usher in the time of technological "singularity," said Nakayama.
Singularity is defined as a period of such vast technological changes that human civilization becomes almost unrecognizable to previous generations.
"The world is now moving to the era of turbulence. We are witnessing the beginning of singularity," Nakayama told conference attendees. "So I would like to introduce what is going to happen in the coming 30 years -- the world of change."
Virtual Reality Market Heats Up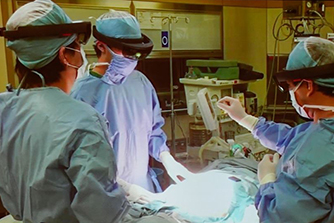 Not all of the game-changing technologies will take years to have an impact. Some are here now, and virtual reality is one of them.
Nakayama cited forecasts projecting that the VR market will grow more than five times between 2018 and 2022 to be worth more than ¥3 trillion (US$26.6 billion). By 2025, VR hardware sales could be worth ¥13 trillion, exceeding sales of TV sets, according to forecasts.
He described five VR applications that are beginning to roll out, playing a short video for each. In one video, users shopping online with VR headsets felt as if they were actually browsing the aisles of a supermarket. "You don't have to go to shops anymore. That was a past," Nakayama said. "Today, you can buy through the computer; you can talk with AI and it will choose the product."
Nakayama spotlighted other VR applications, including preparing doctors for surgery, training airline pilots and helping engineers and graphics designers build cars. VR also will change the way people experience travel and "attend" meetings. These meetings will not merely be conference calls with audio or video links, he said.
"Whether you are in Bangkok or Tokyo or Hawaii; you can be anywhere, an avatar will run the meeting for you," Nakayama said. "Now this is actually a company in Japan. They are applying virtual reality to meetings today."
Digitizing the Brain
More profound changes lie ahead. In the future, humans will be implanted with computer chips, which would become an extension and enhancement to their brains. The technology could decode a person's intentions from the signals that electrodes in the brain emit. The neurological signals could then control devices, for example.
Unlike other "neural prosthetics," this chip would not be intended necessarily to replace some brain function damaged from disease or injury, although it could indeed help with medical treatments. For example, for patients with intractable epilepsy, electrodes can be implanted on their cortex to send computers information about the neural-firing patterns that precede seizures.
This technology is the focus of much investment and development. Such well-known tech entrepreneurs as Elon Musk, founder of Tesla and SpaceX, and Facebook's Mark Zuckerberg are interested. Musk has launched a venture called Neuralink to create devices that "facilitate mind-machine melds." Facebook revealed earlier this year that it has 60 engineers working on building "interfaces that would let you type using just your mind."
In addition, researchers at MIT in the U.S. developed "silent speech," in which a person could silently verbalize words while electrodes in a wearable device would detect neuromuscular signals in the jaw and face–then transcribe the words into a computer.
"Just imagine (it) in his mind, and he can manipulate the (computer) mouse," he said. "It means his mind is connected to the mouse. What time is it? He just murmured in his mind then it is linked to his mobile. It means that a human doesn't need to speak to command the computers–just thinking. It's something like real-time information brain transmission."
The implications are enormous, including the possibility of embarking on a type of telepathy that in the past has been the stuff of science fiction. If we can exchange information with computers, why not with other people, asked Nakayama. Ultimately "it means that you can feel a feeling that someone's feeling in real time," he posited. "It means using the network of the human brain and transmitting information. This is very shocking."
Focus on Human-Centric AI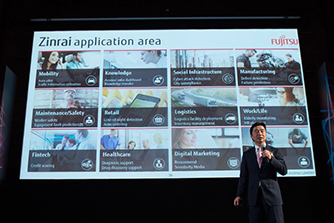 These man-machine interfaces along with such other technologies as virtual reality, robotic process automation, RPA and internet of things, or IoT, will change the way people conduct business and live their lives, Nakayama said. But he singled out one technology, artificial intelligence, for special focus.
The day will come when AI-enabled computers incorporated with robots will perform various tasks for humans, he said. Led by rapid developments in AI, the technological changes will be so profound that the world will enter a time of singularity, Nakayama declared.
But even before that era arrives, AI is having a big impact, Nakayama noted. Many companies globally continue to develop the technology, including Google, IBM Microsoft and Fujitsu.
Fujitsu calls its AI technology Zinrai, one of its human-centric digital transformation technologies. Nakayama said there are already 1,400 companies in Japan using Zinrai, though many are still in the testing stage. The companies belong to a range of industries or industry segments, such as mobility, manufacturing, retail, logistics, healthcare, digital markets, credit scoring and call centers.
The march of AI and other technologies will continue unabated, leading up to and including the time of singularity, Nakayama said.
Another way to measure the impact of this change is to look at the largest companies in the world by market capitalization.
Today's list is dominated by technology titans, led by Apple, Amazon, Google and Microsoft, all of them based in the U.S. "These four from the top, one common thing is that they are all innovation-related companies, meaning that innovation is the key to be on the top of the list," said Nakayama.
On the other hand, 30 years ago, Japanese companies held seven of the top 10 positions. Telecommunications giant NTT headed the list, while five of the six other Japanese companies were banks.
He predicted that in another 30 years, based on the game-changing technologies taking shape today, the top 10 companies on today's list would be gone, as well.
"This is how much turbulence is at hand," Nakayama said. "So 30 years will change everything."