Siam Commercial Bank CMO: Companies Face 'New Normal' of Drastically Changing Customer Expectations
Consumers are increasingly impatient, easily distracted and demand more choices. Companies that fail to take heed may not survive, SCB executive warns.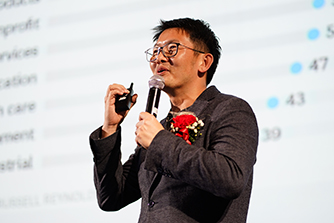 Thana Thienachariya, Senior EVP and
Chief Marketing Officer for Siam Commercial Bank
Companies in a range of industries are facing massive disruption from the digital revolution and most of them are failing to adapt, said Thana Thienachariya, Senior EVP and Chief Marketing Officer for Siam Commercial Bank, one of Thailand's largest financial institutions.
Thienachariya, a featured guest speaker at the Fujitsu World Tour 2018 Asia Conference Bangkok, said he believes that many of these disrupted companies will not survive. But he doesn't blame fast-changing digital technologies for the expected demise of the companies. Instead, he believes it's the unanswered dramatic changes in consumer expectations that will kill them.
"We actually didn't really change much in 150,000 years, (but) we've changed in the last 10 years," Thienachariya said, pointing out that the beginning of this transformation coincided with the launch of the smartphone era, ignited by Apple in 2007. "When Steve Jobs put the first iPhone on the stage like this, things changed."
Today, an estimated 3 billion people use smartphones, and that could grow to 5 billion to 6 billion in just a few years, Thienachariya said. And we are reaching for our phones more frequently. Google coined the term "micro-moment" to describe the instant when a person turns to their device to act on a need, which could be "to know, to go, to do or to buy."
"A micro-moment is very powerful," Thienachariya said, noting that three years ago, a Google survey showed that in the U.S., people pick up their smartphones around 155 times a day. That figure is 500 or 600 times per day in internet-obsessed Thailand.
As a result, customers expect their needs to be satisfied "now." And they're also easily distracted and expect a range of choices.
Using the 'Empathy Lens'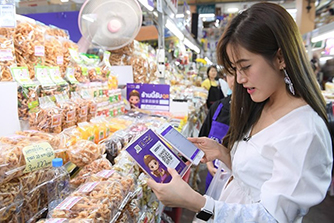 But change is not easy for established companies, and SCB was no exception. The 112-year-old financial institution seems to have gotten the message, however.
"SCB is probably one of the first banks (in Thailand) that is trying to transform," Thienachariya said, noting that without changes, banks face the risk of seeing banking services offered by everyone "except the bank."
For the time being, banks in many countries, including those in Thailand, are protected by regulators, which block foreign competitors from offering such services as mobile banking. But Thai banks know their market will eventually open up to other players. And they also know, as do banks elsewhere, that without far-reaching changes in the way they do business–including building their own digital platforms–their future is dim.
Among the projects SCB has undertaken to meet consumer demands for faster, more satisfying service is one to reduce checkout times at supermarkets. Last year the bank launched a new payments service in co-creation with The Mall Group, which owns a major upscale supermarket chain in Thailand; and Fujitsu, which developed an automated, flexible and cashless point-of-sale solution for the retailer. The service, which launched in September 2017 at the merchant's flagship store in Bangkok, resulted in shorter checkout lines, lower costs and reliable operation. The Mall Group is rolling out the cashless checkout system nationwide.
SCB also launched a digital platform and waived transaction fees for funds transfers to gain customer engagement. As a result, funds transfers grew by 12 times–from 5 million in November of 2017 to 60 million in October of 2018. "Now, 90% of our noncash transactions happen on mobile phones, 10% only at the ATM and branches," Thienachariya said. "This has happened in a year. So this is the magnitude of customer change."
Companies must also use empathy to win over customers–that is, they must try to understand their customers' feelings, to put themselves in their customers' shoes, he said. For example, SCB could not get small merchants to display QR codes for its mobile payments service, Easy Pay. The shopkeepers were simply not interested and usually hid the QR codes that consumers would need to scan to use the service.
But after bank representatives visited the merchants and spent time with them, the bank hit on the idea of creating a cute, cartoonish version of Nang Kwak, the Thai deity of wealth for shopkeepers, to go with the QR codes, Thienachariya said. The small merchants started looking at the mascot, called Mae Manee, as a sort of goddess icon that would bring them good luck. It's become a hit, and thousands of merchants display it prominently in their shops.
"To me, big data is the most important thing you have to have, but if you use the empathy lens, you can get better data, and that's the real, ultimate differentiation," Thienachariya said.
New Competitive Landscape
Besides the new normal of consumers wanting everything now, having short attention spans and demanding a range of options, companies are also facing disruption on another front: Their customers now expect them not only to outperform other companies within their own industries, but companies across other industries, as well, said Thienachariya.
For example, if a restaurant gives a customer a 20% discount from a membership app stored on the customer's smartphone, he would also expect his auto repair shop to also offer a discount card or app on the phone.
"They (start-ups) try to offer something that is faster, better and cheaper," Thienachariya said. "Remember that consumers look at the old businesses as greedy, slow or worse."
Of course, most of the start-ups will not survive, he said. But some of them will. And the thought that even one of them grows to become a digital giant is the "most scary part" for the Thai business community. But established companies have more to worry about in other countries. While there have probably been fewer than 1,000 start-ups that have launched in Thailand over the past seven to eight years, China creates around 12,000 start-ups per day, he noted.
Digital giants have huge platforms and massive amounts of data with which to use to enter new markets and industries. Behemoths in China, such as Alibaba Group and Tencent Holdings heavily subsidized their products to gain customer engagement and data and overtook many established businesses. Then they began to charge.
Thienachariya believes it won't be long before large Asian messaging platform Line Corp. starts a bank, for example. Other nonbanks could do the same.
"Line asks you to deposit 10,000 baht (US$302), will you?" he asked. "You will do it, right? This is the problem for the banks. Banks used to have a monopoly on trust. You never gave money to anyone except a bank. But now, will you trust Facebook if they open Facebook Bank; or Line Bank or even 7-Eleven Bank?"
Mindset of Top Management Must Change
While banks and other mainstream companies may grow by 10%, even 20% per year and believe they are doing well, this growth is linear, pointed out Thienachariya. By comparison, changes in consumer needs and expectations over the past five years have grown "exponentially," he said. "They change so much that there is a big gap, and it is bigger and bigger because when you go back to your company, you do almost the same thing as last year. You just make marginal improvements."
Companies that have been doing business basically the same way for 50 years find it difficult to change. But they are underestimating the risks of doing little or nothing to address the sweeping changes occurring in their markets, said Thienachariya.
Now the problem is that you have to reinvent yourself," he said. It's not a matter of a company merely changing its technology. It must also change its mindset. And that change has to include top management, which often comes from the analog world and usually has a difficult time accepting that their customers' attitudes and expectations have dramatically changed.
A new corporate mindset also must welcome mistakes because mistakes lead to valuable lessons learned, he said. Yet, mistakes are something that senior management usually wants to avoid, too.
"Now, the old experience cannot be applied in the new economy because customers change," he said. "Accept that you don't know anymore. You have to have the courage to make mistakes. Start by walking around, listen more and empathizing, because the world is a new normal."